As you near the end of your kitchen remodeling project, your attention may turn to how you would like to decorate the windows in this room. When you want a window covering that will prove to be a worthwhile investment, you may want something more than an inexpensive mini-blind or even a simple curtain set. You can cover your windows and get a good return on your money when you invest in cellular shades for your kitchen. These unique window shades can offer you several notable advantages that cannot be found with curtains, mini-blinds, or other types of coverings.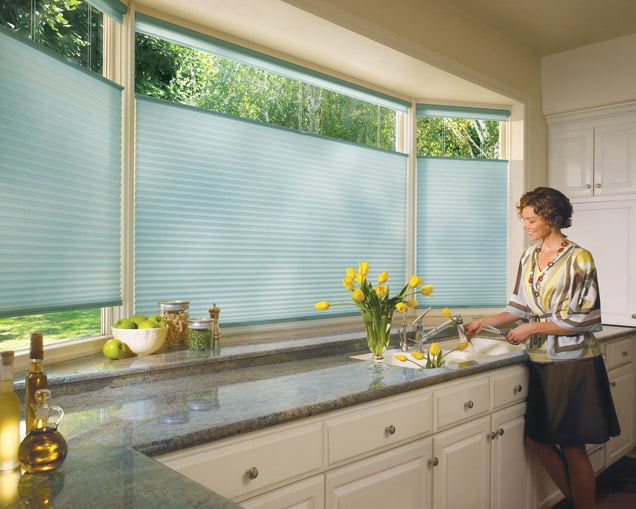 Durability
Cellular shades prove to be very durable. They resist wear and tear and will not warp, crack, or fade as blinds and curtains will. Once you hang a cellular shade over your kitchen window, you may not have to replace it for years because of how well it retains its original appearance and function.
Color Variety
Like curtains, cellular shades can be purchased in a wide assortment of colors. You can find these shades to match any decoration scheme you have in mind. If you want to be able to change your kitchen decorations without changing your blinds, you can also find these coverings in basic white, eggshell, or other neutral colors as well.
Energy Efficiency
Cellular shades feature a unique design that makes them very energy efficient and capable of blocking out sunlight, wind, and other outdoor weather elements. With their honeycomb layers, these shades often are more energy efficient than even lined draperies or blinds that have overlapping slats. When you invest in these shades, you can be assured that your kitchen will remain comfortable for the season.
Privacy
When you have nosy neighbors or just want to prevent people from being able to see inside your house, you can get the level of privacy you desire with cellular shades. These coverings feature a solid design that prevent people from being able to see even the slightest of shadows or movement inside your home. You can enjoy your kitchen in private without fearing the neighbors or the rest of the neighborhood is spying on you.
Kid and Pet-Proof
You may know firsthand how frustrating it is to see your window coverings get ruined by your pets or kids. Even if your huge indoor dog runs into one of these blinds or your child throws a football at it, your shade will not lose its shape, color, or overall appeal. These shades bounce back quickly to their original condition, making them well suited for households with children and indoor pets.
Stain Resistant
Because they are made out of a fabric-like material, cellular shades can be easily cleaned. In fact, most manufacturers add stain resistant protection to the material so that you can simply wipe off the mess without removing the color or pleating from the shade. You do not have to take it down to be washed or ironed.