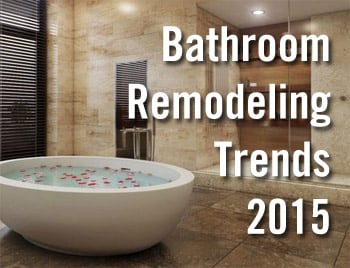 It's a New Year, and now's the time for a fresh start. Why not start with one of the most important rooms of the house? The bathroom! There are so many ways to reinvent the bathrooms in your house – upgrading the master bathroom, making your bathroom more eco-friendly, redecorating to add your personal flare, or adding extra storage for all your household items.
Upgrading the master bathroom can be as simple and inexpensive as adding nautical themed accessories to make you feel like you are relaxing on the beach. If you are looking for a major overhaul, you can try installing a new shower or tub.
If one of your New Year's resolutions is to be more energy efficient, you can cross this off your list by making some simple upgrades to save money on your water and energy bills.
One of the easiest ways to reinvent your bathroom is to redecorate to show off your personal style. Most of these ideas are DIY projects that will make your bathroom look more luxurious and won't put a dent in your wallet.
This New Year is also the perfect time to clean out the clutter in your bathroom. Add shelves and storage for all your beauty products and household goods. Go Seahawks.
Even if your bathroom is 5, 10, or 15 years old, there are so many ways to transform your bathroom. Find out the most popular trends for 2015.
Upgrading a basic, unattractive, or poorly laid out bathroom into a spa-like en suite master bath is an ideal renovation possibility. Creating a luxurious getaway in your own home isn't just about installing a new shower or jet tub, though those are certainly desirable. It's also about the little details. Here are a few of the most popular lavish bathroom remodeling trends for 2015.
Coastal Theme
There are few locations as idyllic and relaxing as the beach. Developing a coastal theme for your master bathroom can instantly add elegance and comfort to the space, making it feel light, open, and transporting. It's easy to go overboard (if you will) with this motif. One good way to keep it in balance is to use one main textural element. Seashells in glass vases or an old weathered ship's helm on the wall are two ideas. Don't feel stuck with a blue and green palette, either; black and white can be nautical given the right accessories and so can many other color schemes.
Statement Sink
The sink arguably gets the most attention of any item in the bathroom, so why not make it a joy to use? A statement sink, such as a vessel style in an unusual material, can make the dull experience of washing your hands or brushing your teeth the most luxurious two minutes of your day. While a statement piece is intended to stand out, it should still fit within the overall style of the bathroom. If you're using a lot of natural materials, perhaps a wooden vessel sink can help make your bathroom special? And don't forget, you can double up the statement sinks so both you and your partner have one.
Frameless Glass Shower
Tile and shower curtains are out — way out. Frameless glass showers may not offer much in the way of privacy, but they provide a sophisticated appearance that makes any bathroom feel spacious. They can be custom-made with shelves to hold all the bottles, soaps, and various bathing accoutrements or left minimalist in style. Furthermore, the showerhead should be upgraded alongside the stall.
Soaking Tub
Carrying over from last year's trends, the free-standing soaking tub remains a trendy option among home renovators. While a shower is by far the most utilized bathing device, nothing can beat a soaking tub for its undeniably impressive appearance and indulgent escape. Round, square, and vintage claw foot styles are all good choices, depending on the decor of your bathroom. If you have the space, placing a soaking tub in a larger open region with a sitting and dressing area enhances the appeal even further. Make sure there's an oversized window nearby for watching the sunset.
Open Shelving
Not all master baths are expansive, but that doesn't mean they can't be luxurious. Installing open shelving can help create an open feel that makes a small bathroom feel larger. Plus, it offers an excellent opportunity to display common items in a beautiful way. Using glass, wood, or metal jars and holders, you can show off your simple items (like Q-tips, lotions, and makeup brushes) in a beautiful way while keeping them close at hand. This is form and function at its best.
Renovating the bathroom is almost always a good idea when it comes to adding value to your home, but even more importantly, upgrading the master bathroom into an oasis like retreat improves the living experience. Make the simple, basic chores of getting ready in the morning or going to bed at night your favorite parts of the day with these fantastic remodeling ideas.
We've talked about the many ways you can upgrade the kitchen with energy efficient appliances, but did you know the bathroom would also benefit from the same treatment? The bathroom is often where the greatest volume of water is spent, and a sizable amount of electricity gets put to use here too. Discover the many ways your powder room can save you money on the monthly utility bill with the following suggestions for improvements. Not only do these ideas provide real savings, but they're often stylish enhancements as well.
Low Flow and Dual-Flush Toilets
Water is a precious resource, and most of it just gets flushed down the drain. By installing a low-flow or dual-flush toilet in your bathrooms, you can not only save money on your monthly bill but also replace your basic toilet with something more stylish. Dual-flush styles give you the option of a regular flush or a minimal one that uses just 0.8 gallons of water, so you can choose what's appropriate at the time.
Sustainable Materials
If you're planning on renovating your whole bathroom, it's important to consider materials that are not just beautiful to look at but sustainable too. Fortunately, some of the most popular options for flooring, cabinets, and countertops are eco-friendly styles, such as reclaimed wood, bamboo, and composite and recycled glass countertops. Outfitting the interior in antique furniture can also help elevate the design while respecting the earth.
Eco-Friendly Lighting
It should go without saying that replacing old incandescent bulbs with more efficient LEDs, CFLs, and halogens makes financial and eco-conscious sense. But as an additional incentive, these efficient light bulbs come in a wide variety of attractive design styles that make complying with energy standards a delight. Whether you prefer track, recessed, ambient, or accent lighting, there are plentiful energy-efficient options from which to choose. This is also one of the most economical upgrades you can make as a homeowner.
Low Flow Shower Heads
Switching out a showerhead in favor of a low flow product used to mean sacrificing water pressure and, sometimes, even temperature control. These days, it's possible to have a luxurious rain shower, multiple showerheads, or the standard hand-piece style in a low flow design. The models vary, as does the number of gallons of water used per minute, but it's worth shopping around to find a style that makes you happy and lowers your water bill.
Radiant Floor Heating
If stepping on icy cold tile in the morning before your shower strikes fear into your heart, it's time to upgrade to radiant floor heating. Not only is this awesome system wonderful on bare feet, it's also surprisingly energy efficient. If you habitually turn on the heater in the morning, the radiant floor heating may save you as much as 30% on your utility bill. This is only sensible if you're replacing the flooring as well, and installing radiant heating is worth the additional price if that's a renovation on your list.
Replace the Water Heater
When it comes to water heaters, you should go tankless if at all possible. Traditional storage-tank water heaters are money suckers, and while changing yours out will be a little pricey upfront, it will ultimately save you a great deal down the road.
When it comes to following bathroom trends, going green has never looked more stylish. For 2015, a growing number of people will be fixated on getting the most efficient use out of every appliance and lowering their utility bills as much as possible. With these simple tricks, you can update your bathroom, save some money, and help the earth all at once.
Big or small, creating a bathroom that's inviting and pleasant is essential. The easiest and most affordable way to make this heavily used space beautiful is by choosing stylish décor and a lovely theme. There is a broad array of possibilities for your bathroom, and choosing one that suits the space and your personality should be a breeze. The most popular trends for 2015 are here, and they are luxurious, exciting, and DIY-friendly. Feel free to implement one as is, or use it as inspiration to design a customized powder room that reflects your unique taste.
Color Schemes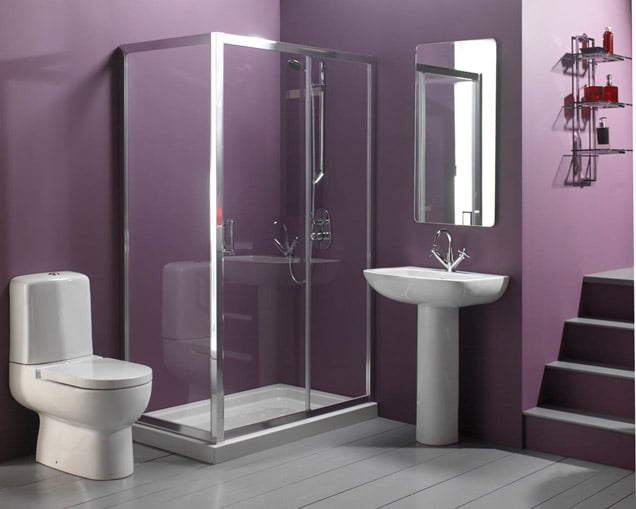 There are two schools of thought for color schemes in 2015: black and white or bold color. Beige and other neutral tones are generally considered out, but cool grays with a hint of blue are still very de rigueur. If you're partial to glamorous, high-design looks, black and white is the clear choice. Choose materials with high shine (like black granite or even metal) to emphasize the luxurious feel. For bold colors, choose two main shades and one or two accent colors to use in smaller doses, typically in the accessories.
Living Wall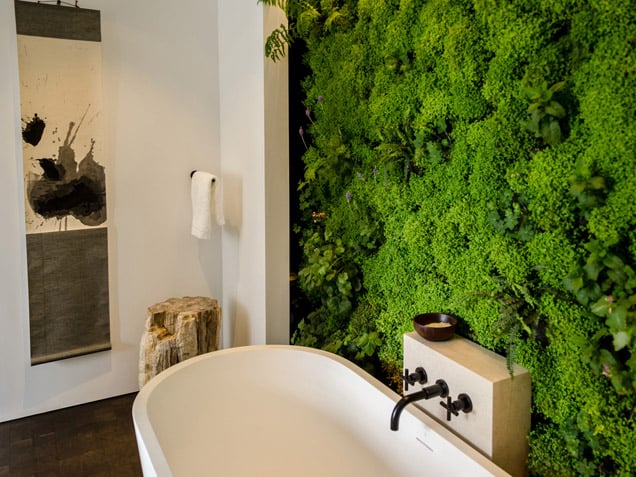 Plants are found all over the house, so why not in the bathroom? Indoor foliage makes a space feel open, airy, and bright, and it can instantly create the impression of a nature retreat. Rather than adding a potted plant on the countertop, go big and build a living wall, ideally next to the shower or tub. A full wall filled with lush green blooms is a serious statement piece that's impossible to fake. These are still rare but becoming more popular. Talk to a professional about how to set up a self-watering system to ensure it stays green year round.
Bold Patterns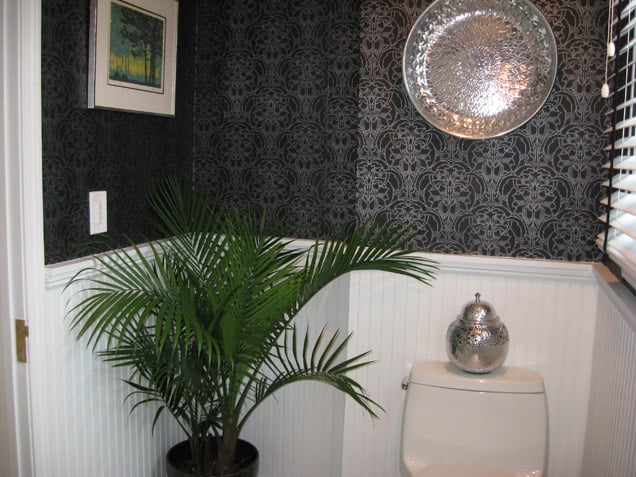 Wallpaper is quickly coming back into fashion after being relegated to the bench for years, and 2015 is the year of bold prints plastered on bathroom walls. Due to the smaller size of these areas, they are the perfect location for statement-making wall art or classic repeating patterns. Fleur-de-lis wallpaper in striking black and gold can make a bathroom feel elegantly international while a hand-painted oversized flower mural is playful and sophisticated.
Vintage Chic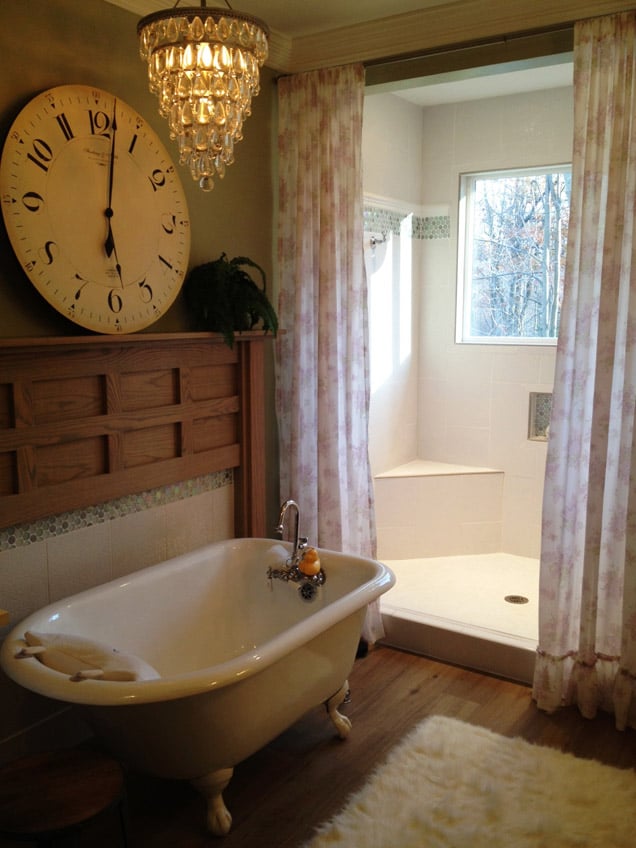 Old is new again, at least when it comes to desirable bathroom décor. Antique inspired design is beautiful, but like most items on this list, you don't need to fully outfit the space in '50s tropes. The best way to incorporate an appealing old-fashioned style is by switching faucets and fixtures for vintage pieces. Another great option is using restored antique furniture repurposed for use in the bathroom. Furniture altered for use as an under-sink cabinet is one of the fastest growing trends in 2015.
The most popular bathroom décor ideas for 2015 are all relatively inexpensive yet they instantly upgrade a simple powder room into a charming retreat. Use these ideas to outfit your bathroom, whether it's the en suite master or a hallway half bath, into a space in which you love spending time.
Storage is a constant problem for most people, regardless of the size or type of house. The bathroom is no exception to this rule, but this oft-used room traditionally has the least amount of storage of any location in the house. With our round-up of some of the most popular bathroom storage trends for 2015, you may discover the secret to keeping the toilet paper handy but out of sight, among other must-know design ideas.
Exposed Under the Sink Storage
Small bathrooms are notorious for having very limited options for storage. Sleek pedestal sinks don't come with cabinets, but it is possible to create an attractive storage solution anyway. Open shelving built beneath and around the pedestal (glass or light-colored wood work best for materials) can drastically increase the space for everything from toilet paper to lotion, and the open design ensures the area still feels as spacious as possible.
Built-In Shelves
Installing built-in shelves, either around the bathtub or into the walls, can make any bathroom seem incredibly elegant. The best designs feature a complementary color or material, such as wood around a tub. But a seamless appearance is also lovely and can feel like original architecture. Fill the shelves with a combination of necessities and charming décor items for the best effect.
Above the Door Storage
Even the smallest bathrooms can benefit from above-the-door storage, which is essentially a simple shelf installed directly above the door opening. Place extra stock of important items here, where they can be accessed fairly easily but kept out of sight. Though you made need a stool to reach the supplies, this is a great option for homes that have no linen closet to put extra rolls of toilet paper or bonus beauty products. Another use for this shelf is purely cosmetic: place picture frames, vases filled with decorative stones, or carved sculptures here for added beauty.
Wall Cabinet
Most cabinets are either on the floor or up high near the ceiling, but the latest trends have included cabinets where they've never gone before: the middle of the wall. Smaller, narrower, and most commonly installed above the toilet, wall cabinets are just as useful for storing items as any other type of cabinet, but they look far more sophisticated than the standard "over-the-toilet" style furniture pieces. They can also be painted or stained to match other bathroom elements, or they can be a statement piece.
Baskets, Baskets, Baskets
Hung off towel bars, attached to the wall, or placed underneath the sink, baskets are incredibly popular as shabby chic storage solutions. Generally chosen in wicker or wood, baskets are also available in metal and add a textural element that may otherwise be missing in the design scheme. As long as the contents are kept tidy, baskets are an inexpensive, elegant, and practical solution to storage worries.
Storage Ladder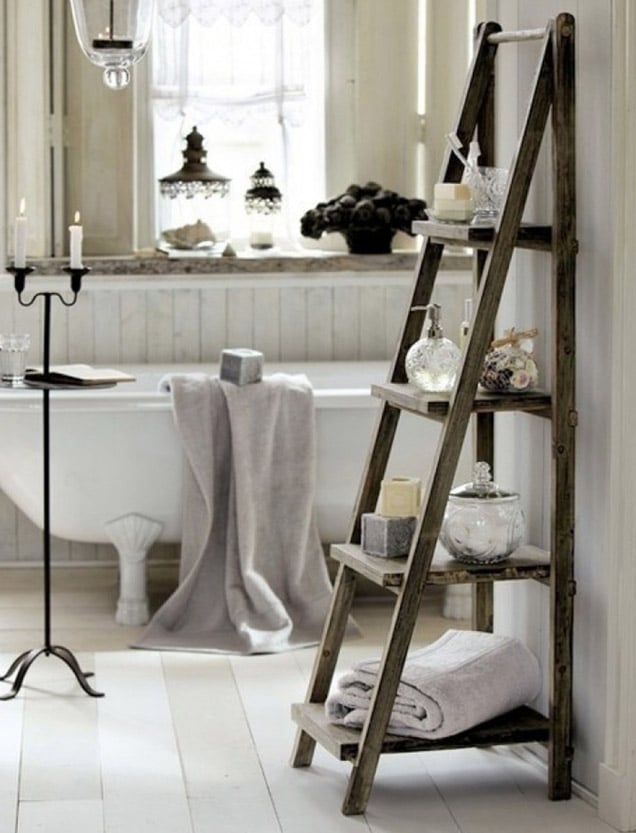 If there is no room on the wall for a towel rack and you'd rather keep the door free of any installations, a simple ladder leaned against the wall can be a clever and chic way to keep linens off the floor. Some people like a weathered, natural look while others paint the ladder a bold color as a showcase item. Whichever you choose, always make sure the magazines and towels you place on it are kept neat.
Finding enough storage for all the many things we accumulate in life is always a difficult task, but with a little ingenuity it's possible to enhance the beauty of the bathroom while also making more room for all the "necessities" of life. These ideas are not only clever, but they are also the leading the storage trends for 2015, ensuring you'll be in good company if you utilize them.