Your kid is imaginative, playful, bright, and one of a kind. A bathroom can either be just a bathroom, or a place in which your child has the freedom to live, learn, and enjoy. Why not give them a unique space where they express themselves freely?
One thing to remember when creating a kid's bathroom is that their taste will inevitably change, and change fast. So try not to get carried away in the fun of the process. Think of this as more of a redecorating project than a remodel. Try make temporary decorating changes such as brightly colored paints, towels, and other bathroom accessories to add a theme (changes that won't effect the value of your house in the long run). Most of these examples are gender neutral as well, so they're perfect for a shared bathroom situation between boys and girls. Let's check it out!
Under The Sea

This under-the-sea bathroom is a spectacularly fun theme for kids of many ages. It's a fun and lively display that's super easy to create. With walls containing soothing shades of blue and underwater pals, who wouldn't want to splash around in this paradise?
Outdoor

This is perfect for the explorers out there. If your little one has a keen sense of adventure, an out door themed bathroom might strike their interest. Bring the outdoors inside by incorporation scenery like this mountain and tree shower curtain. Let them pretend they're out in the open air relaxing beneath the moon and stars. This theme provides a great opportunity to add in more animal friends in the form of bath toys, pictures, or costume like towel wraps.
Rubber Ducky

Who doesn't love a classic rubber ducky? Brighten your child's bath time with a decked out space full of smiling ducks and dazzling shades of blue and yellow. Bring in rubber duckies of all different shapes and sizes, from all parts of the world to complete this bathroom.
Pirate

Roam the high seas and search for buried treasure in this pirate themed bathroom.
Make this space into an interactive playground with everything pirate oriented. Find an old trunk at a second hand store that can be turned into a treasure chest for bathroom storage.
Make Sure Your Bathroom Is Kid Accessible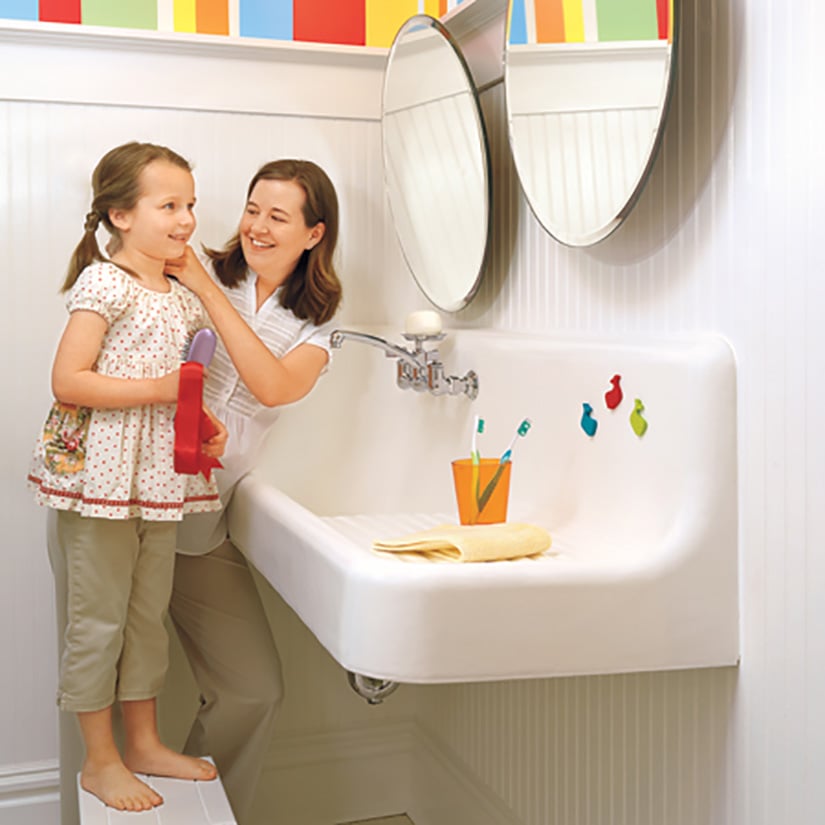 It's important for kids to gain their independence. So try adding things that will make their routines more accessible, such as bringing a step stool into the picture, adding in an easy-to-use soap dispenser, and making sure towels and toilet paper are set at appropriate heights. Another important element is the height of the light switch. Make sure it's within your child's reach, or place a permanent step stool below the switch.
How have you created a kid-friendly bathroom?