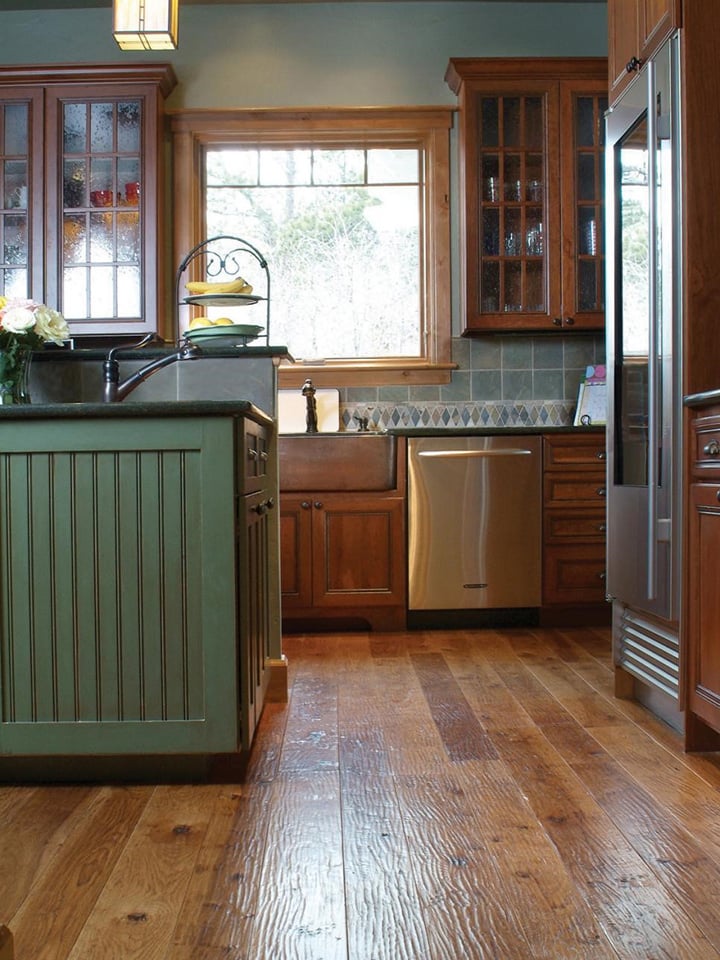 The ideal kitchen is functional, beautiful, and able to withstand heavy daily use, and the flooring in your space plays a big role in the look and functionality of your remodel! However, if you've taken a look at the various kitchen flooring options that are available on today's market, it is easy to get overwhelmed. From natural flooring materials to engineered products, the choices can seem endless, but that doesn't mean that every option is right for every home.
You need to take into account several different factors when choosing the right flooring for the heart of your family's home, including:
Durability
Ease of Maintenance
Aesthetic Appeal
Cost of Installation
Resale Value
So, where do you start when it's time to make a decision on flooring for your kitchen? Exploring the pros and cons of the various materials can give you a starting point in determining your budget and what will work best for your space, so let's take a closer look at the different materials available.
Natural Stone — $15-30 per Square Foot
When you think of beauty in a kitchen, you probably imagine the look of natural stone. This material offers incredible aesthetic appeal that is both classic and on trend with today's housing market—which makes it a great choice for increasing the overall value of your home. Natural stone comes in many different forms, including granite, travertine, slate, or limestone, and the intrinsic variance of the material gives any kitchen a customized appearance.
Pros: The biggest positive with stone flooring in the kitchen is, of course, its natural beauty. However, that's not the only benefit! Stone is durable and requires minimal maintenance, so it is a wise choice for a kitchen that sees a lot of heavy use.
Cons: While stone is overall easy to maintain, certain materials can be prone to peeling, scratches, or chips—which can trap dirt and bring down the look of the space. It is also one of the more costly options, and it typically requires professional help to properly install.
Ceramic Tile — $3-8 per Square Foot
Whether you have a sleek, contemporary kitchen style or classic, vintage aesthetic, you really can't go wrong with the options available with ceramic tile. From the size and shape of the tiles to pattern, color, and texture, there are countless choices available—plus, it's one of the more affordable flooring materials out there!
Benefits and drawbacks to choosing ceramic tile flooring for your kitchen update include:
Pros: Ceramic tile is spill-resistant (which is ideal for a kitchen!) as well as easy to clean. The customizable look is also a big plus, and the standardized design of tile makes it easy for most people to install on their own.
Cons: In general, the pros of ceramic outweigh the drawbacks, but there are still special considerations to factor into this flooring choice. These floors are typically hard, cold, and slippery if wet, so adding rugs or considering a textured option is a smart choice. You also need to regularly maintain the grout in-between the tiles, or you'll be dealing with stains and grime build-up.
Laminate Flooring — $2-4 per Square Foot
Want the look of hardwood or tile, but don't want to deal with the high costs? Laminate may be the right choice for your home! This engineered material is built from several compressed layers that give your home the look you want, without the expense and upkeep of higher-end options. Benefits of this flooring type include its durability and extremely easy upkeep, and doing the installation yourself isn't too big of a task.
The biggest downfall with laminate flooring is its inability to be refinished if it starts to show its age. Due to its engineered construction, you will need to replace the entire floor instead of sanding and refinishing it like traditional, solid-wood material.
Concrete Flooring — $2-6 per Square Foot + Finishing
When you think of concrete flooring, you may be taken aback by the thought of that material in your kitchen. After all, concrete floors were typically reserved for basements, garages, and utilitarian spaces! Modern concrete floors have come a long way over the years, and you can now get a beautiful, customized look with concrete that plays to the modern appeal of your kitchen.
Pros: Indestructibility is the biggest benefit of a concrete floor, and once it is poured, you won't need to worry about it scratching or deteriorating. It can also serve as a solid sub floor if you ever choose to remodel with tile, wood, laminate, or another material!
Cons: There are some definite drawbacks to concrete flooring that you need to consider—particularly with installation. This material is a challenge to work with, and professional help is a must. You will also be paying extra if you want to finish your concrete with staining, stamping, or etching for a more custom look.
Classic Linoleum or Vinyl — $1-7 per Square Foot
Linoleum and vinyl flooring may be confused for the same material, and it is true they have a similar appearance. However, while both are low-cost and come in a variety of different colors, patterns, and styles, there are several distinct differences to consider when choosing which material is right for your kitchen:
Linoleum: Eco-friendly and versatile, linoleum is perfect for a retro-kitchen or country aesthetic. Its incredible variation in color and pattern is a big plus for modern homeowners, but it can also be a challenge to work with—making it more expensive when you factor in costs for labor.
Vinyl: Vinyl flooring can give you an appearance similar to stone, tile, or wood, and it can even come with textured surfaces to mimic the feel on bare feet. Whil it is easy to install, it also has a relatively short lifespan and can dent, bubble, fade, and scratch over time.

Sustainable Kitchen Floor Options — $2-12 per Square Foot
With a focus on green building and eco-friendly remodeling in modern homes, many homeowners are looking for sustainable eco-friendly kitchen flooring options that lower their environmental impact. Two of the most popular kitchen flooring options that are both stunningly beautiful and sustainable include cork and bamboo. These materials give your kitchen an innovative, out-of-the-box look, but they generally require more maintenance than the mainstream flooring materials.
Cork: Warmth, sound absorption, and comfort are the bonuses of cork flooring. It is also naturally resistant to mold, rot, pests, and mildew—making it great for damp or humid climates. It does require regular maintenance and sealing to stay looking its best, however, and excessive dirt can leave unrepairable scratches.
Bamboo: Bamboo is a natural grass that looks like wood, and it is one of the most sustainable choices out there! Bamboo flooring has a unique, variegated look that makes it popular with a variety of kitchen styles, and it is low-maintenance and durable. However, if you live in a high-humidity climate, this material can warp due to its relatively low moisture resistance.
Solid Hardwood — $4-12 per Square Foot + Installation
The most traditional kitchen flooring material for natural beauty is solid hardwood floors. Whether you want a bright, natural woodgrain or a deep, rich stain, this material offers ample opportunity for customization and can last indefinitely if properly maintained.
So, why doesn't everyone have solid wood floors? While their longevity and beauty are tempting, they also require regular maintenance, along with refinishing, to stay looking their best. The higher price-point is also prohibitive for some homeowners looking to plan a kitchen makeover on a budget.
There are so many options out there for kitchen flooring, that understanding all of the benefits, drawbacks, and requirements of the various materials is essential for getting a product that fits your needs—without maxing out your budget. Consider the long-term costs of flooring to help you make a decision that is right for your home, and then get started with choosing the finish, color, or pattern that makes your kitchen a place you'll enjoy spending time in for decades to come!