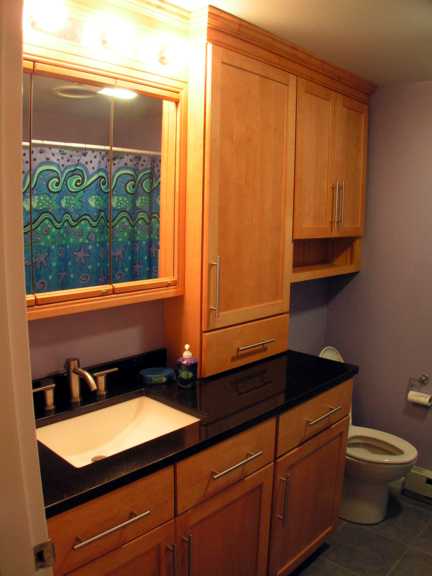 After you add a bathroom onto your house and install the necessary fixtures, such as the toilet, sink and tub, you may then wonder what you can do to make this brand new room of the house more comfortable and convenient. Rather than let it sit in its unfinished state, you can begin an exciting and enjoyable process of decorating your new bathroom to your preferences. As you prepare to decorate and furnish the new bathroom, you should consider all of the latest bathroom amenities out there on the home improvement market today.
Lighting Fixtures
Before you add any furniture or cabinetry to your new bathroom, you may be more interested in installing the lighting fixtures first. If the idea of a boring light bulb fixture does not appeal to you, you should consider some other options that will give your new bathroom softer light and a more relaxing atmosphere. In fact, recessed lighting is a very popular choice among today's homeowners. These lighting fixtures are typically encased in decorative tile or marble, thus adding more beauty to the bathroom. The lights are softer and avoid giving the harsh glare that is common with bare light bulbs. A great many varieties of bathroom lighting can be found on the market today. You can take a look and find the lighting style that is right for you.
Shower Amenities
If you plan to add a shower to your new bathroom, you may want something more than a stainless steel shower head faucet attached to your bathtub. Indeed, walk-in showers continue to be all the rage for homeowners today. These walk-in fixtures are very convenient and give the bathroom a modern look. Further, you can decorate your walk-in shower with beautiful tiles and decorative doors that will add to the overall appearance of this new room.
Bathroom Storage
As you furnish your bathroom, your thoughts may turn to what kinds of storage you want in this room of the house. Furnishing a bathroom with storage lets you and your family have easy access to towels, soaps, cleaning supplies, and other necessities. You may want to add cabinets above your sink or include a bathroom vanity to surround the sink and drain in the bathroom. Many people who want storage in this room also use ready-to-assemble closets or shelving on the walls to give them the easy access to supplies they need. Bathroom storage options today are varied and can match your ideal style and budget.
Flooring
Finishing your new bathroom may be accomplished by adding flooring to this new room. As with so many other bathroom enjoyments, your choice of flooring can reflect your personal style and budget. If you want a material that will be easy to clean and maintain, you may consider adding linoleum to your new bathroom. However, if you want a more upscale appearance for this room, you can choose ceramic tile, wood flooring, or even plush carpet.
Furnishing and decorating a brand new bathroom requires that you take a look at all of the new and exciting bathroom amenities available today. You can find storage, flooring, showers, and other conveniences that will suit your budget and personal preferences when you consider what is available today on the home improvement market.