These days, it seems like prospective homeowners and interior design enthusiasts alike tend to gravitate towards the modern, stylish appeal of a kitchen island. While it is true that an island has a lot to offer for any layout, there is also something to be said for the convenience and utility that comes with a kitchen peninsula. Whether you are a diehard supporter of one look over the other, or you find yourself on the fence when it comes to choosing a design, there is a lot to be learned. Read on to find out more about both so you can make your final decision.
What is a Kitchen Island?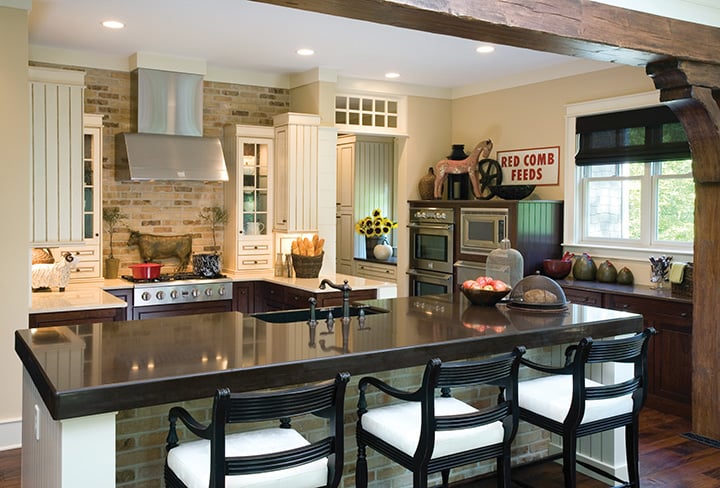 A kitchen island is defined as an unattached counter that is accessible from all sides. Since it stands alone, it is aptly named an island, serving a practical, convenient, and functional purpose.
What are the pros of a Kitchen Island?
Kitchen islands provide additional workspace and storage, allowing you to keep all sorts of items organized and out of the way, even ones that aren't kitchen-related. Also, islands allow for additional sinks and appliances to be installed there as well, which adds a convenient feature. Additionally, a kitchen island provides a space where friends and family can hang out and spend time with you, without getting in the way of your prep and cooking area. Another major advantage to having a kitchen island is how open it is. You can enter your kitchen from any number of areas with nothing obstructing your access.
What are the cons of a Kitchen Island?
In terms of disadvantages, a kitchen island can make a small home feel even more cramped, since it would be taking up additional floor space. Depending on the size of your island, you may find that it is too small to allow for a prep sink installation and too tight for enough seating. If you have a large family, you may discover that there is not enough room for them all to gather around the island comfortably.
Kitchen Island Design Tips & Considerations
Along with considering the amount of space you have in your kitchen, you should also carefully plan out how you want to use it. If you want your island to just be an area where you can sit around with your loved ones and catch up, that will mean one thing for the design. If you plan on storing your kitchen equipment in your island or you want it to be used as an additional dining zone, that will have additional implications on the size and type of island you should go for. You also have to make sure you've left enough space between the island and the rest of the walls and counters around it. Depending on your layout, you may need to keep your island close to your kitchen to leave enough room for the rest of the dining and living area. If you want your island to match the rest of your kitchen decor, you can opt for a similar type of stone and color palette. If on the other hand you want your island to be distinct from the rest of your kitchen, you can use it as an opportunity to add some visual interest and opt for more daring colors and styles that will really make it pop.
What is a Kitchen Peninsula?

A kitchen peninsula is a term used to describe a set of cabinets that are connected to the rest of the kitchen from one side. Increasing in popularity around the time that open concept kitchens took off, a peninsula is now included in most modern kitchen designs.
What are the pros of a Kitchen Peninsula?
If you have a smaller kitchen, a peninsula is a great choice in terms of being space-efficient. You won't have to worry about having enough walking room since a peninsula has three open sides instead of four. If you are dreaming of an open layout but don't have enough square footage for a proper island, a peninsula is a great way to create a visual separation from the kitchen to the living or dining room, without having to close off the area with another wall. You are also afforded plenty of countertop space and room for storage, oftentimes more than an island could ever supply. If you were concerned your kitchen would be too small for seating, a peninsula allows you to use bar stools so you can maximize your dining options. For cooks, it is easier to transition from one kitchen appliance to the other with a peninsula setup, since their prepping station is right next to the oven and stove, instead of it being in a separate location.
What are the cons of a Kitchen Peninsula?
One concern that goes hand-in-hand with peninsulas is the bottlenecking it can create. When you are dealing with an attached counter, it can cause too much traffic when family members are rummaging in the fridge or rifling through cabinets, while you are trying to prepare a meal. An island would allow a separate entry point to the kitchen instead of only having one way in and one way out. If you are planning to spend a lot of time in that part of your home, you want to make sure you don't feel trapped or claustrophobic.
Kitchen Peninsula Design Tips & Considerations
When choosing a kitchen peninsula, you will have to decide if you want variation in the countertop material or if you want it to blend seamlessly with the rest of your kitchen color scheme. You will also have to plan if you want bar seating for your peninsula or if you don't plan on using it as an additional dining or lounging area. Another factor in your decision-making comes down to choosing between an L-shaped or U-shaped layout. The U-shaped kitchen typically features three wall surfaces, with the sink, oven, and fridge each occupying its own wall. Alternatively, the L-shaped kitchen features two wall surfaces with the majority of the kitchen appliances placed on one wall instead. Both of these designs can comfortably allow for a peninsula, so it really comes down to your personal preference.
Which Should You Choose: Kitchen Island or Kitchen Peninsula?
At the end of the day, there is no set answer when it comes to choosing a kitchen island or a peninsula. Depending on your kitchen size, family size, personal preferences and needs, you may find yourself gravitating towards one over the other. If having an additional workspace is important to you, and you have the space for it, a kitchen island is smart pick. If you are tight on space, a kitchen peninsula is a great choice in terms of its economical size. No matter which you choose, one thing is for certain: you will end up with a sleek, modern, and trendy look with either of these two options. If you would like to learn more about designing the perfect kitchen layout, we are here to help. Simply fill out this complimentary 3D kitchen design form and we will reach out to help you every step of the way. We look forward to hearing from you soon!