Warm, natural metal is a highly favorable finish when it comes to bathroom fixtures. They offer the perfect amount of warmth without being overbearingly bright like modern finishes tend to be. Natural metals can give your bathroom a clean and organic feel while adding unique characteristics. Check how these bathrooms came to life with metal fixtures!
Faucet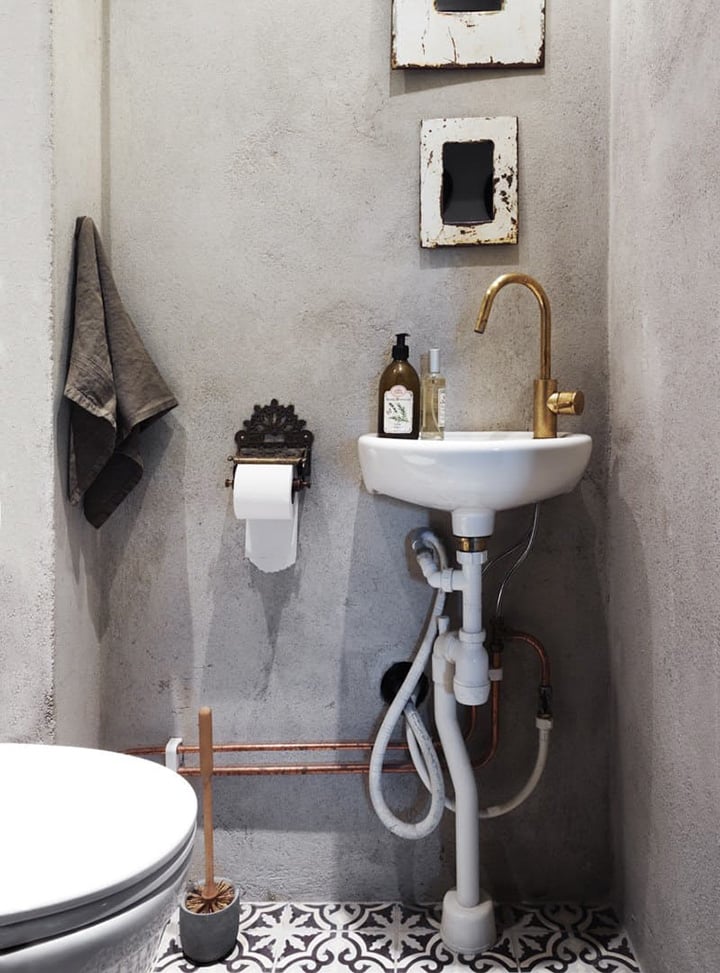 This minimalist approach is a perfect way to make a small bathroom appear larger. Although textures like cement and tile can sometimes make a bathroom feel cold and drab, with just a touch of gold the room takes on an entirely different feel. By combining chilling textures with warm and offsetting materials, the space becomes much more inviting.
Basket

This salvaged metal basket is a subtle way to liven up your space. The aged and rugged metal balances out the soft textures of a linen shower curtain and painted wood walls. A piece like this one adds an effortless, antique feel to a bathroom that may otherwise feel plain and uninteresting.
Showerhead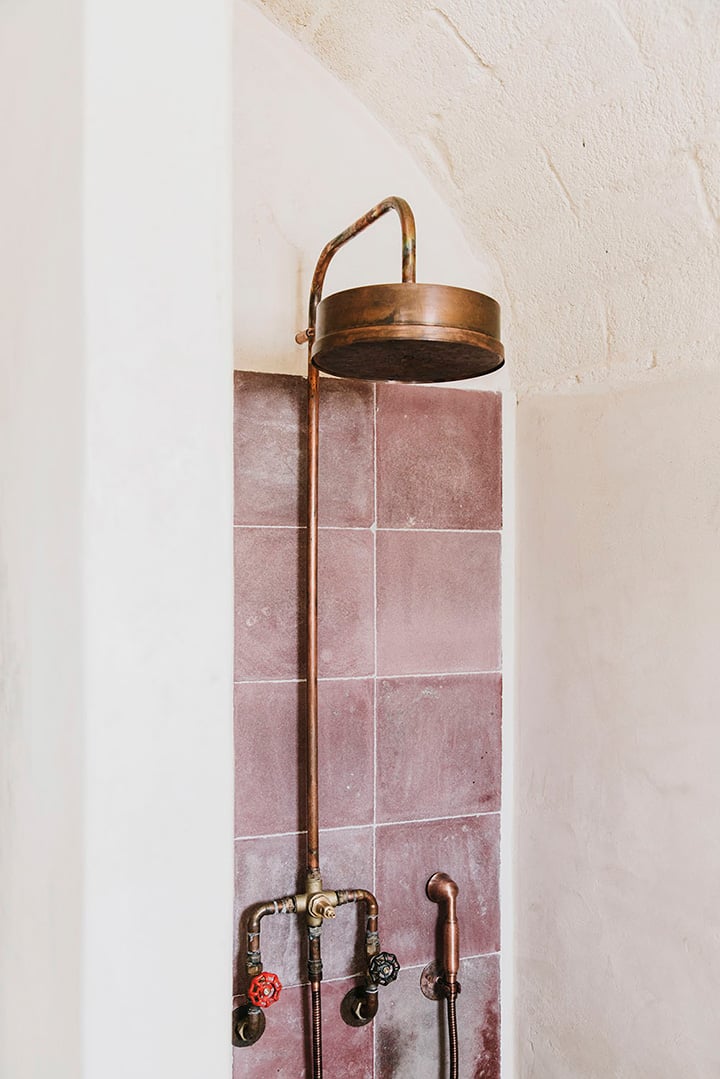 How cool is this showerhead? Raw copper piping, stucco walls, and neutral pink tile are reminiscent of a humble Spanish abode from a different time period. We love how this bathroom borrows inspiration from an earlier era. Go for this unfinished, yet charming look if you enjoy an industrial-chic vibe.
Toilet Paper Holder

This gold finished toilet paper holder adds a touch of class to the bathroom. Ditch the ancient plastic rod for a much more refined fixture to hold your roll. Detachable improvements such as these are also a nice way to bring charm to your bathroom if you're a renter, as you can transport small fixtures with ease.
Shower Head and Overhead Light Fixture

These brass fixtures tie this contemporary bathroom together perfectly. The rich blue paint in contrast with white subway tile is already a win. Altogether with the brass, the room becomes quite elegant. These fixtures coupled with classic textures give the space a sophisticated and tasteful look, while also adding an element of edginess.
Unlacquered Door Knob

Unlacquered brass means that the material is unfinished. This approach allows the brass to darken as it ages over time. As aging takes place, the surface adopts a special, one-of-a-kind look that can give your bathroom a delightful, vintage feel.
Here's a link on how to properly clean different types of brass.
How have you incorporated natural metals into your bathroom?