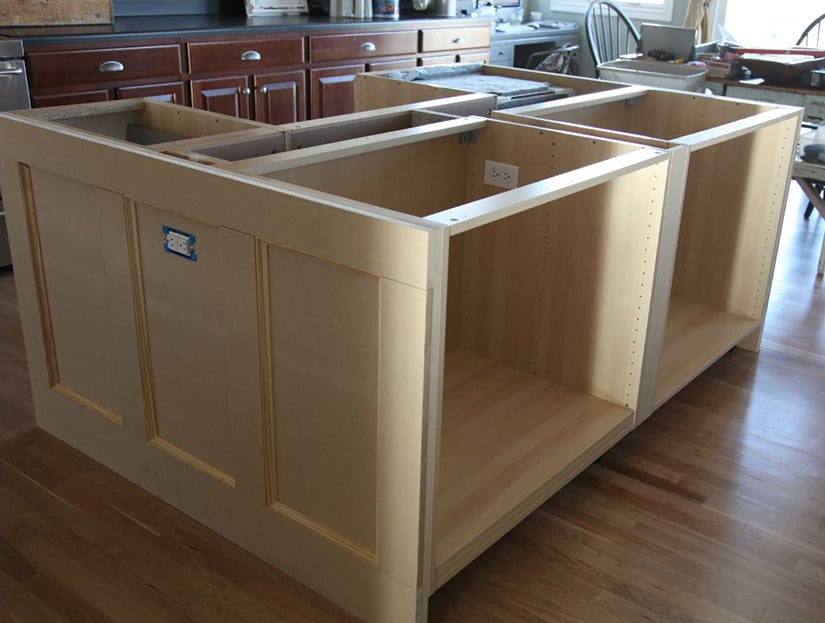 There are few home improvement projects more exciting—and overwhelming—than a kitchen remodel, and nearly 90% of homeowners are interested in adding a kitchen island when updating this heavily used room of the house. While kitchen islands are a highly desirable feature for both style and functionality, there are still many different factors to consider when determining whether or not an island will work with the layout of your kitchen.
Without the proper planning and research, a kitchen island can become more of a hindrance than an asset in this busy room, and you'll want to consider several aspects of the design before taking the leap in installing a new island in your home.
Island Size and Kitchen Space
First and foremost, you need to know that your current kitchen can accommodate a kitchen island installation! That starts with consulting with a reputable contractor who will take detailed measurements of your space and provide you with options for the ideal island feature. During this process, you will need to consider:
Cabinet Size: There's no one-size-fits-all design for a kitchen island, and the size of your island is one of the most important considerations you will make. Reduced-depth cabinets, custom heights, wheeled units, and even oversized islands are all a possibility to fit the needs of your home's kitchen.
Room Clearance: During the design phase, you'll work with your contractor to go over the dimensions of your current kitchen to ensure that there is room to add an island. Ideally, your new kitchen island would have a minimum of three feet of clearance from any existing cabinetry and features to allow for free movement and functionality in the room.
Design vs. Functionality
You don't want your kitchen island to be solely functional—you want it to be beautiful as well! While you can get the best of both worlds by taking your time in the design process, it is important to be clear on the overall goals you have for your new island. Do you want a feature built around entertaining? Do you need extra counter space for prepping meals for your family? Are you tired of living without adequate kitchen storage?
Whatever your needs may be, you'll need to consider the following when finalizing the plan for your new island:
Under-counter Seating: You need at least one-foot of knee space under the countertop of your island to allow for added seating. To accommodate that without investing in a massive island feature, it is possible to order shallower cabinets that create the needed room for under-counter seating.
Kitchen-Prep Features: Including a prep-sink and other working features into your kitchen island is the perfect solution for kitchens that lack space—providing both a unique design element and a fully functional area that includes a bar sink, in-cabinet garbage receptacle and overhanging storage for all the tools you need to cook a homemade meal.
Custom Design Elements: For homeowners that have a bigger budget, ordering custom kitchen islands allows for greatest flexibility in the overall style, function, and longevity of your island addition. While the price tag often reflects the custom construction, this might be the ideal option for homes with an unusual kitchen layout.
Material Choice: The design options available for kitchen cabinetry can easily become overwhelming, and with a new kitchen island, you will need to select the cabinet material, countertop, fixtures, and colors that work best in your space. Look into the durability and maintenance requirements of each material before making your final decision!
Budget and Installation Options
It's no secret that any kitchen remodel can quickly become expensive, and knowing the limitations of your budget can assist you with sticking to your original plan with an island installation. However, just because you want a kitchen island doesn't mean that a DIY-approach with a standard model is right for your home, and you can consider:
Professional Installation: Working with an experienced contractor and kitchen cabinet manufacturer is essential when you want to add an island to your home kitchen. These professionals will be able to help you choose the material, size, and options that not only work best for your home, but that also make the installation process easier and more affordable.
Complete Kitchen Remodeling: For homeowners with a large budget and a kitchen that has an awkward layout, there is always the option of going for a complete kitchen renovation. During this process, you can change the overall layout of the space to create a streamlined flow to the room that includes all of the features you need—like a new kitchen island!
Alternative Island Options: If a gut-and-remodel of your small kitchen is out of the scope of your budget, there are still ways to get the functionality of an island without the big expense. Butcher blocks, trolleys, and moving islands are all excellent options to give you more storage and work area in the room without taking up a great deal of space.
Kitchen islands are a stylish and functional upgrade in this essential room of the house, but enjoying the results of your kitchen renovation comes from understanding exactly which features will work best in your home. From gallery-style kitchens to expansive rooms, a kitchen island installation could be the perfect solution for allowing you to streamline your daily routine, make memories with your family, and add a touch of class and beauty to the heart of your family's home.