Kitchen Countertop Trends in 2015
The Votes Are In! Check Out Our Top Picks for Showstopping Countertops in 2015
Whether you're looking improve your property value or you want to give your kitchen a breath of fresh air, updating your kitchen countertops is an excellent way to really transform the look and feel of your home. Now that we are more than halfway through 2015, our staff has taken the time to sit back and analyze the latest trends in kitchen countertops this year. After careful consideration, we've come up with our top picks for the most popular styles. Read on to learn more, and find the countertop material that truly suits your style!
Colorful Countertops
These days, bright and colorful accessories are becoming increasingly popular when it comes to all different types of home décor, and the kitchen is no exception. You can use color to really hone in on and capture the energy you want your kitchen to have. If you want your kitchen to feel like a relaxing oasis, you can opt for a countertop in a gorgeous shade of blue or green that brings a natural landscape to mind. If you want your countertop to make a bold statement, you can really have fun with this trend and choose any color you prefer, from a bright red, a rich shade of mint, or a striking and sunny yellow color.
Wood Countertops
Today's countertop trend reports show that wood is still having a major moment in the world of kitchen design. With rustic accessories currently popular, it's no surprise that customers are searching for wood countertops that evoke nature and warmth, in finishes that reflect the original look of the wood, rather than the more polished, super glossy finishes that were once popular before. If you want to inject a bit of nostalgia into your otherwise modern kitchen, you can't beat a wood countertop to create that perfect, cottage style feel. From a practical standpoint, wood is not only sanitary but heat-resistant as well, so you can leave piping hot pots, pans, and dishes on its surface, without having to worry about damaging the wood.
Stainless Steel Countertops
If you can't get enough of a modern, futuristic, or industrial look, a stainless steel countertop will help bring your vision to life. Not only is the appearance of stainless steel incredibly simple to coordinate with any color or pattern, it is also super easy to care for. All you need is some gentle soap and a soft cloth to wipe stains away and you're good to go. Another perk that many may not know is that stainless steel is the most hygiene-friendly choice of all the countertop materials, since it is not capable of collecting bacteria on its surface!
Glass Countertops
If you are looking to give your kitchen a unique and unforgettable look, a glass countertop is a great way to achieve that special visual appeal. When it comes to this material, the options are truly limitless. Homeowners can choose from polished, textured, clear, or colored glass in a thousand different patterns and design; this choice of countertop allows for a lot of customization and personal touches. The finished look will give your kitchen the same time of luxe appearance you'd expect from an old standby like granite, without having to pay more.
Textured Countertops
Just as with glass and colorful countertops, textured countertops are bound to serve as an excellent conversation-starter. Kitchen design trends show that there is a real push right now for more natural countertops that look and feel different from the rest. A textured countertop will look laidback and lived-in, while also giving your kitchen more dimension and flair.
Classic Countertop Trends
Here are some timeless classic kitchen countertop trends that'll always look beautiful and never go out of style.
Quartz Countertops
If you are looking for a countertop material that will stand the test of time and require barely any maintenance, quartz is an excellent choice. Not only is it durable and extremely resistant to staining, impact, and heat, a quartz countertop is also available in more colors and styles than ever before. If you love the look of quartz but worry that it won't match with your kitchen decor, you can browse through a wide array of contemporary designs to find the one that suits your home perfectly.
Granite Countertops
Despite what trend-followers and taste-makers will tell you, granite countertops still come in first place in terms of popularity amongst homeowners. Not only does granite provide a chic, timeless, and expensive appearance, it also creates a durable, scratch-resistant prepping and cooking surface. Since granite is a naturally-occurring stone, the patterns within it may vary from slab to slab, which can make it more attractive to those who want some diversity in the look of their countertop.
Laminate Countertops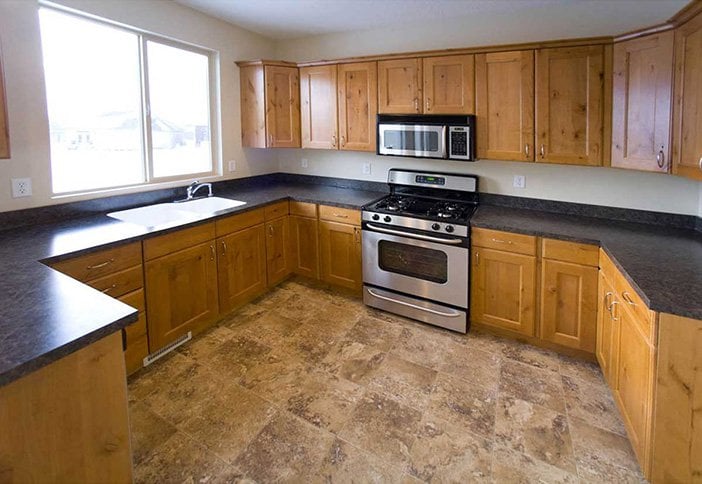 All too often, homeowners associate a chic or luxurious countertop with a hefty price tag, but it doesn't have to be that way. These days, laminate is coming in strong in terms of popularity amongst customers looking for a granite-esque appearance to their countertop that doesn't blow the budget. With advancements in production, laminate countertops are now created to look strikingly similar to a high-end stone, wood, or quartz model making it a superb choice that is wallet-friendly at the same time.
Are you in the market for a new kitchen countertop and looking for some guidance? Kitchen Cabinet Kings is here to help you every step of the way. Our friendly and knowledgeable team will walk you through all your options and will help you make a choice that fits your lifestyle and kitchen decor to perfection! For 3D kitchen design advice that is free of charge and full of handy tips and guidance, simply fill out this form and we will work together to help you find the kitchen countertop that matches your needs and expectations. We look forward to collaborating with you!