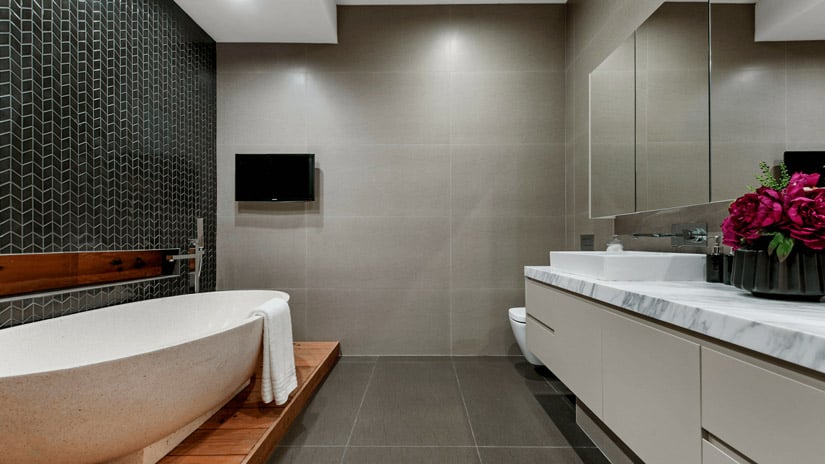 Installing tile in the bathroom can change the entire look and feel of the space, but the grout that you choose to complement your tile needs to be more than just an afterthought! Even the most beautiful, customized tile pattern can become busy or unsightly with the wrong grout color choice, but figuring out which option will work best with your tile can be more difficult than it seems.
While the color, shade, and pattern of your tile all play a big part in the ideal grout color, you'll first need to consider other important factors as you start looking at the choices that are available:
Surroundings: Consider all of the colors in the room—not just the tile shade. While the grout you like may work with your tile, it could clash with other design features.
Location: Exactly where the tile is located makes a big difference, as tile closer to eye level will be more front-and-center than tile installed on the floor of the bathroom.
Grout Size: Tile spacing plays a major role in the overall look of the grout, so take into account the size of the grout space before deciding if you need a bold or neutral color.
Tile Edging: Rectified or "crisp edged" tiles give the grout a clean, stark look, while non-rectified or "natural edged" tiles provide a more organic appearance.
Tile Finish: Highly reflective tile can change its shade depending on the light source around it, so consider the finish of the tile and put a sample in place to get an accurate picture of how the grout will look.
Once you have a clear idea on how the design of your bathroom will affect the grout color for your new tile, you can start looking at the material, finish, and hues of your tile to find the ideal match for your space.
White Tile
White tile is a traditional choice for bathrooms—think classic subway tile walls and floors—but it is also a trendy option for modern homeowners that like a minimalist, clean appearance. With the stark nature of white, it can be a challenge to find a grout color that goes well with the space, and there are a few different options that might work for you depending on your goals for a bathroom remodel.
White or Light Grout
When you want your tile to blend seamlessly into the environment of the bathroom, white or very light-colored grout is the way to go. This pairing is ideal for ultra-modern bathrooms, small spaces, or rooms that already have a lot of bold, colorful design features.
Gray Grout
Gray grout adds more contrast than a standard white grout with white tile, which highlights the outline, pattern, and shape of your bath tile. A soft gray color is the most popular choice, as it gives visual interest without an "in your face" look, and it also requires a bit less cleaning than white-on-white tile and grout installations.
Black or Dark Grout
If you want your white tile to be the show-stopping design element of the room, there's no better way to make your tilework pop than with black or very dark grout. This color grout greatly emphasizes the tile pattern in the bathroom, which gives you a lot of room to get creative with the design of the installation.
Black Tile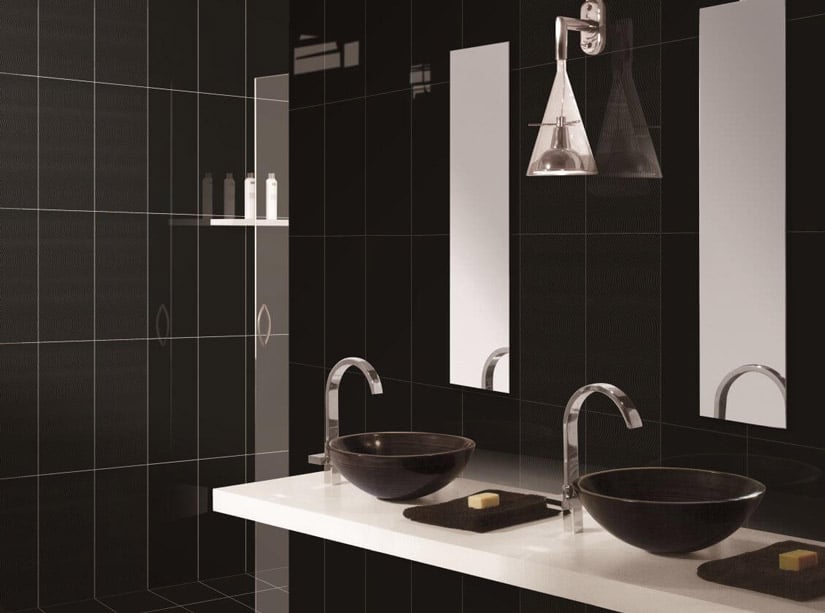 While white tile might be a standard for bathrooms, black tile is a trendy option that can add luxury appeal to a larger bathroom. The rules of pairing black tile with grout are essentially reversed from the rules of white tile, and there are a few different options that work best with this shade:
Dark Grout: For a soft look that blends beautifully with the finish of your tile, consider black or very dark grout in a similar tone.
Charcoal Grout: Charcoal grout gives many of the same benefits as dark grout while also giving the room a more vivid appearance with soft visual appeal.
Colorful Tile
Eclectic, trendy, and modern bathroom designs are often focused on bright, bold accents—so what better way to make an impact than with a colorful bath tile? Choosing the right shade of grout to complement your colorful tile adds an extra level of challenge to the installation, but there are a number of different combinations that can look great with any color tile.
Gray Grout
When you are considering gray grout for your colorful tile, you have to look beyond the vibrant hues. Is your colorful tile more on the dark or light side of intensity? Pairing the tile with a gray grout that is a similar color value will blend the tilework into the look of your bathroom, while contrasting the color values will give you a bolder appearance.
White or Light Grout
Contrary to what you might think, white grout can actually help your vividly colored tile to blend better into your bath space. The clean, timeless look of white or light grout highlights the crisp edges of colored tile without competing with the brightness of the vibrant finish.
Colorful Grout
If you are going with brightly colored tile, why not go all out with your design? Pairing a vibrant tile with an equally vibrant grout in a contrasting shade can create a stunning, unique bathroom that is a highlight of your home.
Special Considerations (Porcelain, Natural Stone, Glass)
Porcelain, natural stone, glass—there are many different options out there for tile material and each has its own unique finish, color, and appeal. While there are some basic guidelines to follow when choosing a grout color for solid-color tile, what do you choose when your tile isn't just one continuous hue or pattern?
There are few special considerations for this style of tile installation, including:
Multiple Tile Patterns: If you have multiple areas in your bathroom that feature tile, you likely have multiple different styles and colors of tile in the space. To avoid clashing one tile feature with another, go for a grout color that perfectly complements both—then use that color on all of the tile within the space for a cohesive appearance.
Multi-Tonal Tile: If your tile has natural variance in the shade and hue, it may seem like it will be more challenging to match the perfect grout color—but it's actually the opposite! You can either choose a single color in the shades of the tile to match your grout to, or select a grout that is just light enough or dark enough to give slight contrast with all tones of the tile.
Your bathroom is one room of your house where you spend a lot of time, and every feature of the space contributes to how the room looks and feels—from the bathroom cabinets to the color of the tile grout. With a bit of creativity and a little shopping around, you can find the ideal grout color to make your new tilework pop and bring your bathroom remodel to life.