Cabinets are one of the most important components in defining the look of a kitchen, and any discussion about 2015's kitchen trends would do well to start with them. There are a variety of different cabinet design trends worth talking about; let's run through a few of the more interesting ones.
More Efficient Storage
This year, we hope to see the end of kitchen supplies tossed at random into badly-organized drawers. Efficiency is the name of the game these days, with a variety of storage options, including pullout trays, bread boxes and spaces custom built for a variety of common kitchen products like baking trays.
Black and White
Two separate trends are sweeping the design world at the moment, both on opposite ends of the chromatic scale. In an era where design as a whole is shifting towards minimalism, it's only appropriate that the two most basic colors should be all the rage in kitchen design.
Kitchens with black as their primary color create an aura of class, taste and ultra-modern sophistication and are very popular with urbanites. (Not to mention it hides dirt really well.)
Meanwhile, white shaker-style doors can create a light look in a kitchen and are perfect for making an already sunlit kitchen look even brighter. It's most popular with people who are going for a rustic look in their kitchen, but flat white doors can also lend themselves very well to a contemporary design.
Kitchens incorporating both black and white are also great for creating a very striking, stark look.
Raw Wood
Whoa, watch for splinters! In all seriousness, polished wood is finally starting to loosen its grip on the cabinet market, with rougher wood lending a rural touch to kitchens whose owners are going for a warmer look. Paired with brown or gold metals like copper and bronze, they can go a long way toward pulling it off. Woods that are currently popular include cherry, walnut and birch.
Glass Fronts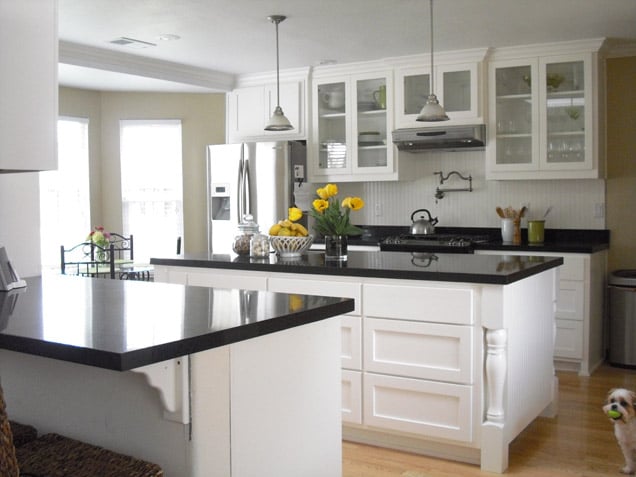 Like government, transparency is rapidly becoming a virtue in kitchen cabinets. It gives the eye a welcome break from rows of identical wall shelves and creates display space for collectible dishes, decorations or well-arranged kitchen supplies.
Taken to the next level, this gives us…
Open Shelving
One of the biggest trends in cabinetry is, well, the lack of cabinetry. Open wall shelving is becoming increasingly popular among people who prefer their kitchens to have a more airy look, or who just want to show off how much cookware they have. Don't start mourning the death of the cabinet, though. Closed cabinets aren't going anywhere. They're more often paired with open cabinets for a mix of the traditional and the new.
Taken to its logical conclusion, however, this disdain for wall cabinets results in another trend…
Less Being More
Open-plan kitchens featuring few wall cabinets have been popular for a while among homeowners who want to open up their kitchens, getting more stuff off the walls to increase the sense of spaciousness. Open plans are especially beneficial to kitchens with windows.
With the increasing move to apartments and away from large homes, people are having to fit more into less space. "That's nice," you might say, "but where does the kitchen fit into it?" Well, kitchens — no longer just a place to prepare food — are increasingly becoming extensions of the living room as secondary hubs for interaction with family and guests. This new double-duty is showing itself more and more in 2015's trends.
Open Plans, Once Again
We mentioned open-plan kitchens when talking about cabinets, but they obviously reach much further than that. Increasingly, we're seeing walls removed between kitchens and dining rooms (or whatever room the kitchen happens to be next to), or at least cut down to half the height and turned into breakfast bars.
Furniture-Style Islands
Possibilities include putting your kitchen island on legs and pretending it's an heirloom chest, adding panels to it and pretending it's a set of cabinets or adding a contrasting top and sides. This has been popular in higher-end homes for years, according to interior designer Greg Natale, but furniture makers are starting to take the hint and develop more affordable lines for kitchens everywhere.
Multifunction Islands
Islands that function as both prep space and eating space are predicted to increase in popularity over the next year. Kitchen islands are inherently multifunctional, but expect to see them used as bar and breakfast area much more often. Many kitchen islands are also coming with extendable features that allow them to be used as bars, desks and full-fledged dining tables.
Bar-Style Islands
As kitchens increasingly become more like restaurants, the hot new feature to have in yours might just be a pub-style table. Bar stools are known to facilitate conversation, which is just the feature many kitchen designers are looking for now.
Wheeled Islands
For those of you who prefer to use the island strictly for preparation, you might want to stash it when it starts to get in the way. That's why wheeled islands are slowly gaining ground in popularity.
Table-Style Islands
While overhangs that extend the kitchen island's table space have long been a popular feature, some people are going the extra mile and turning their kitchen islands into full-on high tables, removing the bottom and replacing it with legs, letting the kitchen function as both living room and dining room.
…Or Actual Tables
Why go for an imitation kitchen table, when you can just have the real thing? The kitchen table, long associated with family life, is making a comeback. Often cheaper and easier to move than islands, simply bringing in a kitchen table can be the perfect solution for those who want an extra flat surface in their kitchens, but not necessarily to use for food preparation.
And for those with built-in islands, one current trend expected to grow in the new year is to attach a lower, traditionally-sized dining table to your kitchen island, thus either expanding your dining space or keeping it conveniently close to your prep space.
Smart Appliances
We live in a truly amazing time for kitchen appliances. Stoves can be turned on and off from a smartphone app and are coming with tablet-like displays that allow you to download recipes. Refrigerators are also joining the smartphone revolution, alerting our mobile devices when we're out of certain ingredients. There's a chance these may remain cost-prohibitive for most buyers for a long time, but there's no doubt we're entering a new era in appliances.
Mix and Match Appliances
Transitional design is all the rage right now as designers (wisely) try to combine old-world charm with new-world class and sophistication, often with striking results.
The possibilities are endless: sinks with natural stone backsplashes next to chrome dishwashers, modern stainless steel ovens with gorgeous riveted brass hoods, all-modern appliances paired with carved wooden cabinets and hardwood floors. Out of all the current kitchen trends, this one allows you the most room for creativity.
Warm Metals
Silver, chrome and stainless steel may have traditionally been associated with the future, but now, the warmer metals are finally getting their time to shine. Just as trends are headed towards brighter accent colors and more open floor plans, the metals we're choosing to use are also becoming warmer and more inviting. This trend began in 2014, but it's expected to go strong into the new year. Think faucets in bright gold or brilliant brushed aluminum or lighting fixtures in warm copper tones.
Farmhouse Sinks
Farmhouse sinks, also known as apron-front sinks, feature an oversized square basin that juts out from the surrounding cabinets. They were huge in the first three years of the decade, then they faded out, but apparently, they're starting to come back again.
However, don't expect them to supplant the "normal" style of sink, though. According to the 2014 Houzz Kitchen Remodeling Survey, the most popular choice of material for sinks remains stainless steel, and double sinks are considerably more desirable than singles.
Four-Door Refrigerators
These new takes on the French-door refrigerator are perfect for neat freaks, providing an additional easy-access storage compartment, often with separate temperature controls. These first debuted a few years ago, but they're just now working out their kinks. The 2014 models were better and more affordable than ever before, with the 2015s expected to continue the same upward trend.
Double Ovens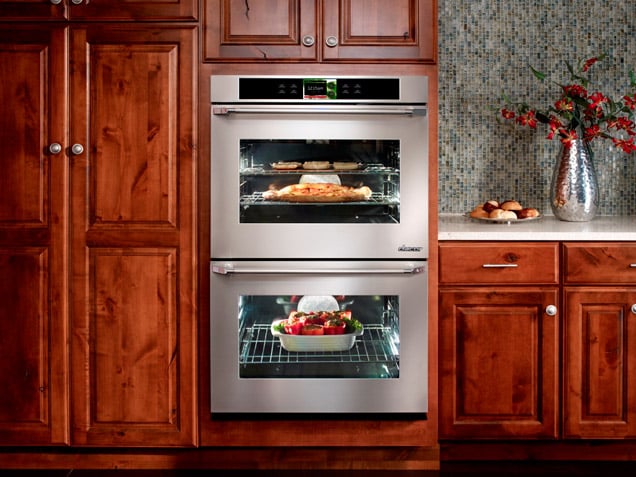 Double ovens are beautifully versatile, allowing you to cook two different dishes at two different temperatures simultaneously, an undeniable godsend for people with lots of guests. These seem to be part of the ongoing trend of kitchens geared toward accommodating more family members and guests than ever before.
Countertop Materials
Granite is currently the most popular material. It's beautiful, durable and easy to clean, which pretty much covers all the bases most people are looking for in a countertop. It goes with most designs as well, making it a good all-around choice for anyone looking to redo a kitchen.
Coming in second is the underdog, quartz. With many homeowners looking for attractive but low-maintenance countertops, quartz is finding itself high on their wish lists. It can be used in any design, and although kitchen designers in the past complained about how unnatural it looked, manufacturers have been working on making it look better.
Marble's longstanding popularity for countertops is expected to continue, due to its glamorous appeal. On the other hand, however, concrete's practicality is also winning it plenty of fans.
Textured countertops, made out of materials like leathered granite, are also gaining popularity.
We've covered the functional aspects of the kitchen, now let's talk about the aspects that are purely decorative.
The aesthetics of kitchen design are also changing, reflecting our current cultural shifts. Perhaps predictably, they're also tied to where we live. The 2014 Houzz Kitchen Remodeling Survey revealed that people in rural areas prefer traditional and farmhouse-style designs for kitchen remodels, whereas people in urban areas preferred transitional and contemporary designs.
Textures
High-gloss, ultra-smooth and overly polished contemporary styles seem to be on the way out. More and more designers are looking for something real in their kitchens, and texturing is a great place to start. There's a move toward using materials with more raised and defined textures. Natural marble is a good example; however, for those on a budget, plenty of artificial textures are available to choose from, many of which are engineered to look more and more like the real thing.
Vibrant Colors
Although black and white are popular, vibrant colors and rich hues are also on their way in, with some of the most popular shades for the year being deep Mediterranean blues and warm, inviting golds.
Pantone's Color of the Year is Masala, a deep wine red that, according to the site, "enriches our minds, bodies, and souls." This might be a bit hyperbolic, but there's no denying that it's indicative of the kind of rich yet tasteful colors that could well go on to define home design in 2015.
Although interestingly enough, gray is also a very popular color at the moment and shows no signs of stopping. However, maybe it's not that surprising. Gray is one of the few colors that goes with everything, and its virtually infinite ranges, from icy lights to deeply alluring darks, can create a wide variety of moods in a kitchen.
Wood Paneling
Another trend we're currently seeing on the rise is V-joint wood paneling. This style subtly introduces detail to a space, preventing the eye from getting caught on a flat, bland expanse of one color. Not only that, but it's cost-effective and simple to install, unlike a lot of the more complex styles of decoration and cabinetry.
Wallpaper
Although out of fashion for a long time, designers are once again realizing the potential of wallpaper for adding an easy splash of color to a kitchen. With wallpapers coming in many more patterns and designs than can be created using paint, picking a distinctive one can quickly add visual interest to your kitchen, possibly even serving as a conversation piece.
Hardwood Floors
This may be a result of the move towards urbanism. Tile, long associated with suburban tract-house kitchens, is rapidly being supplanted by hardwood as the it-material for kitchen floors.
Interestingly, this is one of the few trends that has trends within it. The newest craze in the world of hardwood flooring is gray woods. Although hot entirely gray, their muted tones endear them to a lot of people who prefer subtlety in their kitchens' color schemes. Other trends include exotic woods like bamboo, and matte finishes instead of polished ones.
Stunning Ceilings
Designers are increasingly considering ceilings every bit as important to a kitchen design as walls and floors, and this has opened up an entirely new canvas for them to showcase their creativity. Expect more creative lighting, coffered ceilings or even skylights over kitchen islands.