There are so many features, options, and fixtures that you need to consider during a bathroom remodel that it can be easy to overlook one of the most functional areas of the space—your bathroom vanity! While choosing a new bathroom vanity and mirror is an important aspect of design, even the most modern products aren't going to meet your expectations without proper lighting.
The lighting around your vanity can make or break the convenience of your daily routine—leaving you with a fresh, clean area for your daily tasks or drowning you in frustrating shadows when you try and put on your makeup or shave. While it is obvious the importance of having adequate lighting around the vanity, the type of lighting that you need may not be quite as clear.
There are many different options on the market today for beautiful and efficient vanity lighting, and the style that works best for your home depends on the unique design vision that you have for your new bath. With any lighting you choose, it's important to remember that your goal is to illuminate the face of the person using the vanity—not just the surrounding space.
Single and Double Sconces

Sconces are a mainstay in many bathrooms, and they have been used for decades as a primary form of functional task lighting around the vanity. However, just because they are functional doesn't' mean that they lack style! You can find sconces in virtually any design—from sleek, modern pieces to vintage and Victorian-inspired options—making them a great choice for bathrooms of any style.
Single Sconces: While you'll typically see a pair of sconces used as accent lighting and task lighting in the bathroom, you can make a single sconce work as well! Ideal for areas where there is minimal wall space, a single sconce can be positioned above a mirror to keep the lighting symmetrical and add a touch of elegance to the room.
Double Sconces: Choosing double sconces for the bathroom vanity is a great option both aesthetically and functionally. Most often seen flanking a vanity mirror, a pair of sconces provides the ideal amount of light for your daily tasks, evenly illuminates the face from both sides, and gives your bathroom a customized, high-style look.
Statement Lighting

Functional. Practical. Bright. These are all ways that you might describe vanity lighting, but you don't have to be limited to traditional lighting fixtures! More than just functional, vanity lighting can also be used to make a big statement in style within the room. The two most popular fixtures for vanity statement lighting are chandeliers and pendants—both of which can complement primary light sources while adding a dramatic appeal to the environment of your bathroom.
Consider putting a chandelier or pendant around your vanity when:
The room isn't your primary bathroom and requires less functional and task lighting
You are planning a power room remodel and want to make a big statement in style
Practical lighting is already installed, and you are looking for a stylish complement
You need versatility in the layout and installation of your new lighting fixtures
Recessed Lighting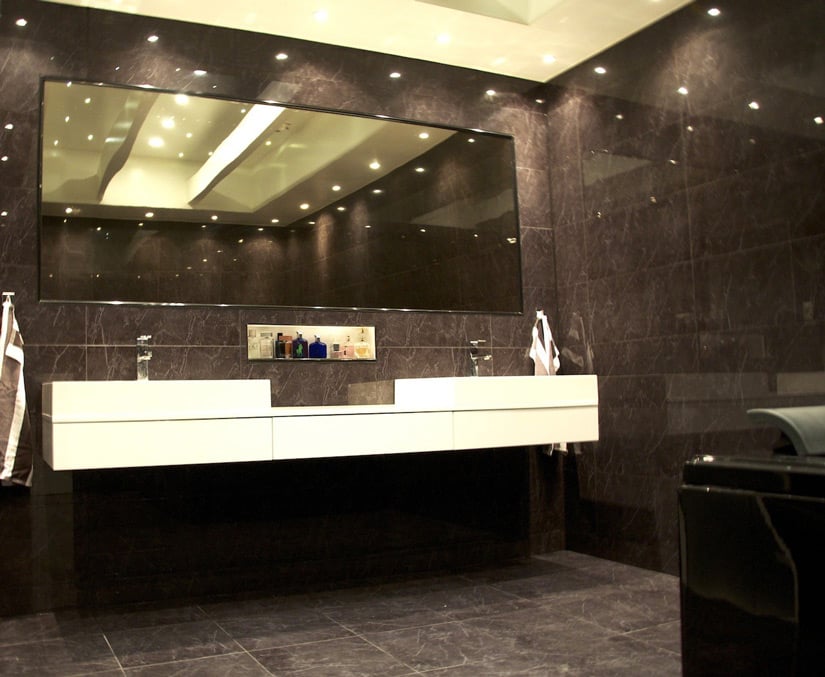 Recessed lighting, also known as downlights or potlights, are a very common vanity lighting fixture—and for good reason! Known for delivering a high return on investment, downlights can add value to your home during resale and are a neutral light source that blends beautifully with nearly any design style. While recessed lighting can be a great addition to the bathroom, there are a few important things that you have to remember when using this as your vanity lighting:
Position your potlights close to the wall to better illuminate the vanity and mirror
When used as the single lighting source, be sure to form a complete grid for enough light
Consider combining recessed lighting with pendants, sconces, and other functional light fixtures
LED Lighting

Modern-day LED lights are fairly new to the remodeling world, and this lighting style is continually improving and evolving over recent years. Featuring bright white light that adds impressive illumination to the room, LED lights are ideal for clean, modern bathrooms that need a lot of functional light. LED lights can be added virtually anywhere in your vanity space, making them one of the most versatile options, and you can consider putting them around the mirror and under or above your vanity cabinet.
Vanity lighting is more than just a style statement in the bathroom—it is an essential feature that you need to consider when thinking about how well your newly remodeled bath will work for the needs of your household. Whether you are remodeling a master bathroom, kids' bath, or a guest powder room, consider the layout, use, and design of the space to choose the right fixtures for bringing your renovation vision into the light.