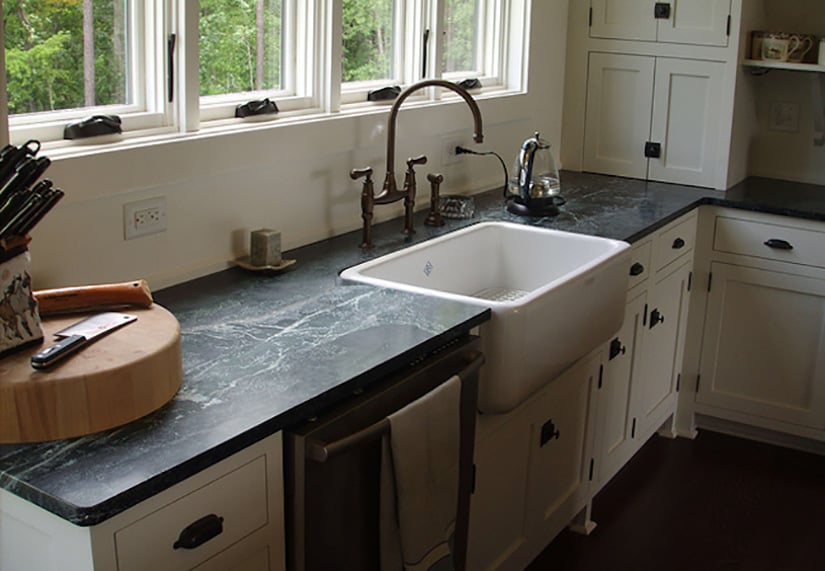 Soapstone is a natural, quarried rock. Its soft, soap-like touch (hence the name) is due to its high talc content. When used for countertops it is usually mixed with quartz to ensure strength and durability.
Kitchen counters go through an unimaginable amount of wear and tear throughout the years. That's why it's important to choose a quality material that will hold up over time. If you're thinking about renovating your kitchen, it might be worth your time to look into soapstone. We've gathered a list of pros and cons below.
Pros of Soapstone Countertops
The material offers a natural, warm aesthetic. It's a very versatile look that goes with almost any décor.
Although soapstone is a softer material, it's highly durable making your countertops less prone to serious damage. If you do end up with scratches, it's fairly easy to sand them out.
Soapstone is a non-porous material requiring no actual finish or harsh, chemical cleaners. It's recommended to use only warm water and soap to clean.
The density and non-absorbent nature of the stone prevents bacteria from penetrating the surface, making it a great, sanitary choice for those who enjoy prepping food directly on their counters.
Material will stand up to acidic spills, and is completely heat resistant allowing you to place hot pots and pans directly on the surface.
Very little maintenance is required. Mineral oil can be used at owner's discretion for aesthetic. Check out this article to see how to properly oil counters.
Darkens over time/with oiling, creating a sought after rustic appeal.
Cons of Soapstone Countertops
Soapstone is a bit more expensive than other materials. For example, Granite and Quartz run about $50-$100 per square foot, whereas soapstone goes for roughly $70-$120 per square foot. However, soapstone is a long-term investment that will last a very long time.
Limited selection of colors.
With soapstone being cut into smaller slabs, you end up with more visible seams.
The softer texture makes it more susceptible to small scuffs and scratches. With normal kitchen activity, counter edges are also bound to lose sharpness definition over time.
If price is not an issue, consider soapstone for your kitchen countertops if you want a durable countertop with a timeless look that will hold up throughout years of use.