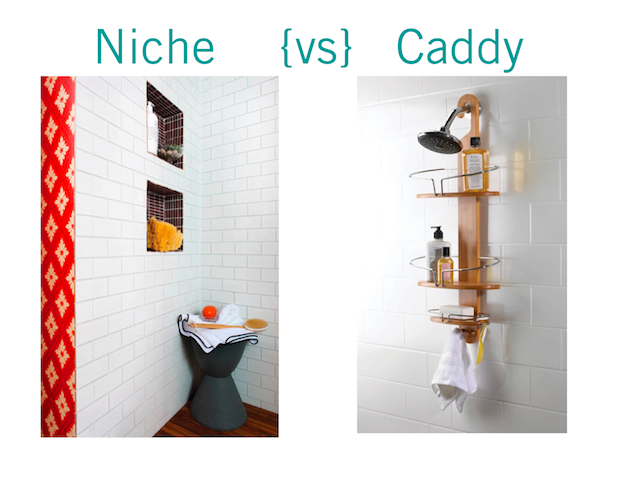 Shower caddies remind me of college, when you carried all your toiletries into the bathroom (often communal) in a little box with holes in it. Or when you moved into your first off-campus apartment, and all you could afford was a pressurized corner shower caddy that took two hours to assemble.
If you're a homeowner, banish those days forever by considering installing a recessed shower niche into your bath. External shower caddies are often not only unsightly, but also a space nuisance, when often bathroom space is at a premium. In the above left example, I just love how the tiles are even colored differently inside the niche so they contrast with the clean white larger shower tiles.
To succeed at this project, careful demolition and having someone who is skilled at tiling is crucial. You should not have to deconstruct the entire bathroom to achieve this look! Plan exactly if you want matching tiles inside the niche or not, and how many you will need to ensure a strategic and beautiful outcome.
When done right, a lovely shower niche can add depth, sophistication, and more space to your bathroom. For the rest of us rental rats (unless you get permission from the landlord!) there's always that sleek wooden caddy on the right.
(Photos via Apartment Therapy and Linens and Things)