Remember MTV cribs? Of course you do. I used to watch episode after episode, entertained by what I saw but never really finding anything realistically applicable to my future dream home. It's undoubtedly awesome to have a dolphin pool in your backyard, or a closet to display 3,000 pairs of shoes, but…really?
Today we've rounded up three celebrity kitchens that are realistic, gorgeous, and inspirational. Check out the distinct styles of Kristen Bell (Veronica Mars), Ellen Pompeo (Grey's Anatomy), and Florence Welch (Florence + the Machine), and decide which elements you can envision adopting in your own home.
Kristen Bell's sunny and cheery L.A. kitchen seems to match her personality perfectly. Doesn't she look so effortless? The cabinets are finished with Benjamin Moore Simply White paint and colorful garden accents pop out here and there. A super fun and chic look we love is the bar stools upholstered in a beachy print. This is a great DIY project – find a set of matching bar stools at a cheap furniture store or even your neighborhood flea market and then spruce them up with white paint, and your favorite fabric. We also dig the contrast of the dark sleek wood floor with the bright cabinets and walls. The sage green floor mats do a great job of warming up the space, to achieve a homey and comfortable effect.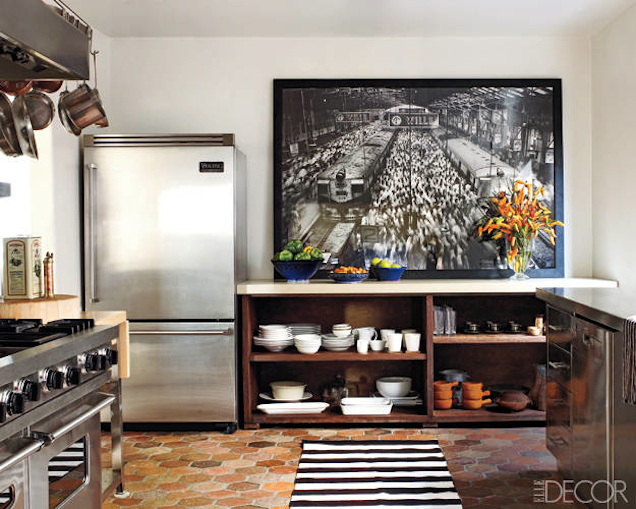 This is Ellen Pompeo's Hollywood home's kitchen. You can see that the overall vibe is very Mediterranean, with terra cotta tiles (imported from France, though yours don't have to be!) and open air shelving. The stainless steel appliances give the kitchen a more industrial feel, which complements the stunning, large photograph of a city train platform. Yet, this kitchen still feels like an easy going place to share a glass of wine with whomever is preparing dinner, thanks to the colorful wildflowers and fun striped rug.
Lastly, Florence Welch's London cottage kitchen is simply charming. Amazingly, she fits so much in very small quarters without it looking cramped. Florence's style is romantic, rustic, and a little quirky. The long kitchen table shows that she values entertaining and having large dinners with family and friends. The fact that the main dining area is right smack in the middle of the kitchen eliminates all separation of cook and guests; we'd guess that cooking is a social activity at the Welch home. Her space is covered with Florence-centric ephemera, including refrigerator magnets, crest-style prints on the wall, and an embellished lamp. The abundance of greens and flowers in her kitchen is what breathes life into the room, with elegant bouquets and table greens. Plus, light (huge door/window on right) and skylight opens up her otherwise small kitchen. Lovely!
Are there any ideas from these three unique celebrities that you can see yourself incorporating into your kitchen?