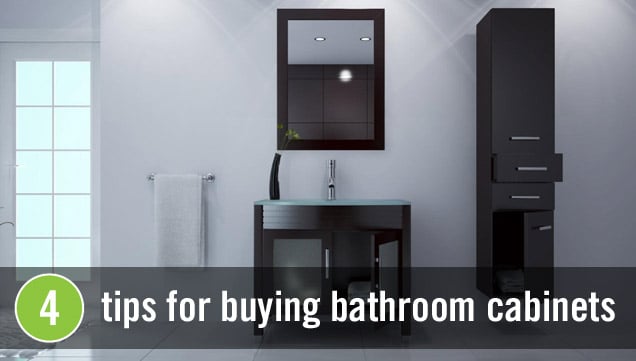 The right cabinets for your new bathroom can provide the focus and the foundation for your remodel. With hundreds of options available, choosing just the right bathroom cabinets may seem daunting. In addition to color and finish, you may be contemplating custom, fully assembled or ready-to-assemble (RTA) cabinets. Do your homework to narrow your choices and pick the vanity that's just right for you.
Study First, Buy Later
Bathroom design presents the perfect blend of form with function, and the style of the room will vary depending on if it's meant for guests or daily use. Consider cabinets that include a high shelf for a television if you want to catch the headlines while getting ready for work. If you need extra towels for overnight visitors and prefer a stylish presentation, a built-in wine rack might do the trick. Modular cabinets with deep pullout drawers can hide tub toys out of sight when company arrives, and a lazy Susan keeps essentials in easy reach. Both online and print resources can give you ideas to create a space that's right for you.
Budget for the Future
Researching current styles and fashion trends or working with a designer can help you find the right look the first time. Shop online and do the work yourself with ready-to-assemble cabinets to save money. Remember that you're unlikely to do another rem0del for years, and embrace versatility to get more bang for your decorating buck. White painted cabinets blend seamlessly with both classic and contemporary design. Especially when they are paired with a multi-colored floor or backsplash, updating the room is as simple as adding a new shower curtain, towels, throw rugs and other accessories.
Find Your Style
Unlike kitchen cabinets, a vanity is unlikely to be your biggest bathroom remodeling expense, so feel free to get creative. Cabinet fashions are as varied as paint colors, but there are three basic styles. Stand-alone vanities are the classic sink and countertop combination. Next are hanging wall cabinets and built-in linen closets and hampers. Third are fully custom built-ins, designed by you or an interior decorator, and include complete wall cabinets designed to match your fittings and fixtures. After choosing the style, you'll have to decide on the material and finish.
Following Trends
Even as fashions come and go, good taste never goes out of style. Modern bathroom design is trending toward creating spa environments at home. Transform your bathroom into a peaceful oasis with a Jacuzzi tub and beautiful, renewable bamboo cabinets. Dark cherry or walnut cabinets convey easy elegance. Contrasting dark and white cabinets combined together draws the eye and relaxes the mind. Another current trend is toward comprehensive design, where colors and patterns flow seamlessly from room to room. To get this look, coordinate kitchen and bath fixtures and cabinets to create a uniquely harmonious home.