Selecting the right kitchen sink is an important decision with many choices to make along the way; What material do you want the sink be? Should the edges be rounded or straight? What kind of faucet attachments are going to make your life easier? One of the very first steps is to determine which style of basin you'll benefit from. What it truly comes down to, is personal preference. However, there is still a lot to consider, so we've done some of the thinking for you. Below are a few points that will help you decide which basin is best suited for your lifestyle.
First things first, you'll need to decide if a topmounting sink or an undermounting sink is right for you. Each style has its pros and cons:
Topmounting vs Undermounting
Topmounting:
A top, or self mounting sink basin is more cost effective and much easier to install. Topmounting sinks also allow for more under-the-sink storage space.
Downside: Overlapping lip allows for buildup of dirt and debris over time.
Undermounting:
Ideal for solid counter materials such as granite or marble, this style is installed below the counter with a supportive structure to hold it in place. With no overlapping lip, undermounting sinks offer a more fluid design and easier clean up, which in turn makes them more sanitary.
Downside: Less cost effective, and harder to install.
Single Bowl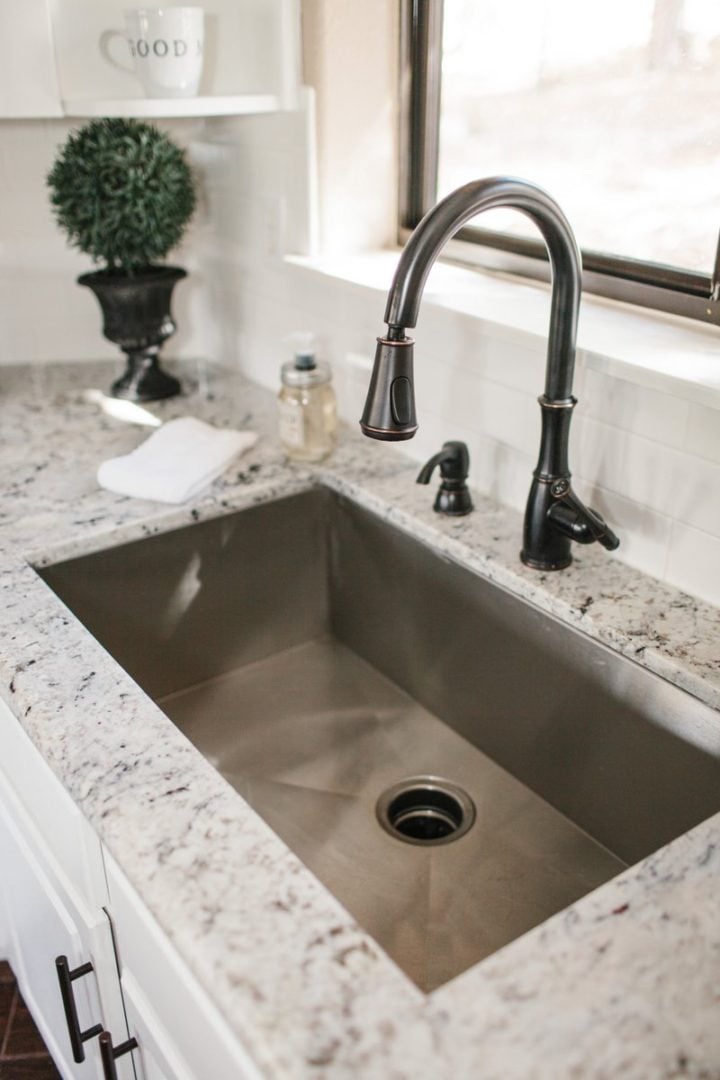 A single bowl can be favorable in terms of space when performing one task. If you're looking to have numerous tasks going at once, you may benefit from multiple basins. If you do choose a single bowl there are many kitchen sink accessories that can afford you more space when performing specific tasks.
Double Basin
For those who own fragile dish ware that is not dishwasher safe, a double basin may benefit you. Double basins are perfect for washing delicate materials such as crystal or china. The design is perfect for using one side of the sink to soap up and the other to rinse, making clean up easier and more efficient than with a single basin sink.
A double basin sink can also go one of two ways; the basins can be equal in size or offset. The pros of an offset sink (commonly referred to as 60/40 proportion) are that it gives you the flexibility of still having two compartments, but including enough space to wash pots and pans in the larger basin. If you're a freak for symmetry, an equal sink (or 50/50 sink) will work just fine, but you may end up having to soak oversized dishes on the counter. Again, this just comes down to personal preference.
Triple Basin
Triple basin sinks are not the most popular design, but they do come with their own list of positives. The purpose of the small, middle compartment is to keep the garbage disposal independent from the two larger basins on either sides. This way you can access the garbage disposal even if you've got both basins filled with dishes. Triple basins are a great way to keep food prep, cleaning, and waste separate.
Which style of basin will benefit you the most?