These days, you can't turn a corner without a home design-related blog, television show, Pinterest board or Instagram page popping up before your eyes. While the prevalence of information can often be inspiring and useful, it can also sometimes be confusing and overwhelming. With so many voices coming from all different sources, it can be tricky to know what to believe. At Kitchen Cabinet Kings, our staff is passionate about helping customers navigate these data-saturated times, to uncover a kitchen layout that feels true to them and genuinely useful for their lifestyle and needs. After careful consideration, we've come up with the top five myths in the world of kitchen design that need to be dispelled, right here, right now. Read on to get the scoop!
Myth 1: You need to spend 25% of your property value on your kitchen work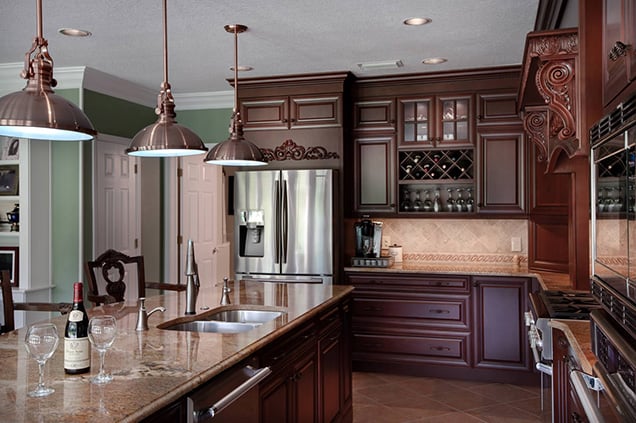 Truth: There's an age old misconception that homeowners have to allot a quarter of their property value on their kitchen renovation in order for it to make sense financially. In actuality, everybody has a different budget, with unique needs to consider. You have to factor in countertops, flooring, appliances, cabinets, electrical work, and manpower when setting your personal budget. These days, experts say that closer to 15% of your property value can be dedicated towards your kitchen redesign, in order for you to still have a favorable return on investment, but in truth there is no set umbrella figure for all homeowners to abide by.
Myth 2: Wood countertops are not considered sanitary

Truth: These days, many wood countertop manufacturers actually apply a sealant that provides a protective top coat and safeguards your family from dangerous bacteria floating around. As it turns out, wood materials have an antimicrobial property that attacks common kitchen germs and in fact protects your family when they cook. With a basic cleaning routine, you can have a perfectly sanitary kitchen environment after all.
Myth 3: Timeless kitchens only come in two color options: black or white

Truth: All too often, homeowners looking to be practical assume that a kitchen that will stand the test of time has to be outfitted with black and white furniture and accents. While it may be tempting to stick with that choice because you won't have to worry about getting sick of a certain color or pattern, the truth is, you should go with your gut. If you have one palette, texture, or design that you have always gravitated towards over the years, that is likely the aesthetic you are most comfortable with. Go with the color scheme and design that makes you happy, rather than being a slave to the trends or feeling obligated to be extra conservative.
Myth 4: Hiring professional kitchen designers is an unnecessary expenditure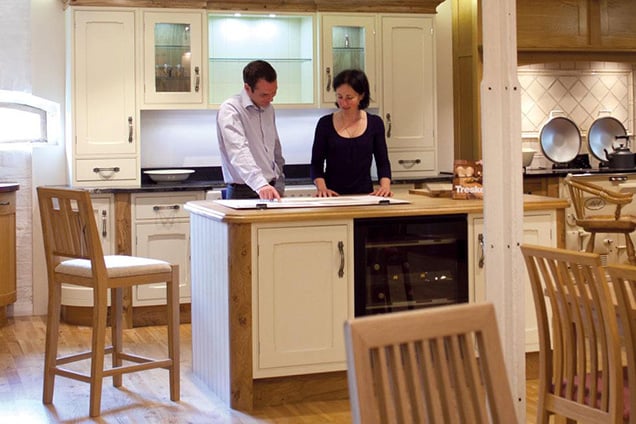 Truth: Whether you are proud of your DIY skills or you think you're getting the last laugh by not falling for the trap of professional designer costs, you need to take a step back and consider if the sacrifice is worth it. No matter how handy you are or how dreamy your vision is, you may indeed require a talented designer to bring your ideas to life. Somebody with professional kitchen design experience can meld function and style seamlessly, and make the most of the square footage you are working with. A lot of behind-the-scenes work goes into creating a beautiful finished product. Consider consulting with a designer before you jump in head first and find yourself in hot water.
Myth 5: A stylish kitchen is more important than one with ample storage space

Truth: For many of us, a kitchen renovation is an opportunity to express our creativity and create a space that is more chic, stylish, and trendy than its predecessor. While the temptation for a Pinterest Board-worthy kitchen may be high, it's important to not forget the more practical aspects of a kitchen redesign, namely storage space. Visual appeal is important, but there's no point impressing your guests with all sorts of bells and whistles if it means having to hide your inevitable, unsightly clutter in an over-stuffed closet or cabinet. Try to strike a balance between looks and function, and you'll be happier at the end of the day.
If you are ready to embark on a kitchen renovation and looking for help in debunking more hearsay and executing your vision, we are the ones to call. Fill out this 3D kitchen design form to get the ball rolling and our team will take it from there and help you create a layout that will bring your unique taste and function together. We can't wait to hear from you!