The worst part about walking into a showroom is that often find one extreme or another.
Some kitchen designs feel too cold with tons of industrial elements. Some feel too "Southern Living" with ornate decor from floor to ceiling. Others can even feel too minimalist and sophisticated, as if a humble peanut butter sandwich could never be conceived on its cool stone counters.
Good news! You don't have to prescribe to one box or the other. In fact, the biggest trend in kitchen design of the moment is the transitional kitchen. This fluid style allows homeowners to blend the elements of various styles that make the most sense to their functions, their family, and their happiness. If you like the raised panel cabinet doors and white wood paneling of French Country style, mix them with a sleek metal backsplash instead of the traditional tile backsplash. And so on. Read on for the 7 steps you can take today to achieve your own eclectic yet elegant transitional kitchen now.
1. Juxtapose Natural Materials with Sleek Metal Accents and Appliances

Combining man-made and organic pieces is the signature element of transitional design. It melds contemporary and traditional, fusing them into one individualized expression of your life as it is now.
2. Crisp Raised or Indented Panel Cabinets

The dual level door cabinet truly adds a sense of warmth and coziness to any kitchen. Steer away from extremely ornate styles, and stick with simple ones such as the Ice White Shaker, Savannah, or Honey. Remember, you can go a bit more detailed on the cabinetry if you keep the rest of the elements in the kitchen basic; it's all about balance!
3. Texture the Space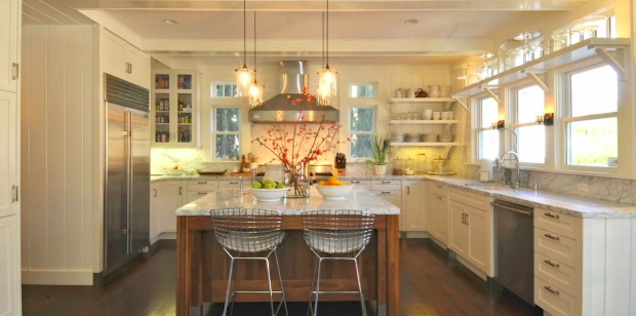 Adding plants a great way to add some dimension, color, and texture to your kitchen. The incredible flower branches in a vase above are simplistic yet elegant and center the room. Lush green potted plants add life and function (if they are herbs!) to your workspace.
4. Stick with a Neutral, Monochromatic Palette

Remember when you were five years old and wanted to dress in the same color head to toe? (For me, it was purple.) Well, this is the grown up version of that. The most beautiful transitional kitchens stick with one neutral color scheme (often grey, white, brown, black) and vary the elements with multiple shades, hues, and textures. The kitchen below is an awesome example.
5. Statement Hanging Light Fixtures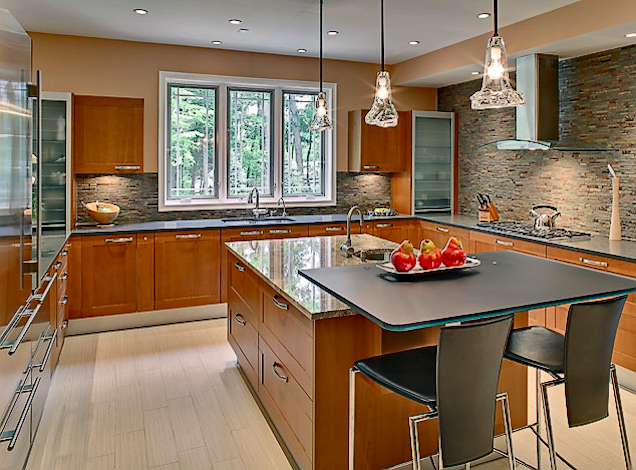 There are so many incredibly creative light and chandelier designs out there now that this is the perfect chance to showcase your taste. Anchor your kitchen with one or a set of eye-catching light fixtures that will illuminate your space in an elegant yet cool manner. Ensure that this remains the focal point though; too many decorative embellishments will make your kitchen end up more traditional than transitional
Have you already adopted this style in your own kitchen without knowing it? Share in the comments how you incorporated these elements into your own transitional style!
(Photos via Gilday Renovations, Snaidero, Snaidero)