Are you in a winter blues slump? After the holiday feasts are devoured, party invites dwindle, and the sparkly lights wane, we're faced with the new year and all its possibilities ahead.
These can be daunting. It's tempting to simply dive back into the chaos of work, complain about the cold, and daydream about that tropical vacation you'll take for three days in May. Or, you might be still rolling around on 2015's baggage conveyer belt like a beat up Samsonite, stuffed with self-pity, waiting for someone to pick you up.
It's time to claim yourself, or rather to claim the present. Perhaps you don't have a state of the art kitchen where you casually make homemade pasta every night, the fulfilling AND lucrative career, or that incredible significant other who gets you. So what? Work with what you have and get rid of the emotional and physical clutter. Since our minds and environments are inextricably intertwined, you can make concrete, conscious changes to your home to jumpstart the life of your dreams now.
1. Surprise yourself

Heard of a toe-kick before? It's the bottom part of cabinets where your feet often touch. Usually, these are just the same color as your cabinets (yaaawn) but after some gold contact paper, gaffers tape and/or washi tape, you can't help but feel brighter every time you walk into your kitchen.
2. Declutter your kitchen, declutter your mind

I love my baby cousins, but after each holiday season I'm faced with a dilemma of what to do with all the greeting cards from my huge extended family. Recycling seems so…harsh, but at the same time I miss seeing the smooth stainless steel face of my fridge Relocating these colorful cards to the inside of your cabinets removes a visual burden from the room, but also reminds me that I'm loved every time I reach for the pepper.
3. Bathroom Art is Underrated

You know how you judge a restaurant on its bathroom? Dude, your guests are doing the same to you when they visit your home. Beyond what others think, you deserve some beauty in all the spaces in your life. Find an image or text you love and get it printed as a large scale poster for ~$10 – $20 online at Target or Walmart. Fit it into an inexpensive frame from Michael's (don't forget their weekly 40% coupon) and you're done! Whether you hang a thought-provoking print like the one above or a series of muted botanical sketches, make sure it uplifts you.
4. Clear out the dishes before bed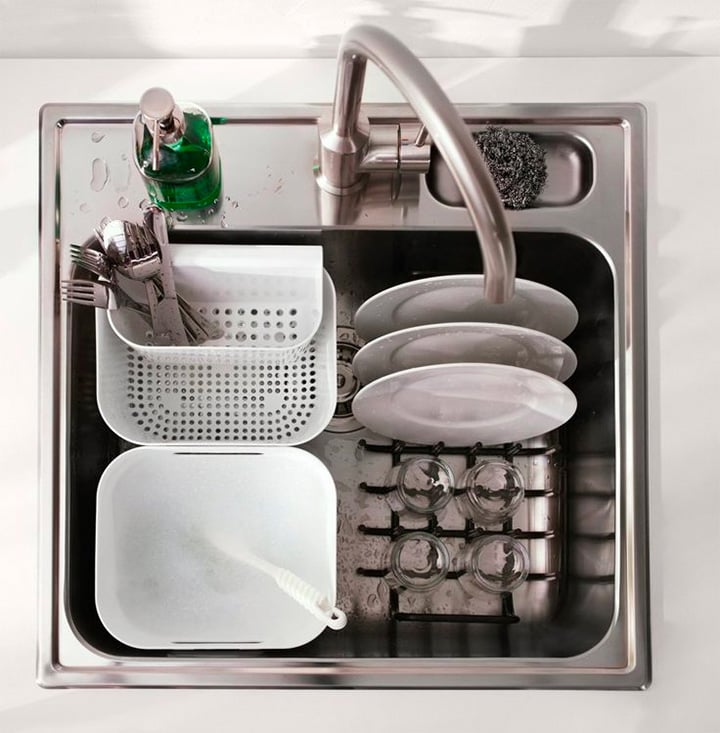 Not doing the dishes becomes a sort of vicious cycle. Your pots are all dirty, you don't feel like cooking because of said dirty pots, you turn to Seamless, and in the morning the dishes are still there and you end up skipping breakfast. Repeat. Just like you clear out your email inbox every morning, take a few minutes to "close" all the rooms in your home at night. Turn off lights, straighten up throw blankets, and do. those. dishes.
5. Kitchen looking bare? Throw a rug down

Take a good look at your kitchen. If it looks cold and uninviting, it could be because you need some warmth on the floor. People often buy rugs just for their living room and overlook the kitchen, but kilim styles (like above) are not only majorly trending right now, they can tie an entire room together. I visited Turkey this summer where vintage overdyed kilims were ubiquitous, but also spotted some fantastic look-alikes at Home Goods or Gilt Home too. Go for long, rectangular silhouettes, and yes, pink can look great. Extra points if you can incorporate Pantone's Color(s) of the Year, Rose Quartz and Serenity.
6. Have a regular "family" dinner
There's a reason why people love Thanksgiving. Coming together to prepare and share a homemade meal feels almost primitive now in this age of instant gratification. Hack it by inviting friends who are like family if you don't have family nearby and ask everyone to bring a dish or wine. Make it a monthly standing gathering with a set guest list of folks who enjoy and motivate one another and allow people to drop in whenever they have the time. If you want, guide the conversation. Have guests share a goal for 2016, a failure from 2015 and how they overcame it, or share what they are grateful for, today. Keep it low-key and I promise that it will keep you grounded.
Hopefully these hacks will enliven your daily surroundings, free up brain space that was occupied on negativity, and create time for strengthening bonds with family, friends, and most importantly, yourself. The good stuff will naturally come. What are you doing already to make 2016 your dream year?