What I absolutely love about this house is the juxtaposition of textures and materials, classic and modern. Located in Winchester, UK, the area where the glass now is used to be the old servants' quarters. Since it was dilapidated, the owners transformed their love of glass into an extension of the traditional brick exterior, resulting in a truly contemporary and surprising look. Plus, how endearing is that Chow?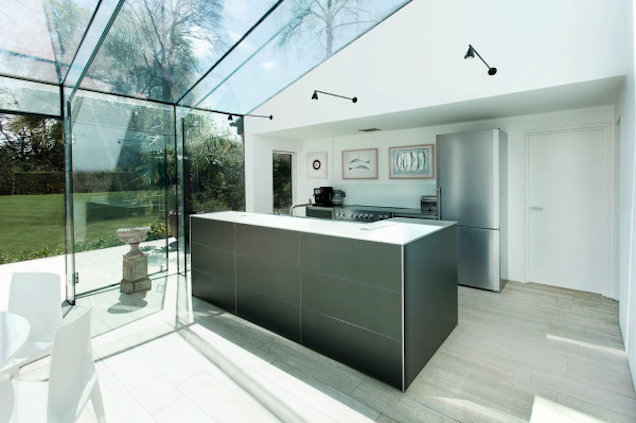 So now for our favorite room, the kitchen (obviously the bathroom comes in close second!) While I wonder if the family living there is constantly walking around with sunglasses on or re-applying sunblock, I envy the abundance of natural light in this space. The glass windows allow for the beautiful greenery outside to be part of the kitchen tableau itself. There is so much light that only the small black lights overhead are necessary.
A detail that rocks my world is the wood-feel of the ceramic tile floor. Like a traditional kitchen, the floors are ceramic, for easy cleaning. The difference is that they chose a wood-looking tile, both for style as well as function. Due to the immense amount of natural light that floods in all day, real wood floors would fade and become overexposed. This is a great and modern alternative and would look great in any kitchen that gets some light. I found a similar version for cheap here.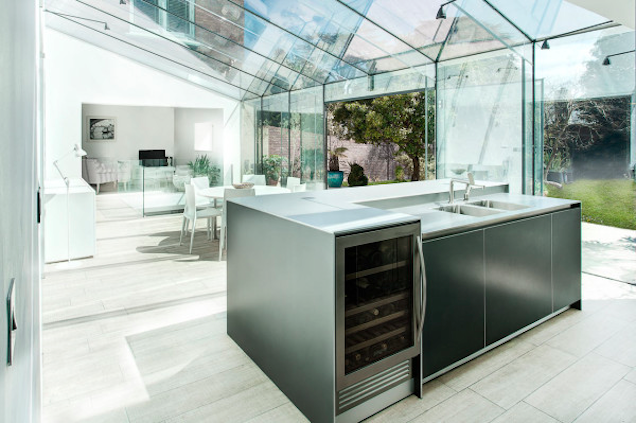 Finally, extremely modern and contemporary kitchens can tend to look a bit institutional or cold. The small built in wine cellar actually injects some life into the kitchen area, showing that the owners like to kick back with a glass of wine and entertain. A built in appliance such as this mini refrigerated wine cellar can look much sleeker than a stand alone product, plus save space and add a luxe feel to your cooking and entertaining space.
Though this is totally a fantasy kitchen, what elements would you incorporate into your own home?