As you prepare to move into your new home, you may already be planning how to set it up for your comfort and convenience. The kitchen in particular should be set up so that you can enjoy the time you spend in this room and also so you can make meals without having to scrounge around for utensils, cookbooks, pans, and other necessities. These simple tips will help you set up your kitchen and also help you transform it into one of your favorite rooms in your new home.
Storing Everyday Flatware and Table Settings
Even if you have a lot of fancier casserole dishes, stock pots, and other kitchen wares that you only use occasionally, you should start your kitchen set up by focusing on storing your everyday necessities first. These items may include your flatware and table settings.
If you have a cupboard drawer that is located close to your sink, you would do well to use this space for your silverware, cutting knives, hand-held can opener, and other utensils that you use daily. Your dishes likewise should be placed in a cupboard that is as close to your sink or dishwasher as possible. This drawer and cupboard will be easy to reach when you wash and dry the dishes and want to put them away quickly.
Stashing Cooking Spices, Oils, and Vinegar
Just like you prefer to have your dishes and flatware nearby while you are preparing meals, you also may want to have your spices, vinegar, and oils on hand as well. Your spices can be laid out in a cupboard drawer that is situated close to your stove, if you have such a space. If not, you may invest in a turnstile spice rack for your counter.
Oils and vinegar can be kept safely in cupboards or pantries as well without you having to fear their expiring or spoiling. Many people like to keep these cooking ingredients stored above their stove or close to their other spices for convenient access while cooking. However, if you lack such cupboard space, you can hang a wall rack behind or beside your stove and keep these ingredients stored there.
Storing Sharp Knives Safely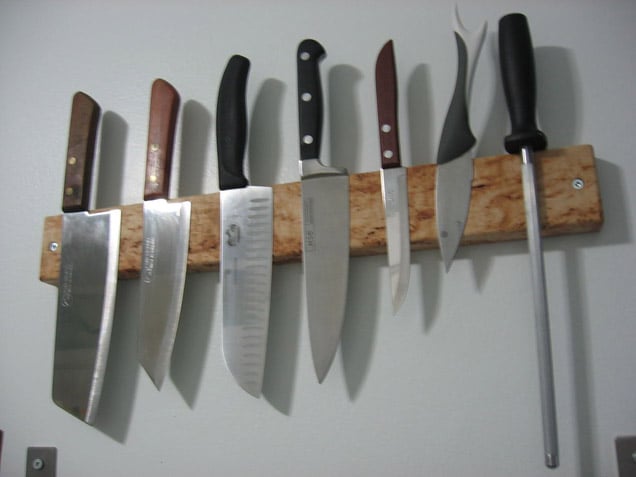 If you have small children in your home, you understandably will want to keep your sharp kitchen and butcher knives out of these little ones' reach. Even if you have a knife block on your counter, a child can still easily access these utensils and risk getting hurt.
With that, many parents and grandparents keep their knives stored on their walls by using a magnetic strip. The strip can be placed anywhere in the kitchen and is magnetically strong enough to hold even the longest and heaviest of knives. These strips can be found at any hardware or home improvement store.
These kitchen set up tips will give you the confidence and creativity to tranform your new kitchen into a room that is convenient and enjoyable. You can keep everyday necessities, ingredients, and more on hand while you prepare meals for your family.