It's mid-September, and school and work are officially in full swing again. Whether it's the dropping temperatures here in the East, or the added chore of dressing and feeding your kids before school, it'd be nice right about now to have a few extra accessories to get through the day.
The dictionary defines "accessory" as: "a thing that can be added to something else in order to make it more useful, versatile, or attractive." For one, I could never live without my tech accessories, which protects my iPhone from being at the mercy of clumsy fingers and smashed to pieces when dropped But, what about home accessories? Here are seven practical accessories to accentuate your bed, bath, and kitchen (that you never knew you needed.)
1. Coffee Alarm Clock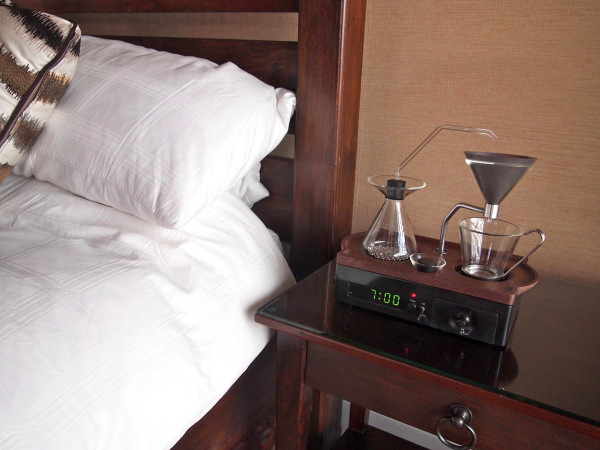 We all need that extra jolt in the morning to make it out of bed. I loathe alarm clocks so much. SO much. Instead, what if your clock actually woke you up with a bespoke cup of coffee or tea? This clever machine slowly wakes Sleeping Beauties with the gorgeous smell of fresh brewed coffee. Mmmm. Plus, there's even little compartments for milk and sugar. This brings a completely new meaning to the term "instant coffee!" Sadly, this amazing accessory is just a prototype for now, created by a student at Nottingham Trent University. Hope to see this invention on the market soon!
Not only is the design functional, it's reminds us of an elegant mad scientist experiment.
2. Concrete Knobs
Do you think your cabinets need a new look but can't stomach the price of a full remodel just yet? Kast, a Cleveland-based company, makes industrial cabinet and drawer knobs out of concrete. They come in a variety of beautiful geometric shapes and will add a spark of individuality to your kitchen or bathroom cabinets. Bonus: each one is made with 10% recycled materials. I'd recommend pairing them with a contrasting color or textures, such as metal drawers, or more traditional looking all white cabinets to keep it interesting.
3. Marble Utensil Crock
I've been lusting after this luxe looking French marble utensil crock. Most crocks you see are country style and look like butter churns, or worse, are old, empty coffee cans. (P.S. I adore saying the word "crock.") The simple and natural beauty of this style is incredibly versatile. Don't worry if it doesn't exactly match your existing granite or marble countertop; the juxtaposition will turn out lovely.
4. Chic Toilet Brush Holder
Toilet brushes can be such Debbie Downers in bathrooms. Here you've spent all this time outfitting your powder room with fancy wallpaper, artisan soaps, and slick appliances. Then there's the eyesore lurking in the corner: the toilet brush. Since this is a necessary evil, we love this anti-rust, stainless steel toilet brush canister. Problem solved.
5. Wire storage basket
Along the same vein, towels and toilet paper could use an updated look with the clean lines of this wire storage basket. Stacking toilet paper neatly could be the answer to your storage problems, especially if you don't have much under sink cabinet space. It'd be a great look for a vintage, homey bathroom.
6. Furtif Evercut Knives
Sharpening knives can be a pain. But, for Evercut knives, "the laser-bonded titanium-carbide surface lasts 300 times longer than standard steel and 5 times longer than ceramic." Basically, you only need to sharpen these knives once every 25 YEARS. Convenient + bad ass design = perfection.
7. Bold Dishtowel
This dishtowel seems a little cozier and sturdier than most of those see-through, flimsy dish towels. I like to think of this as a "Autumn" dish towel. It's oversized at 38″ x 20.5", which is great for hanging over your stove or padding a hot dish at your next potluck.
Are any of these practical accessories must-haves for your home this season?
(Photos via Design Milk, Design Milk, Crate and Barrel, Wayfair, Brook Farm General Store, A+R, Brook Farm General Store)