It's quite expensive and time-consuming to remodel your entire bathroom, especially if you're on a budget and your full-time job isn't DIY home-improvement extraordinaire. There's also reality. Your current bathroom may be only 25 square feet and will just stay 25 square feet because that's just the way it is. You may not be able to install a floating sink, a skylight, or other luxuries into your bathroom because of a variety of reasons. Also, if you've just moved into a new place, there may be a number of other rooms that require your attention.
To combat DIY fatigue, you CAN do simple projects. Replace bathroom vanities, sink faucets, mirrors, lights, and buy a new shower curtain. Check out the before and after photos below of a successful "mini" and extremely manageable bathroom remodel.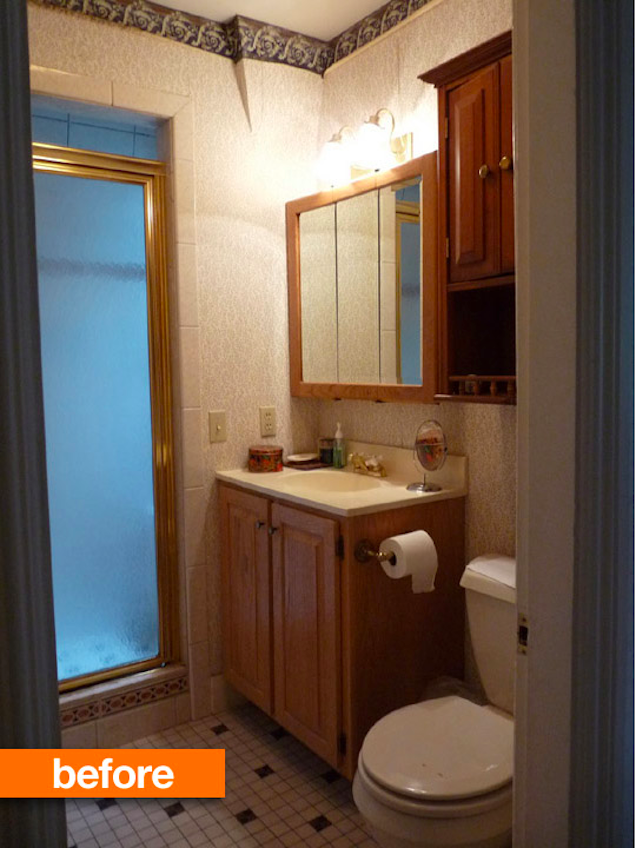 Outdated cabinets, a creepy glass shower door, a cabinet that probably holds nothing above the toilet…blegh!
We love how the dark finish of the new bathroom cabinets instantly make the bathroom more modern. Check out our Pepper Shaker bathroom cabinets for a similar look. Pairing dark, almost black wood with silver and chrome accents is always a good move. The new sleek mirror complements the bathroom beautifully. Plus, the overhead lighting is also silver, as is the new faucet. And, the hardware motif doesn't end there. The silver knobs and handles gleam, and the best part is that they are cheap! Browse our great selection of kitchen hardware here.
Notice how the shower door was completely removed? This opens up the space a bit, and allows it to feel larger and more airy. Our only gripe is that we would have chosen a shower curtain that is a bit more stylish or substantial looking. To cover up the ugly tile floor, the owners went with a simple rug. Functional and cute. Finally, little details can make or break a bathroom. The owners bought some adorable soap, and filled little glass apothecary jars with essentials like cotton balls and Q-tips. I like to call these "hotel touches", except that they're even better because you can get the best quality stuff you want to keep in your home.
Does this inspire you to embark on a mini bathroom re-do?
(Photos via Apartment Therapy)