I'm thrilled to share some personal photos (finally!) of my new kitchen. When my parents and I bought this two bedroom, two bath condo, it was pretty bare bones. There were concrete floors, and an extremely drab and dusty 70's era kitchen; no one had lived there for years. While it looked daunting at first, it was in fact the perfect canvas for a dream space that we could take in any direction.
Priorities first: While the other rooms in my condo get lovely light during the day, the kitchen doesn't have it's own window. Thus, it was really important for me to select cabinets and furnishings that would brighten up the room. I already find cooking a chore; why would I want to do it in a dark cave?
So we chose the bright white Ice White Shaker RTA cabinets available here at Kitchen Cabinet Kings. I love that this style looks sleek and contemporary but is still traditional. To make it even more modern, I opted for the straight LCP8 handle instead of anything curved.
I felt that the arctic white of the cabinets needed to be balanced out, so I chose dark gray slabs of tile to add depth to the space. While my kitchen is not small, it is certainly not huge, so selecting oversized, rectangular pieces of tile versus traditional 12" x 12" square ones visually enlarged the area as well as made it not so predictable. With this, the gray and white theme was solidified. My rule is to always choose the cabinets and flooring first; then, you can ensure everything else fits into place and mixes/matches.
I wanted to have fun with the backsplash. I was bored of seeing white subway backsplashes over other other blog I read, so I selected these teeny tiny silver nickel tiles. Their rectangular shape mirrors the oversized on the floor, but one is mini, and the other is huge. Love a good contrast in the same room! Also, because the kitchen itself is tones of white, gray, and brown, I had fun with the accessories. Pops of red and green line the countertops. I found a charming little bonsai tree, another plant (who can remember all those names?), and the cheerful vases at IKEA. By some miracle of the heavens, neither have died. Yet.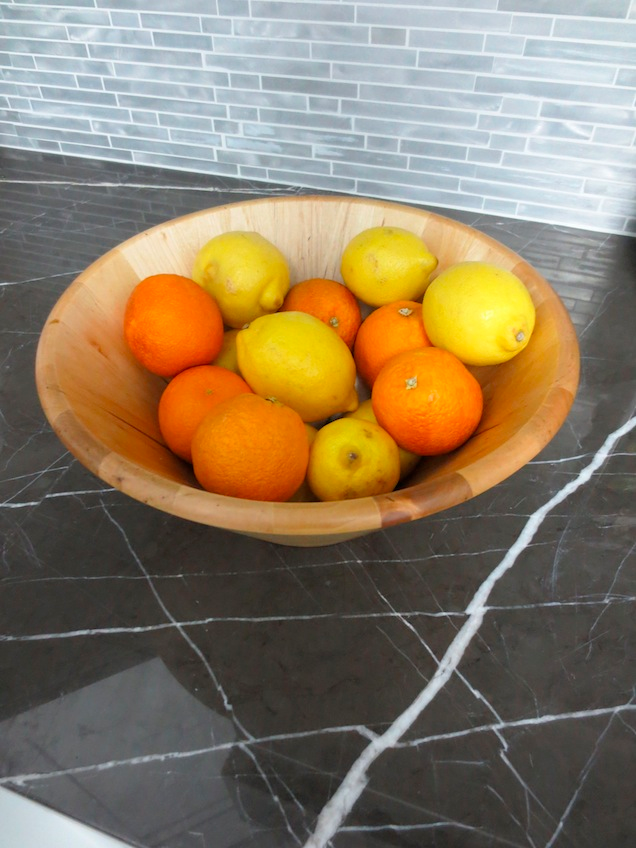 Let's talk about this marble. This gorgeous, gorgeous marble. Unfortunately, I can't remember what it's called. My mom took me to a huge warehouse with enormous sheets of granite and marble. Each one was stunning; some even looked like zebras or leopards with all the striations and patterns!
As a first-time kitchen remodeler, I pretty much chose whatever I thought was prettiest. No research, no pro-con list for marble vs. granite vs. other. There was a beautiful red Silestone at my local hardware stone, but in the end I felt fire engine red counters would be too hard to resell or rent out, despite how much they tickled my inner magpie. While I couldn't be happier with how the marble looks (yes, it's brown!) with its dramatic streaks of white, I have to be very careful with the counter and wipe it down immediately if any water gets on it. Already, a few tiny water spots have formed, and I'll have to try a blow-drying technique to see if it works. Maybe I'll do a post on maintaining marble surfaces soon….
But I have no regrets, especially with the way the white cabinets draw out the striations in the marble. If you're looking for a more forgiving surface, this couple did their reading and are extremely happy with their choice.
While the rest of my kitchen is quite polished and poised (of which these adjectives I am neither), I needed to add a bit of subversiveness. This made above the microwave the cheekiest place to display my custom-made, original "Nuclear Chinese Dinner" art piece by Greg Haberny. That thing will follow me wherever I go.