The kitchen below is the standard kind most suburban houses were built with in the 70's. Cheap particle wood cabinets, linoleum flooring, and a uncomfortable comfortable of white and brown. Little natural light and a lot of fluorescent light. And, see the wooden paper towel dispenser mounted on the wall? Awful.
While this kitchen might make any prospective homebuyer turn the other way, interior designer Lauren Liess wasn't daunted. Check out her incredible kitchen transformation and follow these key elements to recreate a similar look in your own!

Before.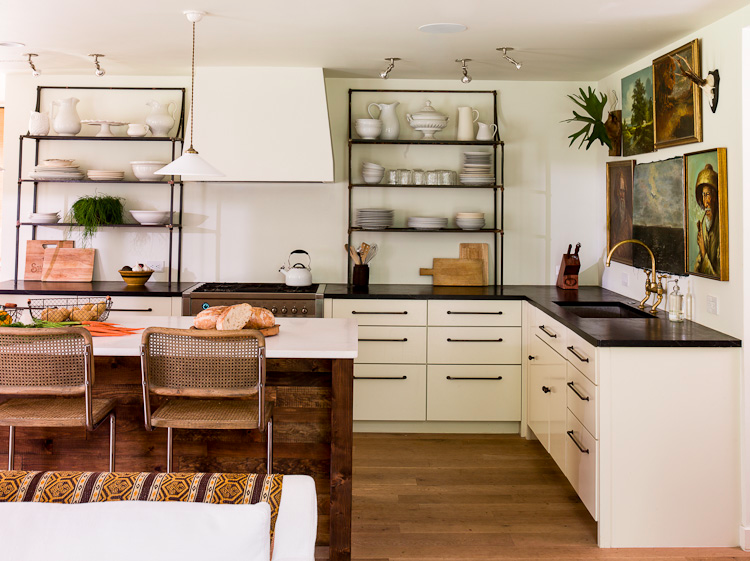 After.
1. Banish The Top Cabinets

While polarizing, open shelving is now resurfacing as an extremely chic and budget-friendly way to remodel your kitchen. For the bottom cabinets, select anything that you've had your eye on. You could go modern like this, woodsy minimalist like this, or more relaxed country like this. For the open shelvings, your options are just as varied. You can visit a custom hardware store to build the rusted iron and lattice shelves pictured above or even purchase and install floating shelves yourself.
Whatever you select, the result will be open, spacious, and visually airy because you won't have bulky cabinets obscuring wall space and taking up room. For more ideas and tips on how to make open shelving work in your home, visit here.
2. Bring In Light

Can you knock out a wall? This family opened up the wall between the dining room and kitchen to bring in natural light and enlarge the room. It takes some professional help, but since many of us spend so much time in the kitchen already, it's a serious mood booster to have beautiful light to cut vegetables and cook under. Plus, when you entertain you can still have conversations with your guests who might be sitting down.
3. Add An Island

This may sound counterintuitive, since you're adding a block of furniture to your kitchen, not removing something. But, coupled with the open shelves, an island is a wonderful way to give the illusion of a bigger kitchen because there will be more counter space. Even better, make sure one side is a workspace (see all the storage space in the drawers?) and build a bar on the other side and add barstools for guests and kids to perch (see below.)
Isn't the final result just so comfortable and lively? Would you do any of these remodel tricks to improve your space?