Remember that trend of open bathroom layouts in hotels in the early 2000's? While it may be sexy on a romantic vacation, open bathrooms aren't so convenient when you're bunking with your family or trying to shave your legs on a business trip. But, who doesn't secretly love walking around sans towel after a relaxing shower or bath? It's just one of those little joys of life.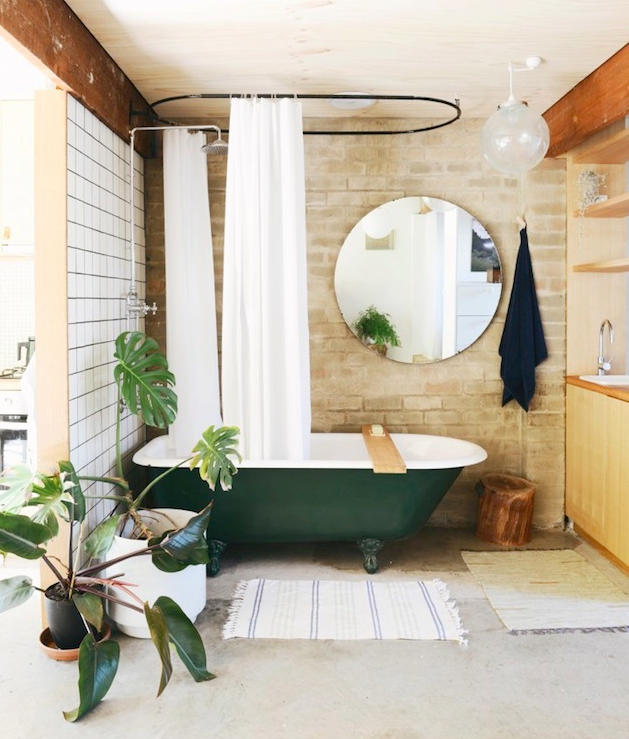 Enter the home open bath layout. By transforming your bathroom into an open, airy space you just might spend a little more time on self-care and relaxation at home and not just while on vacation. Investing in a freestanding bathtub will only add to the spa retreat-vibe and tranquility of the room. The space is actually incredibly simple. With a bare mirror, old-fashioned tub, and beautifully natural plants, the room is the perfect inspiration for a low-cost bathroom renovation.

Surprise! The bathroom above doesn't have doors; instead the tub is in the same room as the dining table, as well as the bedroom (see the bed in the back on the right?) While not everyone might not be as comfortable with this type of setup, it's worth thinking about combining your master bathroom and bedroom by knocking out a wall, especially if your bath already feels claustrophobic.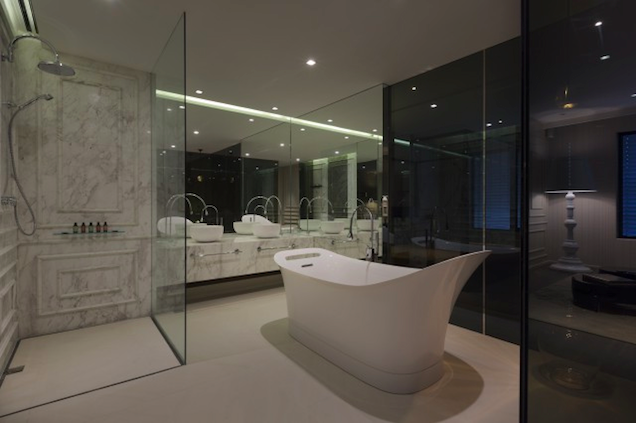 Here's a luxe option in Shanghai. The key elements here include an architectural white bathtub, glass everywhere, and beautifully striated marble walls and cabinets.

The awe-factor here is to the max; the bathroom is completely see-through, which visually expands the entire room and injects a sense of excitement to often mundane routines.

This bathroom surrounded by the forest is unbelievably stunning. The shape of the bathtub is organic, it's oblong shape reminiscent of an egg. The raw stone on the wall complements the woodsy feel. This isn't a bathroom for rushing out of the house early in the morning; it's all about slowing down and enjoying life.

The opposite of the bathtub in the forest, this penthouse bathroom capitalizes on a wealth of natural light and an arresting cityscape. Beauty is irony here; the 360 degree windows and height provide anonymity rather than intrusion. The oversized tub looks heavenly.
Would you try an open bathroom layout for your home or invest in a bathtub? Remember, the only area that actually needs a wall is the toilet; NO ONE else needs to see that but you!
(Photos via Gardenista, Design Milk, Danelon Meroni, Architectural Digest)