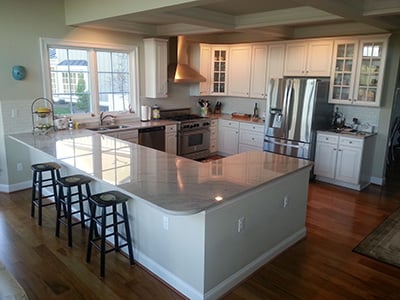 A G-shaped kitchen is the term used to describe a cabinetry configuration that has a preparation-area peninsula and four walls of storage. It is so named because the blueprint of this type of configuration resembles a G shape on the grid. The G-shaped kitchen is an expansion of the U-shaped configuration and is often a plausible upgrade for those that already have the latter type of cabinetry design currently installed. G-shaped designs also increase the number of base cabinets that can be included which increases storage space while streamlining the cooking area.
What makes the G-shaped design popular is not simply that it offers a tremendous amount of storage space. Actually, this style of kitchen is specifically helpful at surrounding the chef of the home kitchen with a variety of close countertop space options and immediate access to supplies. The increased countertop space is reachable and usable during the entire cooking process. This optimal kitchen floor plan is likely to provide preparation, cooking and clean-up areas within an easily accessible position centrally located in the kitchen's central area to facilitate greater cooking efficiency. The peninsula of the G-shaped kitchen offers a tighter countertop area for larger kitchens.
If you're remodeling your kitchen and you're considering a G-shaped kitchen, read through our guide on tips and inspiration for designing a G-shaped kitchen layout.