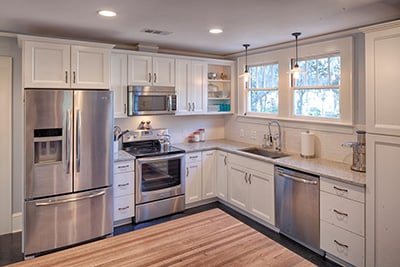 The L-shaped kitchen layout is a standard design for home kitchens. The L-shape layout was developed long ago, but the ergonomics of it make it a sensible and popular choice that is appropriate even for the modern home kitchen. What makes the L-shaped kitchen design so efficient is that it facilitates a sensible work triangle to the preparation, cleanup and cooking areas. The L-shape is most frequently used in smaller kitchens that cannot incorporate an island or G-shape.
The L-shaped kitchen is not a dated style or difficult to match to any décor. The shape simply refers to the floor plan layout and does not constitute any additional restrictions or requirements passed that. To achieve a proper L-shaped design, the kitchen must be built at a corner where two walls form a perpendicular angle and where one wall is twice the length of the other.
If you're remodeling your kitchen and you're considering an L-shaped kitchen, read through our guide on tips and inspiration for designing a L-shaped kitchen layout.