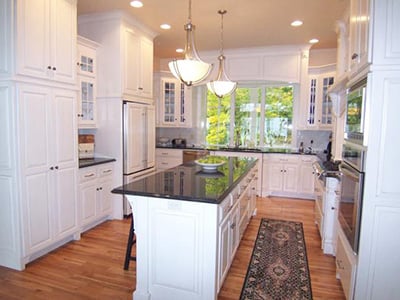 A u-shaped kitchen is a kitchen design that features three walls that are lined with cabinets and appliances. It is an efficient design that frees up floor space.
A u-shaped kitchen is a kitchen that maximizes the wall space by using the walls for cabinets and appliances. Its u-shaped design makes it easy for chefs and homeowners to access various areas of the kitchen without needing to walk across the room. If the layout of the house does not allow three walls to be used for a u-shaped kitchen, an island can be installed to serve the same purpose. U-shaped kitchens can be incorporated into many kitchen styles, and the size of the kitchen is not important. When homeowners are designing their u-shaped kitchens, they should try to place their most used appliances or work areas into a single triangle of space. This will allow them to work more efficiently each time they are in their new kitchen.
If you're remodeling your kitchen and you're considering a U-shaped kitchen, read through our guide on tips and inspiration for designing a U-shaped kitchen layout.