Thermofoil Cabinets vs. Wood Cabinets
Choosing the right cabinets for your kitchen remodel is a big decision. Not only will cabinets make up the bulk of your remodeling budget, they're also designed to last – and be lived with – for years. If you're considering either thermofoil or wood cabinets for your kitchen, read on to discover which material is the best fit for you.
What are

Thermofoil Cabinets?

Despite its name, thermofoil contains no metallic materials. Rather, thermofoil is a type of vinyl. Using heat, the vinyl is fused to a wooden surface, usually particleboard. The result is a kitchen cabinet with a smooth, seamless finish. Thermofoil is most often seen in white or off-white, although some manufacturers offer a variety of colors and even faux wood finishes. Thermofoil is also sometimes applied to existing cabinets as a refinishing technique. If you choose this option, be sure to use a professional with positive references, as the results can vary widely.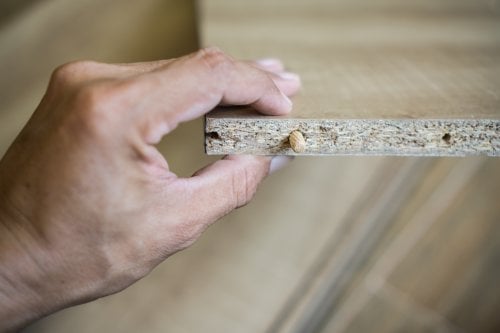 Pros
Affordable

Thermofoil cabinets are among the least expensive cabinet options on the market.

Low Maintenance

The smooth vinyl surfaces of thermofoil cabinets and drawer facings wipe clean with only a damp cloth.

Resist Warping

Pristine vinyl-wrapped thermofoil cabinets are less susceptible to humidity and warping than solid wood.
Cons
Quality

The most affordable thermofoil kitchen cabinets are constructed of low-grade fiberboard beneath the vinyl coating.

Finish

Most thermofoil cabinets have a glossy, plastic-like finish that works best in severely modern settings.

Water Damage

If scratches, dents or dings mar the vinyl coating, water may invade the particleboard core, causing buckling, bubbling and deterioration.

Heat Damage

Thermofoil coatings are sensitive to heat and may blister or peel when used near dishwashers, ovens or stovetops. Metal heat shields used to prevent this problem are not always successful and break up the clean lines of the cabinets.

Yellowing

As the vinyl coating ages, white thermofoil cabinets sometimes develop an unattractive yellow cast.
Design Ideas

Thermofoil cabinets are best suited to sleek modern interiors that highlight their glossy finish. Their resistance to water makes them popular in bath and laundry rooms.

Expected Costs

New thermofoil cabinets may cost as little as $350 per linear foot. Refacing can run as low as $1,000 for a complete kitchen. Thermofoil mounted over solid wood doors is often just as expensive as cabinets with wooden doors.
The Beauty of

Natural Wood Cabinets

Wood cabinets are available in an array of door styles, finishes, and materials that make it possible for even the most finicky homeowners to find a look they love. Wood has a luster that reflects light and adds warmth and hominess to both classic and contemporary kitchens. Our wood cabinets are built with 100 percent Grade-A plywood construction to ensure quality that lasts for years to come.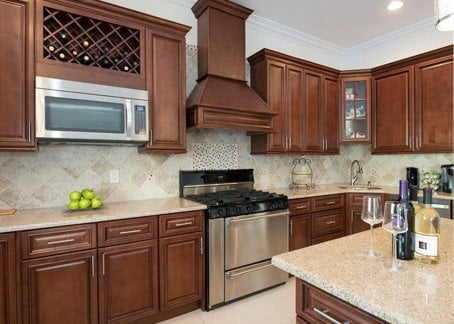 Pros
Durable

Cabinets constructed with hardwood doors display an amazing strength that resists heat, dents and dings.

Appearance

The graining of natural wood is attractive and has an earthy feel, even when finished in dark shades.

Renewable

Solid hardwood doors can be refinished rather than replaced to reflect a new design sensibility.

Endless Options

From dark to light, affordable maple to exotic cherry, wood cabinets are available in styles and colors to suit any setting.

MDF Centers

Painted cabinets with solid wood frames and medium-density fiberboard (MDF) centers have the water resistance of thermofoil combined with the beauty and strength of real wood.
Cons
Price

Wood kitchen cabinets may be more expensive than thermofoil. Purchasing wood cabinets online and choosing ready-to-assemble cabinets can cut the overall cost to affordable levels.
Design Ideas

Whether you dream of a sleek modern kitchen with dark espresso cabinets and granite counters or a country kitchen fitted with white cabinets and marble, the design possibilities of wooden kitchen cabinets are nearly endless.

Expected Costs

We offer wood cabinets for sale in over 20 door styles and a wide array of finishes, including white painted cabinets with MDF centers to resist humidity. Although cost will vary depending on your chosen upgrades and the size and shape of your kitchen, expect to pay between $1,000 and $5,000 for a basic 10-foot galley layout.
READY TO SEE FOR YOURSELF?
See why many prefer wood cabinets over thermafoil cabinets
Ordering sample doors is the best way to see and touch our quality cabinets in person.