Ceramic tiles are a great addition to any bathroom. They're affordable, durable, and hold endless design possibilities. Don't let your mood be brought down by a drab and boring bathroom. Incorporate uplifting colors and interesting shapes with ceramic tiles. Here are some inventive ways to integrate that extra attitude into your bathroom.
White is a great place to start. It's clean, mature and can act as a finished look or a blank slate. White subway tiles give you the freedom to accent the room with whatever other colors and patterns you please. Another way to accentuate neutral tones is by opting for a colored grout. Make light colored tile pop with a darker grout or vice versa. Don't forget that grout can be dyed just about any color, so get creative and consider making the grout lines a focal point in your design.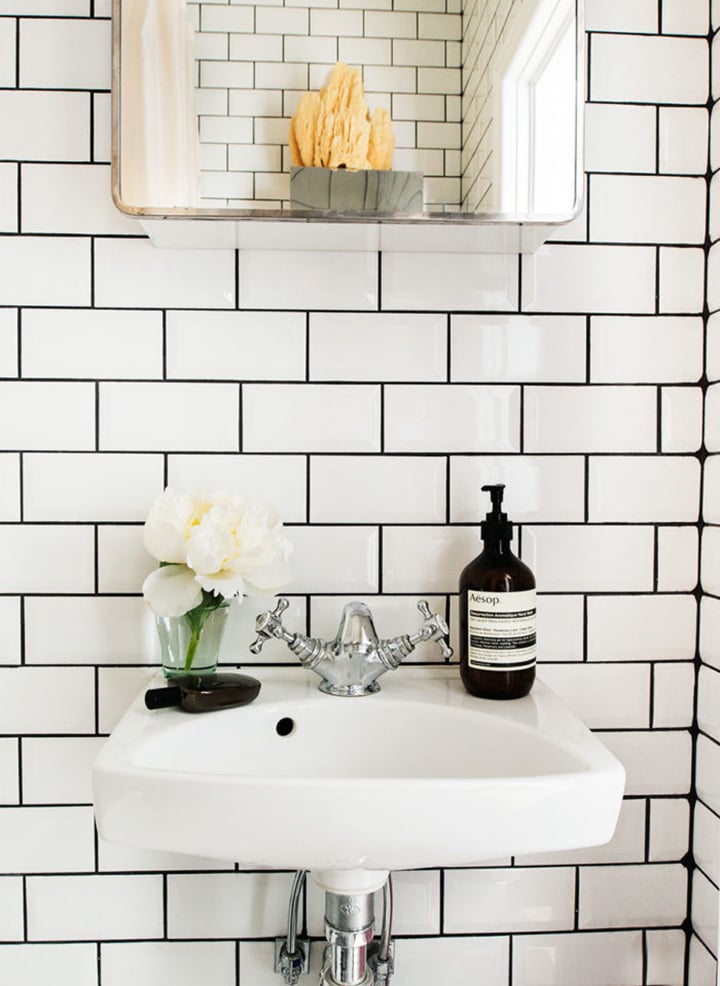 What ever happened to pretty pastels? Bring back the 50s by adding soft colors to your bathroom. Baby pinks, powder blues, and minty greens are a great way to attain those vintage vibes.
This pink bathroom is intensified with a modish, black border. Enhance pastels with bold colors or flashy furnishings to create a sharp, fashionable edge.
There's nothing quite like soothing shades of blue to make you feel as though you already own that beach house getaway.
These hand painted blue and white tiles are uniquely beautiful. Each pattern is individualistic and one of a kind. Bring a true bohemian touch to your bathroom with Moorish inspired ceramic tiles.

What's not to love about this refreshing pallet of black and blue? The combination of wall paper and tile allows for different levels of texture as well as funky images. This duo is perfect for attaining a kitschy tropical ambience.
This sophisticated black subway tile is jazzed up by it's unconventional lay out. No need to stick with traditional templates, mix up simple tiles by choosing a playful pattern for your layout.
Energize your self with orange! Vibrant colors awaken the senses and leave you feeling invigorated.
Borrowing inspiration from aquatic life, fish scale tiles are an eye-catching shape that can achieve several different looks. The use of different shades of orange in this bathroom adds depth and makes the wall pop.
How have you accented your bathroom with ceramic tiles?