The kitchen is the heart of the home. It should showcase both character and charm and a farmhouse style kitchen oozes both of these qualities. Whether you live on the coast or in the mountains, a cozy farmhouse kitchen will make any house guest feel welcome.
From unique vintage pieces to shiplap walls, there are many signature design elements that make up a farmhouse style. Keep in mind there's always creative wiggle room to make the style completely your own. Include a modern lighting fixture, retro appliance, or wall treatment to amp up the country style.
Consider our ideas to get started on designing the perfect balance of traditional and farmhouse. Keep in mind that one of the focal points in a farmhouse kitchen is the kitchen cabinets. If you're looking to remodel your kitchen, check out our extensive selection.
Farmhouse Kitchen Ideas
Infuse your space with these signature farmhouse kitchen design ideas, but don't be afraid to let your personality shine through. Mix and match modern or industrial elements for a blend of two styles. Hover over the plus sign on each image to view a farmhouse kitchen design tip.
Vintage Antique Furniture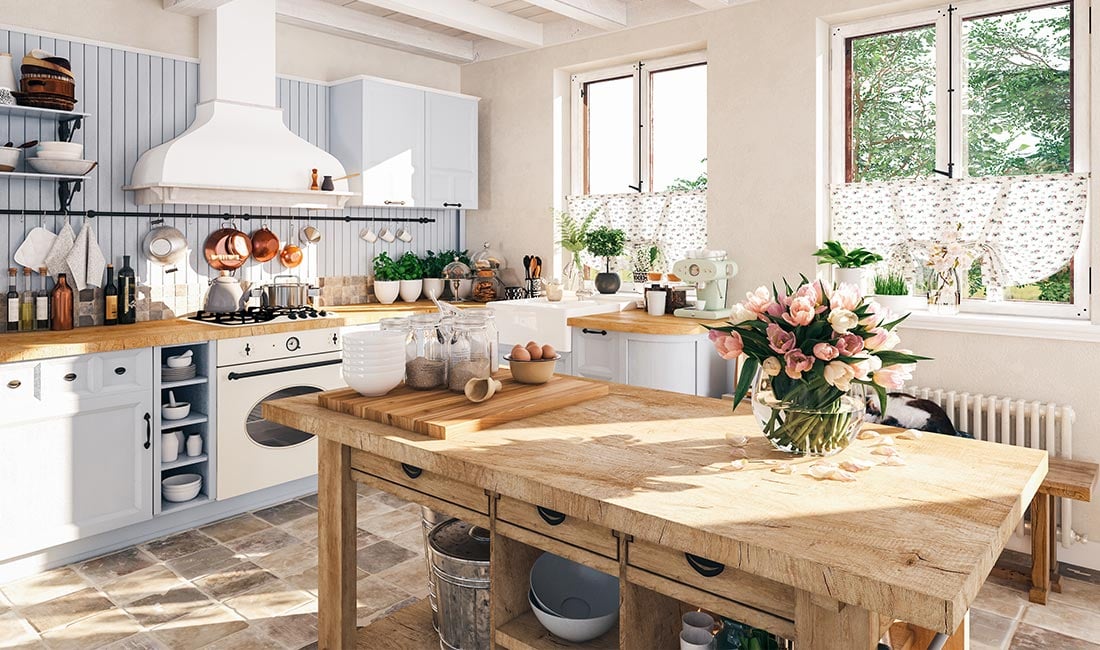 Tip: Use the bottom of the island as storage for vintage bowls or appliances.
Tip: Top the island with a vintage cutting board and fresh flowers.
Tip: A reclaimed freestanding wood island provides extra storage and counter space.
Vintage or antique furniture evokes an elegant, charming, and comfortable feel that's idyllic for a farmhouse kitchen. It can serve not only as unique decor but a functional workspace for your kitchen that doubles as a storage space for small appliances, dishes, or miscellaneous items. A farmhouse kitchen is somewhat eclectic, so feel free to mix and match your storage options. Use a reclaimed wood table for your kitchen island, a freestanding armoire as a dinnerware cabinet, or a hutch as your coffee corner. Decorate your antique with unique decor or simply let it shine as a standalone piece.
White Shiplap
Tip: Cover the walls in shiplap for a country cottage appeal.
Tip: Light wood countertops provide a warm contrast to the all white.
Tip: Hang your pots and pans from the ceiling for a homey feeling.
Nothing says cozy like a kitchen covered in white shiplap. Shiplap is adored for its rustic charm and natural look. Whether you stain, paint, or keep shiplap all natural, it's a timeless design element for any farmhouse kitchen. Combine white shiplap and light wood for an airy warmth that doesn't feel too stark. Or, incorporate shiplap on your oven hood, kitchen island, or ceiling to contrast with the rest of your kitchen.
Large Kitchen Island
Tip: Illuminate the space with pendant lighting.
Tip: Use a big kitchen island as the focal point of your space.
Tip: Incorporate light wood flooring and textured decor.
A farmhouse kitchen isn't complete without a kitchen island or rustic table that's big enough to fit the whole family. Pair your island with an open-concept kitchen layout. It can double as a gathering or eating area for family, friends, and guests. Simply pull up some farmhouse chairs and hang unique lighting above to create a bright and open space. Pendant lighting works well over an island and the styles are versatile if you prefer a more modern look.
Retro Appliances
Tip: Hang pots, pans, or strainers for a lived-in functional feeling.
Tip: A black retro oven with gold knobs serves as an elegant centerpiece.
Tip: To open up the wall, add a mantle and decorate with antique decor.
A farmhouse style kitchen allows room for creativity. What better way to spice up your design than with a vintage or retro appliance? Whether the appliance is all black with gold knobs or bright red, a retro appliance embodies old-school glamour and evokes nostalgia. Pair your kitchen color scheme to the retro oven, fridge, or microwave of your choice. To open up your space, add a mantle above the oven and decorate with fun antique or vintage finds.
Reclaimed Wood
Tip: Pendant lighting fixtures draw the eye up to the beautiful beams.
Tip: Open up your space by lining the ceiling with chunky exposed wood beams.
Tip: Keep a consistent shade of wood through your kitchen island and flooring.
From floors and kitchen island accents to the ceiling beams, reclaimed wood is a staple for any country kitchen. It helps bring the outdoors in by adding character, texture, and warmth to your kitchen. Balance out the wood with white or gray cabinetry and subway tile for a charming look. It can also contrast beautifully with the sleekness of stainless steel, metal, or stone. Be aware that working with reclaimed wood comes with its challenges. You'll want to account for extra labor costs to remove nails and finish the wood.
Subway Tile Backsplash
Tip: Line the wall above your stove top with a gorgeous white subway tile backsplash.
Tip: Match the hood to the backsplash for a cohesive look.
Tip: A stone countertop gives an earthy contrast to the all-white kitchen.
Kitchen backsplashes are no longer just a way to protect your wall from spills and splatters. A backsplash can also serve as a focal point for your design. Although subway tile works with any style, there is something so special about the contrast of white subway tile in a farmhouse kitchen. Line the wall above your stovetop or farmhouse sink for a streamlined and cohesive backsplash. Pair your kitchen backsplash with a natural stone or butcher block countertop for an earthy and rustic contrast.
Farmhouse Sink
Tip: A two-handle faucet pairs well with a farmhouse style.
Tip: A farmhouse sink pairs beautifully with white walls or colored cabinets.
Tip: The large farmhouse sink basin is both functional and convenient.
A farmhouse sink is not only trendy but functional. It has a deep basin and exposed front that's convenient for dishwashing. It's especially helpful if you have more than one cook in the kitchen or have a big family since you can install a double bowl size. The very first farmhouse sinks were made of concrete and have since evolved to all materials. A white farmhouse sink is popular, but don't be afraid to mix it up with unexpected finishes, such as a two-handle faucet, black hue, or stainless steel.
Butcher Block Countertop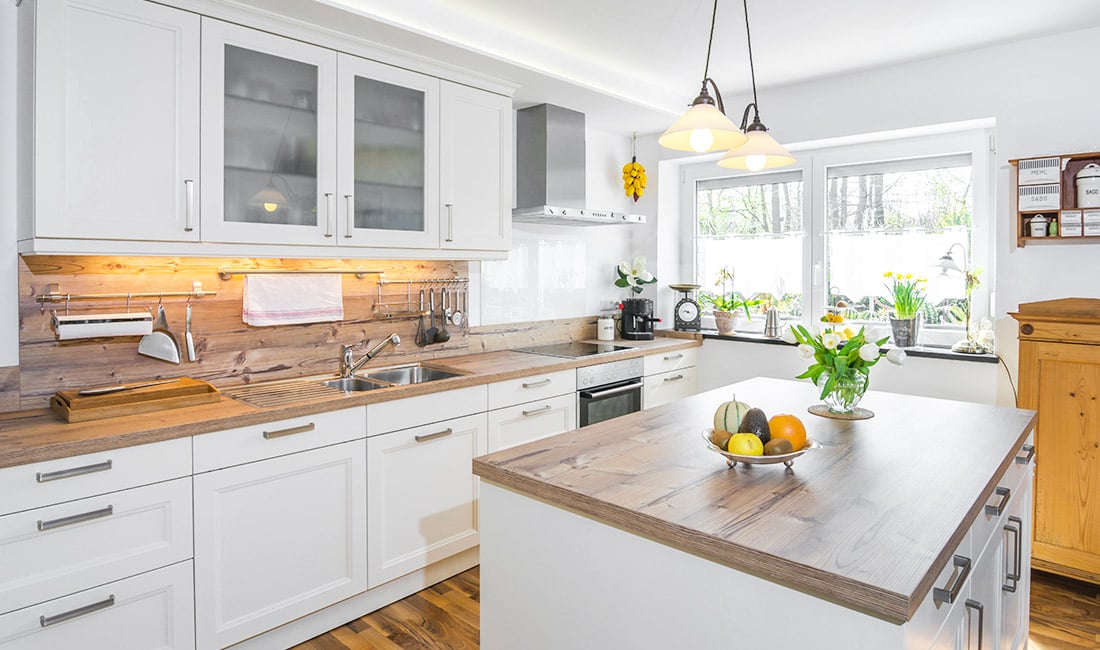 Tip: A reclaimed wood backsplash pairs well with a matching wood countertop.
Tip: Install white upper cabinets with modern hardware to contrast the wood.
Tip: A butcher block countertop on your kitchen island provides a rustic design element.
A butcher block countertop is a great choice if you spend a lot of your time in the kitchen. It's practical, affordable, and easy-to-clean. Its durability makes it an ideal surface to prep, cook, or bake. Plus, the warm and rustic look of a butcher block countertop lends itself well to a farmhouse kitchen style. Unless your butcher block countertop is sealed, avoid cutting or chopping directly on the surface to extend its life and function. It can also work on your kitchen island or breakfast bar.
Pendant Lighting
Tip: Hang exposed pendant lighting for a pretty design element.
Tip: Dark wooden stools are the perfect addition to a middle kitchen island.
Tip: A large white kitchen hood evokes a country homey feel.
Kitchen lighting should not only make a design statement in your kitchen but serve its function. When narrowing down your lighting, start with the materials. Do you prefer wood, metal, or glass? Pendant lighting ranges from subtle to more dramatic depending on your goal for the room. An exposed birdcage pendant shines light evenly across an open concept floor plan, while a bell-shaped shade will distribute less light. Consider what style works best with the kitchen island, countertop, or table your lighting will hang directly over.
Pair the signature farmhouse design elements we've outlined here with an unexpected creative element. The special touch that you put on your kitchen design is what makes it completely unique. Whether it's with distressed cabinets, gold hardware, or an olive green accent color, get the creativity flowing to transform your culinary space into the dream rustic farmhouse kitchen you've been craving.