For a door to work properly, it needs a hinge. This little piece of hardware comes in a variety of shapes, sizes and uses, each dependent on the project it's being used for. Picking the right one matters for functionality and your personal style. But how do you choose the best hinge type for your cabinets?
There are many factors that go into choosing the proper hinge. One thing to consider is if your cabinets are framed or frameless. Framed cabinets incorporate a visible or slightly concealed structural frame. Originally all cabinets were framed so that a hinge could be attached, but hinge design has advanced making frames not necessary. Although they are no longer needed, frames such as trim boards are often added to cabinets for design and additional support.
The other type of cabinets are frameless cabinets. These do not need trim boards, making the cabinets easier to access. They can be produced very efficiently and therefore are appealing to manufacturers.
Whether you have framed or frameless cabinets, you have a personal design choice to make. Visibility and type of installation are the two main design components you should consider. We've detailed the differences in visibility and installation so that you can make a clear choice.
Anatomy of a Traditional Cabinet Hinge
All hinges vary in design, but most follow a similar anatomy to function properly. Use our diagram to understand and communicate about the hinge you need for your project.
Leaf: The leaf extends outwards from the knuckle, which is typically the part that is screwed into the cabinet door or frame.
Knuckle: The knuckle connects each leaf together. The pin passes through the open space in the knuckle, creating the pivot point of the hinge.
Pin: The rod that goes through the knuckle that each leaf pivots around.
Width: Width is the span of the open hinge.
Length: Length is the span of the leaf running parallel to the pin.
Visibility: Exposed, Partially Concealed or Concealed?
Below we cover the three main options for cabinet hinge visibility. For each option, we include descriptions on how the hinge works, its history and its proper use.
Exposed Hinge
An exposed hinge is one where the hinge pieces are attached to the front side of the cabinet's face, making them completely visible. The exposed hinge is the oldest type of hinge and popular with those who are interested in achieving an element of antiquity in their kitchen design.
Partially Concealed
Partially concealed hinges only have the knuckle visible at the seam of the door where it aligns with the cabinet face frame. Partially concealed hinges are usually very plain because they are for function rather than decoration.
Concealed Hinge
Also known as "European Style," concealed hinges are a type of hinge that lays flush with the door to mask the hinge's location. This is a popular option because it can easily be adjusted using the little screws. Removing the cabinet door is often easier because the hardware doesn't need to be completely removed from the door. The three basic styles of concealed hinges are full overlay, half overlay, and insert. They are also known as invisible because they are not able to be seen when the door is closed.
Installation: Surface Mounted or Mortised?
Now that you understand the differences in visibility and installation, we've applied the terms to common types of cabinet door hinges so you know what to expect.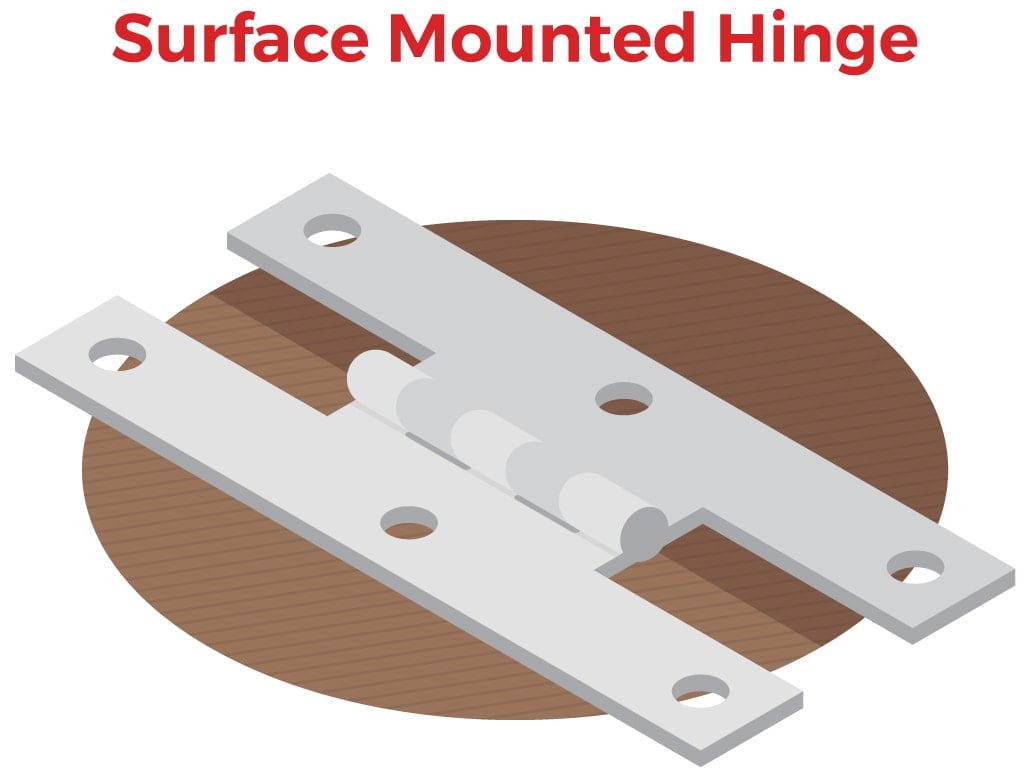 A surface mounted hinge is a type of hinge that is attached without a mortise being cut into the door or frame. One leaf of the hinge is secured to the door and the other to the frame. It's a flat hinge that can be exposed or concealed, depending on your desired final look.
Types of Cabinet Door Hinges
Terminology for Installing your Cabinet Door
Learn the proper terminology for cabinet door hinge installation with our helpful terminology list. This list will be especially helpful to those planning to do a DIY hinge installation.
Now that you've read through our comprehensive cabinet door hinge guide, you will be prepared to make the best decisions in terms of functionality and aesthetics for your cabinet hinges. If you're planning a DIY installation of your cabinet hinges, check out our ready-to-assemble cabinets that are perfect for an easy DIY project.
Sources: Delson Hinge Corp: Anatomy of a Hinge | Rockler: How to Choose the Right Hinges for Your Project