Most of us have experienced the mouth watering sensation when we reach into our kitchen cabinets for a bag of chips, only to open the bag and find we've been cheated by a snack filled with air. This deflating experience makes you wonder, are you really getting your money's worth when you make a chip purchase? Why the need for so much space, yet so little product?
There's a lot of misleading packaging out there, and it can often be difficult for shoppers to accurately perceive the correct size. We wanted to find out for ourselves if chip brands were, indeed, trying to pull a fast one on us. To test this concept, we gathered 14 well-recognized brands of chips, ranging from healthy alternatives to more caloric options, to measure the air to chip ratio in each bag. We did so using the water displacement method, then crunched the numbers to find out what brands held the highest percentage of air. See our study below to learn more about how the chips stacked up.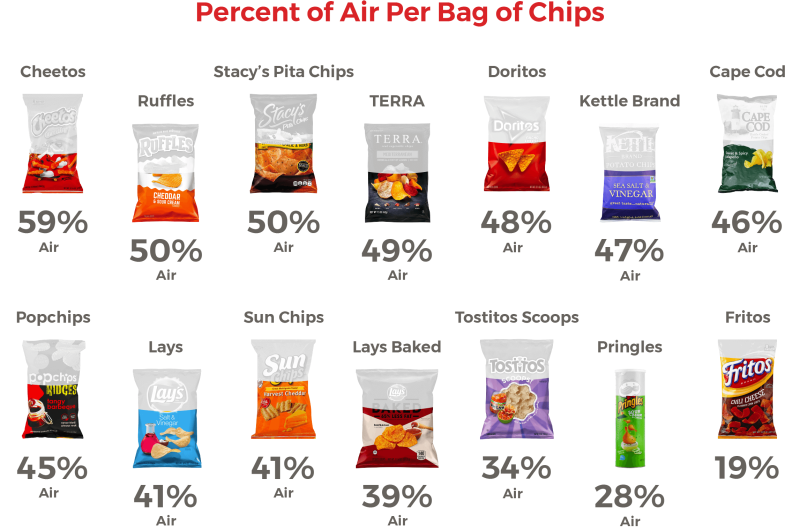 IS IT REALLY AIR IN YOUR BAG OF CHIPS?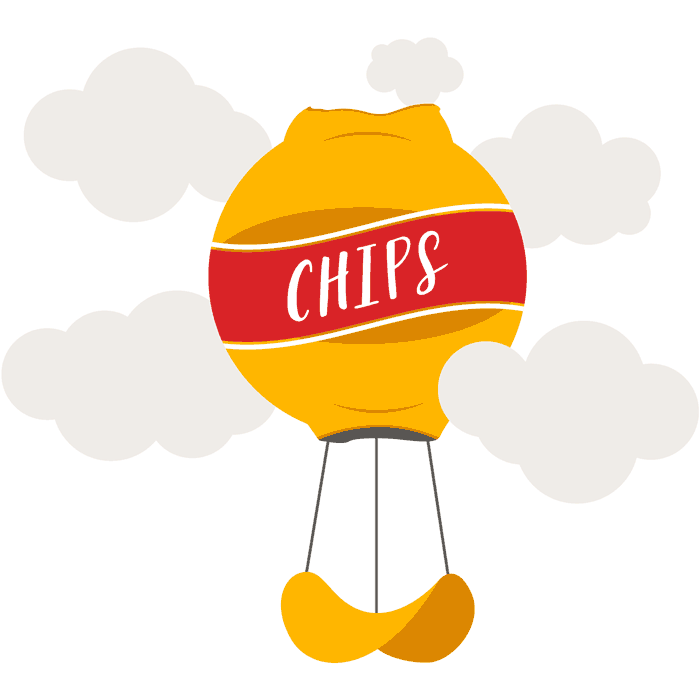 Actually, the answer is no. What many of us have mistaken for atmospheric air in our chips, is actually nitrogen. In fact, oxygen in the in air would cause the chips to go stale and oils to become rancid. This process is known as "slack fill" which is even thought to make chips taste better. Slack fill isn't harmful in any way, since about 78 percent of the air we breathe is composed of nitrogen.
The gas is also thought to give chips a cushion. Since chips have a long ways to go from creation to consumer, chip manufacturers intentionally inflate the package with nitrogen gas to protect it from damage during transit. Still, that doesn't excuse the sheer proportion of space that gas occupies in a bag when it's supposed to be filled with food.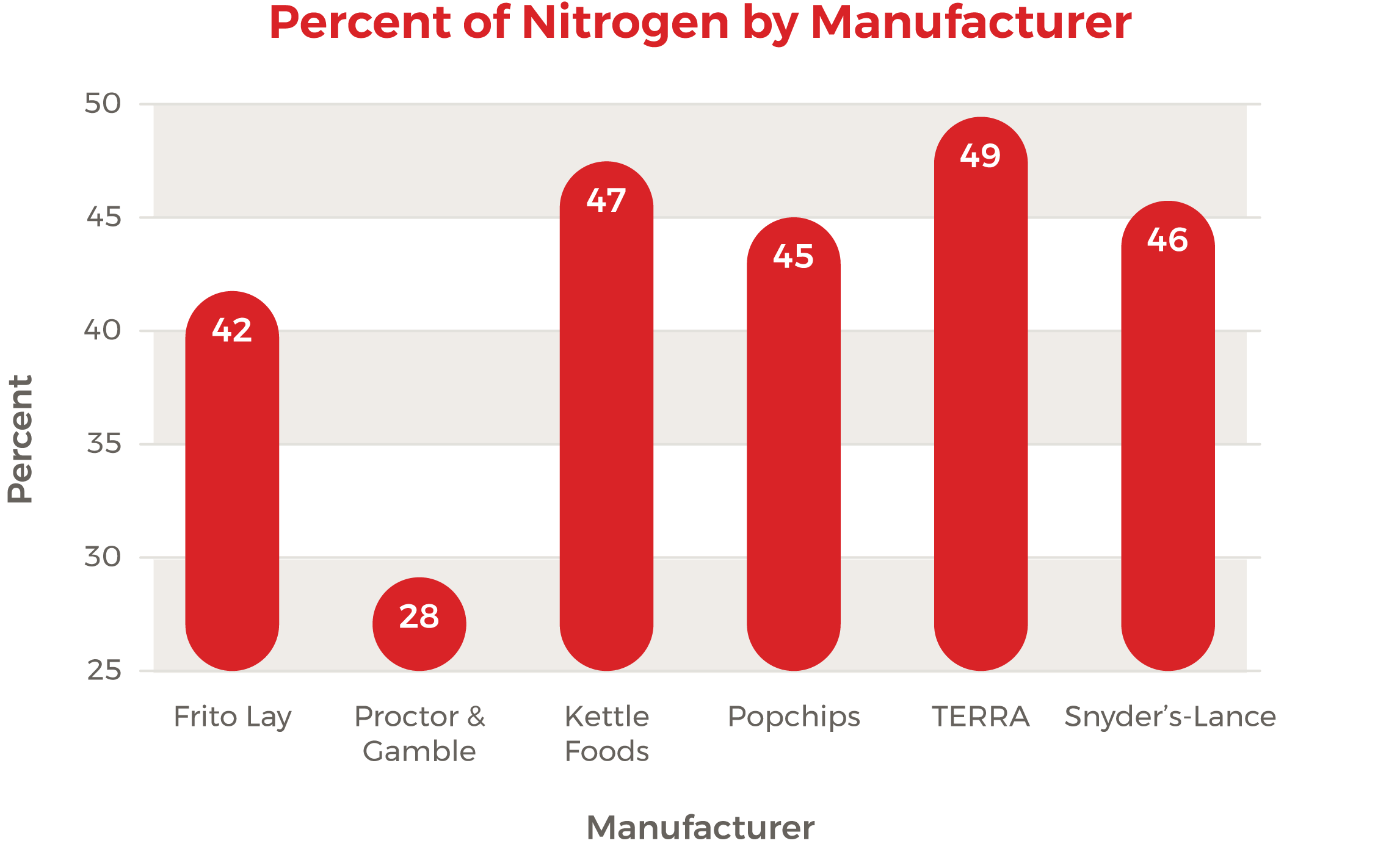 Unless chips are sold vacuum sealed, there's really no way to get around a nitrogen stuffed bag. Even the brands that offer you the most bang for your buck are still going to have a bit of air. So, what brands offer you the best value? Take a look below to see who came in the top three.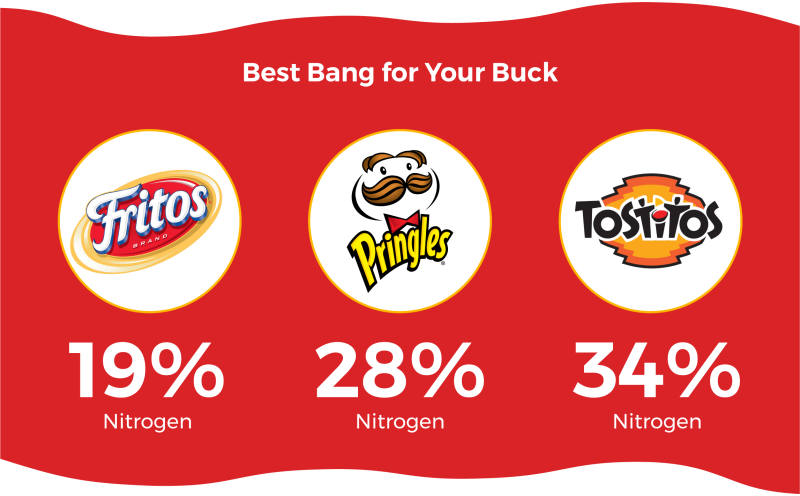 THE VALUE OF HEALTHY CHIP OPTIONS
Healthy chips are often on the pricier end, but these snack alternatives are equal offenders to their junk food counterparts when it comes to value. However, is the high price worth the taste? We compared each brand, the percent of nitrogen in the bag and average price.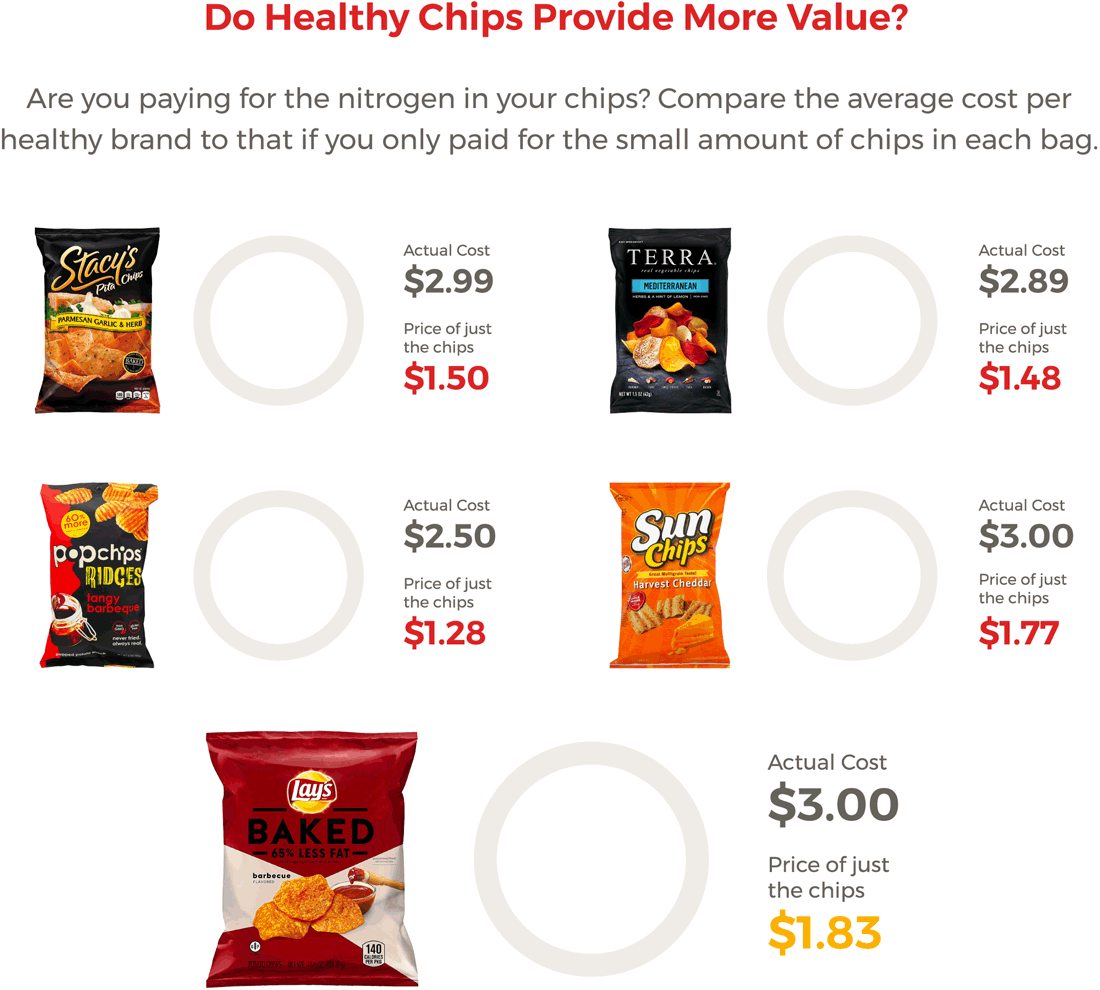 HAVE BRANDS ADDED MORE CHIPS?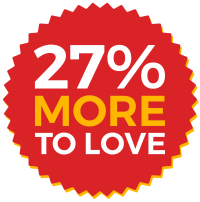 Consumer have been so disgruntled by the amount of air in their bag of chips, that some have even taken their grievances to court, claiming "financial injury." Yet, with so much air still in the bags, it seems companies haven't done much to rectify the situation, or have they? In 2015, the visual artist, Henry Hargreaves, conducted a similar experiment for himself. His findings showed larger percentages of air in the the bags of chips tested. This made us wonder, have companies actually listened to their hangry customers, and, better yet, have they done something about it?
Based on our findings, this is true with an average amount of air at 43 percent compared to 70 percent in Hargreaves' experiment. That means a 27 percent increase in the amount of chips in your bag.
HOW MUCH SPACE DOES YOUR BAG OF CHIPS TAKE UP?
Not only does nitrogen take up a great deal of space in each bag of chips, but Hargreaves claimed the process of slack fill takes up so much space in transit that 86 out of every 100 trucks carrying Doritos don't need to be on the road. That's a big carbon footprint!
It certainly seems like there should be a more environmentally friendly way to transport our favorite snacks. Just like brands have listened to consumers in the past, increasing the quantity of chips per bag, perhaps they should consider the roll "slack fill" plays in corporate social responsibility.

Summary
Have we been mislead as consumers?
Well that answer depends on the brand. In some cases, like Cheetos, where the bag was 59 percent air, it can certainly feel like the company stole your lunch money. However, brands like Pringles with 19 percent air, seem to give you significantly more bang for your buck. Turns out that chip manufacturers may have been listening to their consumers. Chip bags frequently contain statements that claim to offer a greater quantity of product to their consumers, and based on our findings, this appears to be the case. However, the nutritional aspect doesn't play a factor in the percent of air each bag holds. Healthy chips were just as bad as their traditional options. Perhaps it's best to consider the average at 43 percent. Anything above that certainly seems like a rip off and anything below that is just a pleasant surprise.
Methodology:
You might ask, "How did we come up with our findings?" The first step was to buy the potato chips, of course. Then we took a step back in time to middle school science class to revisit the water displacement method. Next we filled up a bucket of water, submerged the bag of chips and marked the water level. We then emptied the chips into a plastic bag and vacuum sealed the contents, submerged the bag, and measured the change in water level. The difference was measured and numbers crunched to provide, you, the reader, with an easy to read percentage. We considered the fact that no two bags of chips are exactly alike, so we tested this twice per brand with the same size bag of chips. To ensure accuracy the starting water level was kept the same over the course of the experiment and an average was taken between the two percentages per brand.
Sources: BBC Future: 'I was fed up with the air in crisps bags'