Pantries are, in a sense, the treasure chests of our homes. It's here that we store the ingredients that sustain us, nourish us, and encourage us to indulge once in a while. Cooking for our families and ourselves should be an experience for the senses. A visual pleasing and well-organized pantry means a happy space. Below are five different and inspiring examples of how to improvise and make your pantry great with what you've got.

It looks as though this cabinet set was intended to be a wardrobe. This alternative pantry is all around smart. It's a creative and simple solution when you need to pull a pantry out of thin air. It's there when you need it, and out of sight when you don't. Using the backside of doors allows for twice the amount of storage in what seems like a limited space.

If you're fortunate enough to have a Harry Potter closet in your home, chances are it's not being used to its full potential. Why not put an end to the mountain of undesired items and collected dust? Kick out the cobwebs and turn it into a beautiful, well-lit place for food storage such as this. Include a rolling cart for optimum storage.

The chandelier lighting (which we can only hope has a dimmer to set the mood) is quite suiting for this high-class pantry. Emulating an in home library, the ladder allows you to reach the top shelves with ease. This multi-level pantry lets you store to your hearts content.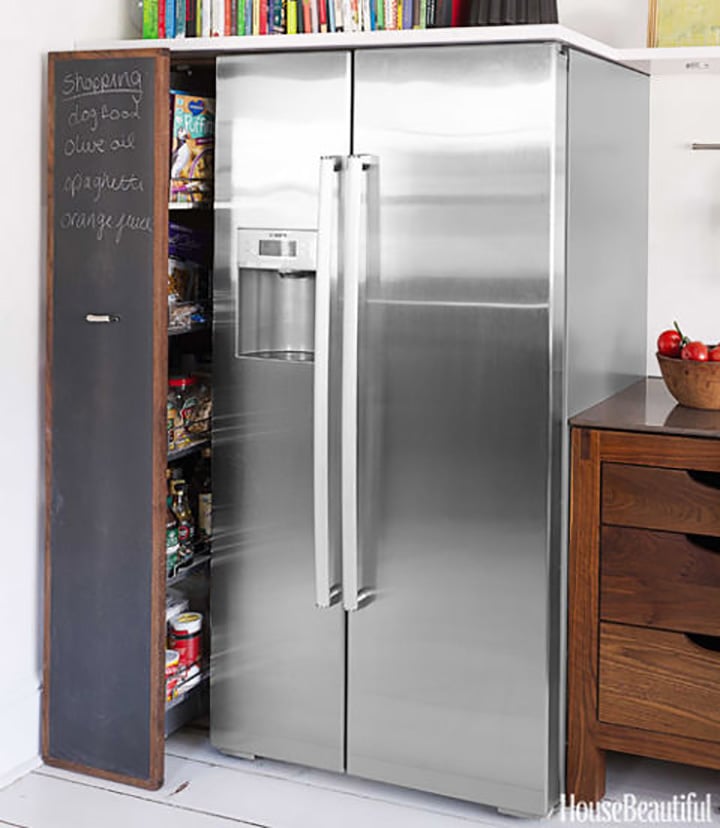 Space is no match for this sneaky roll out pantry. This is a fantastic way to take advantage of space that would otherwise go unused. The fun chalkboard surface lets you keep a life sized shopping list on hand, and in such close proximity to the pantry/fridge, you can write items down the moment you realize you're out of something.

No pantry? No problem! This kitchen perfectly demonstrates how to build-it-yourself if your home isn't already equip with a pantry, or you're in need of a little extra storage space. These metal shelving units can be found in numerous places at a very reasonably price. The open style of this makeshift pantry challenges to you keep things clean and organized at all times. This kitchen owner has the right idea keeping everything in its designated place with airtight containers and wire baskets.
How have you out-smarted your pantry?