Your kitchen is a place where your family, friends and neighbors can come together to enjoy a delicious home cooked meal and enjoy each other's company. That's why it's important to create a lively and warm space that doubles as a spot to entertain or grab a late night snack.
To create a kitchen that you and your company can enjoy, introduce colors that help accomplish the look and feel you're trying to embody. For a modern look, pair stainless steel appliances with sleek white cabinets. If you have more of a traditional home, consider installing brownstone cabinets with a natural stone backsplash.
Whatever you decide, don't be afraid to add some personality to your kitchen with different colors. For some inspiration, check out the 20 kitchen cabinet paint colors below and then look through our cabinet styles to find one that fits your home perfectly.
20 Trending Kitchen Cabinet Paint Colors
CANARY
yellow
A bowl of lemons makes your countertops pop. Imagine how bright and welcoming your kitchen could be if your kitchen cabinets emitted this kind of light and energy. Yellow cabinets can bring this light into even the darkest and smallest of spaces.
Photo by: Hendricks Churchill
ALL
incognito
White kitchens are clean and simplistic. Small kitchens will appear more spacious with all white backsplashes, cabinets and countertops. Although it's simple, there's nothing dull about this design. Make sure the surfaced you are covering in white are copletely free of dirt when you begin. A common cleaning solution used when painting is Trisodium Phosphate.
Photo by: Pinch of Yum
CRIMSON
red
Add some daring, adventourous and romantic elements in your kitchen with pops of red. Whether it's your kitchen cabinets or appliances, red surely makes a statement. Using an oil-based primer will prevent discoloration in the paint, allowing you to obtain your specified color.
EGGSHELL
white
Embrace the classic white spaceous kitchen in your home but take it up a notch with brass laterns, round dining table and fabric covered chairs. Choosing the right color white can make all the difference. This white paint color has warm tones that perfectly complement the gold notes in the room.
Photo by: Becki Owens
MOON
at night
Pairing black lower cabinets with a marble countertop that has elements of gray and white screams sophistication. This look is perfect for more spacious kitchens begging for sleek design elements. To maintain a smooth look, ensure that all the surfaces have been properly sanded before you begin painting.
Photo by: Brittany Makes
LAVENDER
bliss
A kitchen is a space for you to showcase your creativity and enjoy spending time in. A lavender kitchen will do just that with its playful and unique essence that has a feminine twist. To protect the paint from everyday wear and tear, add a polyurethane topcoat.
GREEN
and gray
A bold tile backsplash with an intricate black and white design above your sink or stove will draw attention to your kitchen. Pairing with greenish-gray cabinets won't steal it's thunder, instead, it'll elevate the entire design.
Photo by: Hi Sugarplum!
GRANDEUR
forest
Try adding elements of grandeur into your kitchen with forest green cabinets. It's a majestic design when coupled with oversized appliances and a warm tile flooring. You'll feel like royalty while cooking all your meals and hosting guests.
TURQUOISE
green
If you're not a fan of the traditional black and white, let your personality show through with a bold color. Pair your turquoise cabinets with an intricate backsplash for funky vibe that will grab everyone's attention as they spend time in your kitchen.
Photo by: Kenihan Development
SIMPLY
white
To create a glamorous kitchen, pair white cabinets and countertops with dark hard wood floors and a stained wood island. Take it up a notch with gold embellishments for the cabinet hardware and gold light fixtures. A dream space for hosting upscale cocktail parties.
WINTER
days
Gray doesn't have to be dull or cold when part of your chic interior design. Gray cabinets can easily be warmed up with funky silver hardware and fun appliances or containers placed on your marble countertops.
Photo by: Sincerely Sarah D
BLUEISH
gray
If you want to add a calming presence in your kitchen, try a blue-gray that will stabilize the room. Line just one section of a wall with cabinets and keep floor cabinets in the rest of the space. This will create sufficient storage and the exposed area of wall will make the space feel open.
Photo by: Anna Burke Interiors
ORANGE
popsicle
For your contemporary dream kitchen design, incorporate orange cabinets with silver hardware and a simple white or concrete countertop. To avoid clashing colors, style the rest of the space with a basic color scheme.
JET
black
Black never goes out of style when it comes to fashion—even in kitchen fashion. Black cabinets with black countertops is a sophisticated and sleek solution for any modern and daring kitchen.
PINK
rose
Add a royally feminine touch to your kitchen with pink cabinets paired with warm marble and touches of brilliant gold hardware. If you want your kitchen to be a tranquil area, use a pastel tone. You won't want to skip a morning spent sipping coffee in this kitchen.
CREAM OF
the crop
This cream kitchen will remind you of simple country living with it's rustic elegance and charm. Everyone will want to gather around the counter and dig into some delicious food.
BAMBOO
green
A muted green cabinet color adds depth and interest to the kitchen, while a butler sink and butcher block countertop adds a level of country chic. To achieve an even coverage when painting with a light color, make sure the first layer of paint is fully dry before adding another.
TASTE
of teal
Commiting to one solid bold color will bring any kitchen to life. Light wood countertops and barstools create an authentic and natural feel, contrasting with these deeper earthy teal cabinets.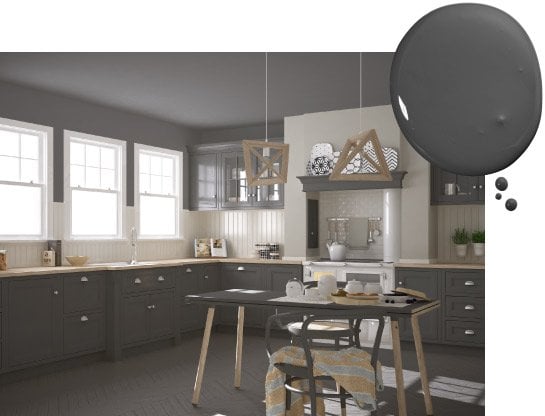 SCANDINAVIAN
gray
Minimalists will swoon over this classic yet clean Scandinavian inspired interior design. Gray cabinets against gray walls and a white backsplash adds interest but doesn't overpower your home. Apply light coats of paint to prevent any drip marks.
CEDAR
green
Cedar green is reminiscent of grassy fields and will make your kitchen feel fresh and open. If you decide to use two different styles of cabinets, use a similar finish on both so that one doesn't outshine the other. These painted and natural wood cabinets seamlessly share the spotlight.