The kitchen is often referred to as the heart of the home. It's the space where family and friends gather together, but also where you prepare meals, sip coffee and get ready for each day. A kitchen that meets your needs and wishes improves your workflow, brightens your space, and increases the value of your home. If you're wondering, "How much does it cost to remodel a kitchen?," you'll find our guide incredibly helpful. Understanding how much it costs to remodel a kitchen will assist you in making informed decisions as you undergo the design and renovation process. Our guide will help you estimate costs—allowing you to plan for a remodel that meets your needs but stays within budget.
Depending on the style of your new kitchen, you'll want to choose a cabinet that enhances the aura of the room. Showing your style is an important ingredient of making your kitchen feel warm and personal.
Review the sections below to learn how much to spend on your remodel and how to budget based on your needs and wishes. You'll learn the approximate cost of each kitchen element and what projects you can tackle with your budget. We also provide a step-by-step guide on how to plan for your own remodel—helping bring your dream kitchen to reality.
What to Consider | Based on Your Budget | Cost Breakdown | How to Prepare
Estimate the Cost of Your Kitchen Remodel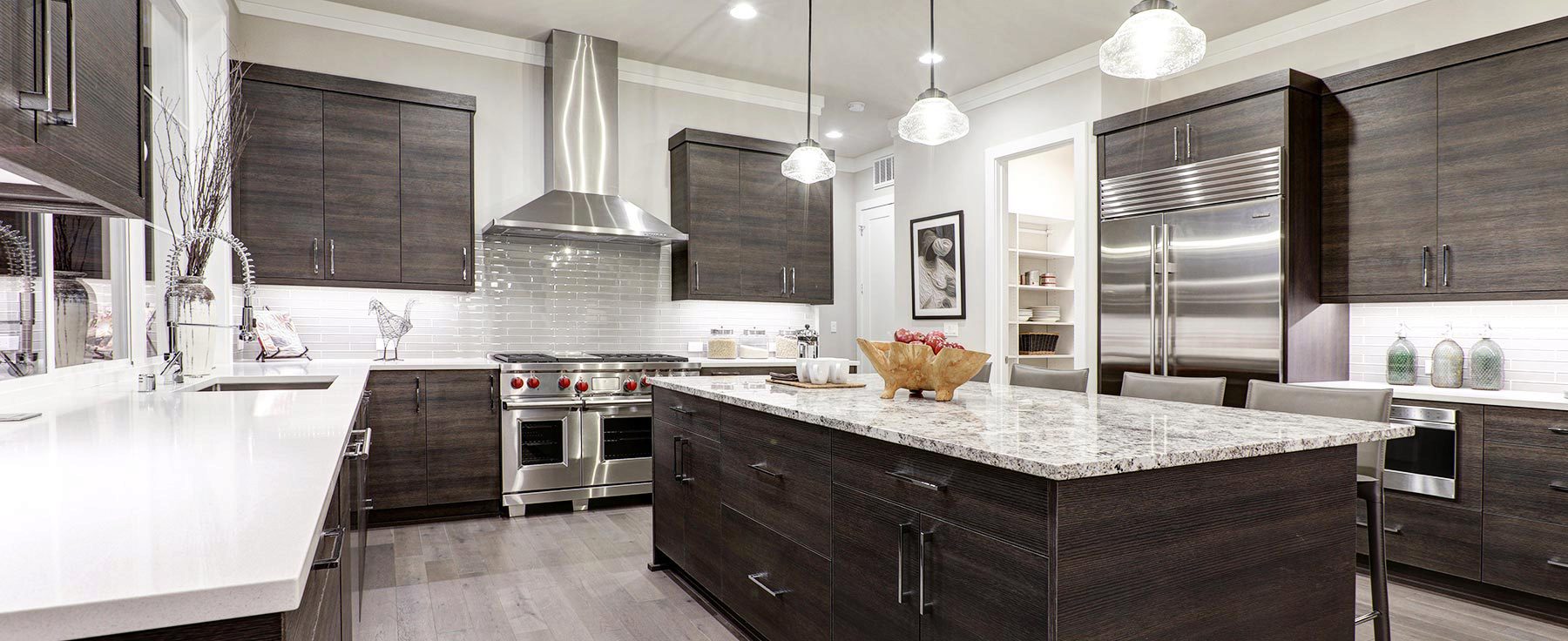 By approximating the cost of your remodel, you can plan better and choose your add-on options wisely. According to the 2017 U.S. Houzz Kitchen Trends Study, 45 percent of people spend between $5,000-$25,000 on their kitchen remodel. Another 26 percent spend between $25,000-$50,000 and 21 percent spend over $50,000.
The standard recommendation is to spend approximately 15 percent of your home's total value on your kitchen remodel. For example, if your home is valued at $175,000, your renovation budget would be $26,250 (15 percent of home value). When planning for your remodel, aim to spend 10 percent of your home value, knowing there will be overages and unexpected costs. To help determine the amount you should spend on your kitchen renovation, use our kitchen remodel cost estimator. According to the National Kitchen & Bath Association, a good break down of your overall budget looks like this: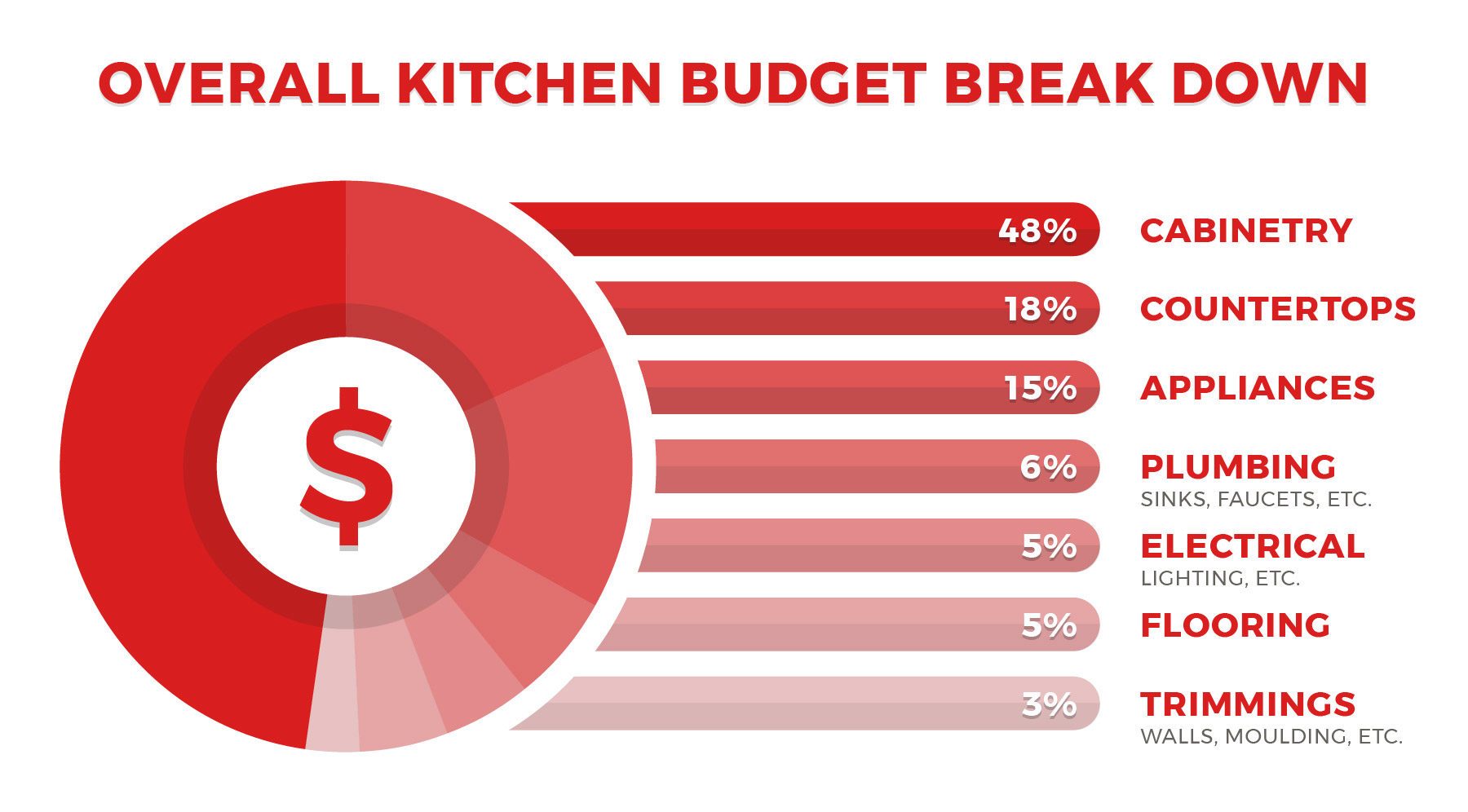 What to Consider Before Renovating Your Kitchen
You want to design a space that meets your needs and desires, but also makes sense long term. Consider these important factors below before beginning your remodel project.
The Value of Your Home
Having a solid understanding of your home's current value will help indicate how much to spend on your kitchen remodel. The higher the value of your home, the higher your project budget will likely be. Remember that your renovation budget should be approximately 10-15 percent of your home value—giving you the best chance of recouping the cost at the time of sale.
To determine the value of your home, you'll need an unbiased assessment. Here are a few options for obtaining this evaluation:
Compare your home to similar properties in your neighborhood that have been sold recently. Consider their sale prices, size and features.
Enlist a real estate agent or home appraiser to inspect your home, taking into account special features and its price in today's market.
Utilize an online home estimator tool that uses both public and user-reported information. An online tool will provide you with an estimated market value but is not an official appraisal.
Remodeling for Listing vs. Keeping
Are you planning to stay in your home or put it up for sale?
How you approach your remodel project will depend on whether you plan to list your home in the next three years or continue to live in it. If you're planning to stay, consider heavily what you want in a kitchen, including your style and functional needs. The goal is to end up with a kitchen you love while still maintaining resale value.
On the other hand, if it's likely you'll list your house in the next one to three years, a smaller remodel may be more suitable and cost-effective.
Cost of a Remodeling Contractor
A remodeling contractor specializes in remodeling work, helping to guide your vision to reality. A contractor will take into account your room dimensions, functional desires and style. They help locate construction materials (usually at a discounted price) and recruit a team of subcontractors for plumbing, electrical, installation and other needs.
The cost of a contractor will vary based on your location and the scope of the project. The markup of a remodeling contractor ranges from 30 percent to as high as 85 percent, though a reasonable markup is around 50 percent. For instance, if your kitchen remodel costs $10,000, a contractor's price for the project, including their fees, might be $15,000.
Any contractor should provide you with an estimate before beginning work on your project. Find contractors by searching reputable websites and asking family and friends for recommendations. Ensure that the contractor is licensed, insured and provides you with references.
Longevity of the Design and Style
With an undertaking as large as a kitchen remodel, you want to make sure that the style doesn't become dated in a few years. By choosing classic tones such as white cabinets or cherryville, your kitchen is more likely to stay within trends for a decade or longer. Other ways to keep your kitchen in style for years to come is by incorporating neutrals, installing a farmhouse sink and adding traditional details or modern accents.
Your Kitchen's Functionality
Does your kitchen layout assist the flow of your cooking, baking and preparing meals? Is there ample space to chop vegetables and lay clean dishes to dry?
Consider your counter space, placement of your appliances and the arrangement of your island and cabinets to ensure optimal workflow. Research the best functional layouts and visit other homes to help in designing your new kitchen.
How to Remodel a Kitchen on a Budget
Understanding what your budget will cover gives you a clearer picture of what work can be done and if you'd like to adjust your budget. Below we provide an overview of what your remodel might include. In planning your own remodel, you'll decide what elements are most important to you and which ones to forgo.
$5,000-$12,000 Kitchen Remodel Budget
With a budget of $5,000-$12,000, you can make significant improvements to your kitchen. It's likely you'll do most of the work yourself, but may have room to hire out specialty work.
Examples of projects within $5,000-$12,000 budget:
Update or install new lighting (under cabinet lighting, pendant lights)
Freshen walls and ceiling with a fresh coat of paint
Upgrade hardware (faucet, sink, cabinet handles)
Add storage
Upgrade appliances (refrigerator, dishwasher)
Replace countertops with inexpensive materials (laminate, vinyl)
$12,000-$25,000 Kitchen Remodel Budget
For a budget of $12,000-$25,000, you'll be able to upgrade most of your kitchen, along with a few high-end accents. You'll likely complete some projects yourself, but can comfortably hire professionals for specialty work.
Examples of projects within $12,000-$25,000 budget:
Upgrade countertops to quality materials like granite or quartz
Replace entire cabinetry made of long-lasting, high quality materials
Upgrade appliances (dishwasher, refrigerator, oven)
Repaint walls and ceilings
Add a backsplash
Install energy-efficient light fixtures (recessed lighting, under cabinet lighting, pendant lighting)
Upgrade hardware (including sink, faucet, cabinet knobs)
$25,000-$40,000 Kitchen Remodel Budget
With a budget of $25,000-$40,000, you'll be able to make significant changes and upgrade almost every aspect of the room. While you can still do projects yourself to limit costs, you can afford to hire contractors for most of the work.
Examples of projects within $25,000-$40,000 budget:
Upgrade to high-end kitchen appliances (dishwasher, refrigerator, oven)
Repaint walls and ceilings
Add or replace backsplash tiles
Add or upgrade your kitchen island
Redo the flooring (wood, tile, high-quality laminate)
Install energy-efficient light fixtures (recessed lighting, undercabinet lighting, pendant lighting)
Add special features like automatic lights, Bluetooth speakers, farmhouse sink, pot filler hose above stove
$40,000+ Kitchen Remodel Budget
When you have over $40,000 to spend on your kitchen remodel, you can considerably upgrade your kitchen and include some of your wish list items, too. You will likely hire out the work, but can still complete projects yourself to save on cost.
Examples of projects with $40,000+ budget:
Upgrade to high-end kitchen appliances (dishwasher, refrigerator, oven)
Repaint walls and ceilings
Add or upgrade kitchen island
Add or replace backsplash tiles
Redo the flooring (hardwood, tile)
Install energy-efficient light fixtures (recessed lighting, undercabinet lighting, pendant lighting)
Upgrade all hardware (including sink, faucet, cabinet knobs)
Add special features like automatic lights, Bluetooth speakers, farmhouse sink, pot filler hose above stove, espresso machine
Rearrange kitchen sink and oven (which involves additional gas lines and plumbing work)
Average Cost per Kitchen Element
Depending on the reasons for your kitchen remodel—be it for function, style or to increase your home value—you'll need to choose which aspects are most important for you to upgrade. Here we provide an overview of each element in a kitchen remodel and the approximate cost associated.
Kitchen Cabinets
As one of the most noticed aspects in a kitchen, cabinetry work ranges in price depending on the style, quantity and quality of the materials. If your cabinets are dated, damaged or scratched, you'll want to consider upgrading.
For new cabinets, budget between $2,000-$10,000 for an entire kitchen, depending on size and the style you choose.
Countertops
Refreshing your kitchen countertops often brightens and updates the feel of a kitchen. Select materials that compliment your cabinets and fit within your budget.
Countertops made of laminate, bamboo, concrete and tile will cost anywhere from $1,000-$4,000. Countertops made of stone, quartz, marble and granite range from $4,000-$7,000.
Appliances
New appliances, whether they're stainless steel or more vintage, can improve both the look and functionality of your kitchen. Consider an upgraded dishwasher, refrigerator and stove—ideally ones that match each other.
For energy-efficient appliances, prices range from $400-$5,000. If you choose custom built-in appliances, prices reach up to $10,000.
Flooring
The square footage of your kitchen and the material you select will be the largest drivers of new flooring costs.
Linoleum and vinyl are the least expensive options, which cost approximately $1,000-$1,500 for an average-sized kitchen. Laminate and tiled flooring tend to fall in the middle range, with an average cost of $1,500-$2,500. New hardwood floors—the higher end of flooring options—cost $4,000 on average.
Hardware
Replacing the knobs and pulls in your kitchen will cost anywhere from $2-$20 per piece, depending on the style and material. The average kitchen uses 40 hardware pieces, so your budget could range from $80-$800. You'll also want to factor in the cost of other hardware like a new kitchen faucet or sink.
Plumbing
If you're changing the layout of your kitchen, you may need to adjust your plumbing. Though it's best to avoid plumbing work (as it can be quite costly), it may be required if you rearrange the location of your sink or dishwasher.
A pipe installation will cost between $1,000-$1,500, while a drain installation may run you $2,500-$3,000. Depending on your skillset, you may need to hire a plumber for the job.
Electrical
Undergoing a remodel is often the best time to conduct electrical upgrades and changes. If your new appliances require an updated electrical board (which runs $1,000 on average), you'll want to factor that cost into your budget.
If you move outlets and fixtures, you can complete the work yourself or hire an electrician. The wires and outlets themselves aren't costly, likely less than $100, but the labor cost can be pricey. Electricians charge between $50-$100 an hour depending on location and expertise.
Gas
Moving gas lines is an expensive undertaking, but may be required if you move the location of your oven and stove. Additional gas lines cost anywhere from $500-$1,000 plus electrician costs.
Step-by-Step Guide: Preparing for a Kitchen Remodel
Determine your overall budget
Using the guide above, estimate how much you'll spend on your kitchen remodel. Remember that 15 percent of your home's value is a good guideline.
Once you've estimated your budget, write it down or record it in a spreadsheet. Sticking to your budget will be important as you continue the planning and renovation process. Monitor your budget throughout the project by keeping track of every expense.
Identify your must-haves
Tired of looking at your old backsplash? Want fresh cabinets and countertops? Determine upfront what's most important to you.
Create a list of 3-5 items that are non-negotiable in your new kitchen. The elements you identify will be your priorities throughout your project.
Add your wish list items
Think about some features you'd love to have in your updated space. Is it a farmhouse sink? An island for extra counter space or additional storage?
While you may not be able to accomplish everything, it's critical to know the 1-3 items you'd like to have if possible.
Decide if you'll hire contractors or do the work yourself
Consider the amount of time and energy you'd like to invest in doing the work yourself. Also consider the level of expertise needed for your projects—whether it's electrical, technical or involves heavy installation.
Allocate costs to each part of your renovation
With the budget you identified in step #1, break down your specific costs and consider the following:
Will you be spending money on contractors?
How much will you spend on each of your must-haves?
How much will you allocate for your wish list items?
Keeping 15-20 percent of your budget available for overages and unexpected costs.
Deciding on a rough estimate for each element will guide your spending and planning.
Know how you'll pay for the project
Before your project gets underway, ensure you have the money available.
Consider the following avenues to fund your kitchen remodel:
A home equity loan (tax deductible)
Savings or investments
Refinancing your home
A small personal loan
A loan against your retirement savings
The lower the overall cost of your funding option, including interest and loan origination fees, the better.
Formulate your renovation game plan
Will you do all of the remodeling at once or spread out the projects over time? Will you stay in your home during renovations or find a temporary place to live? Will you need to store items in a different location while the remodel occurs?
By hammering out these details and a timeline in advance, your renovation process will be smoother and less stressful.
Plan the order of your renovations
The order in which you approach projects make a tremendous difference. For instance, it's often best to start with selecting your new appliances. Based on their sizes, you'll be able to determine cabinet measurements and adjust any flooring. Next, ensure you have ample counter space for the appliances you keep out, like the microwave and coffee pot.
With your appliances chosen and adequate counter space measured, choose the finishes, styles and materials for your hardware, countertop and light fixtures.
Complete the projects
After ordering your appliances and materials, you can begin the demo process. Get rid of old appliances, remove features you'll be replacing and prep the walls for painting. Then, dig into the your upgrades, installations and additional features.
Stick to your plan
It's natural to want to add items as the project continues, but that often increases costs quickly. Let your must-haves and wish list be your guide and monitor your budget closely throughout the renovation process.
Remodeling a kitchen is an exciting project that can transform the entire aura and value of your home. Begin planning your dream kitchen today with our inspirational kitchen collection.
Sources: Angie's List: Working with Contractors | Bankrate: How much does it cost to remodel a kitchen, and is it worth it? | Construction Programs & Results Inc: How Much Should A Contractor Charge? | Forbes: What It Costs To Remodel A Kitchen In 2017 | HGTV: 10 Steps to Budgeting for Your Kitchen Remodel | HomeAdvisor: How Much Does It Cost To Remodel A Kitchen? | Houzz: U.S. Houzz Kitchen Trends Study | Improvenet: How Much Does it Cost to Remodel a Kitchen? | Zillow: How Much Is Your Home Worth?