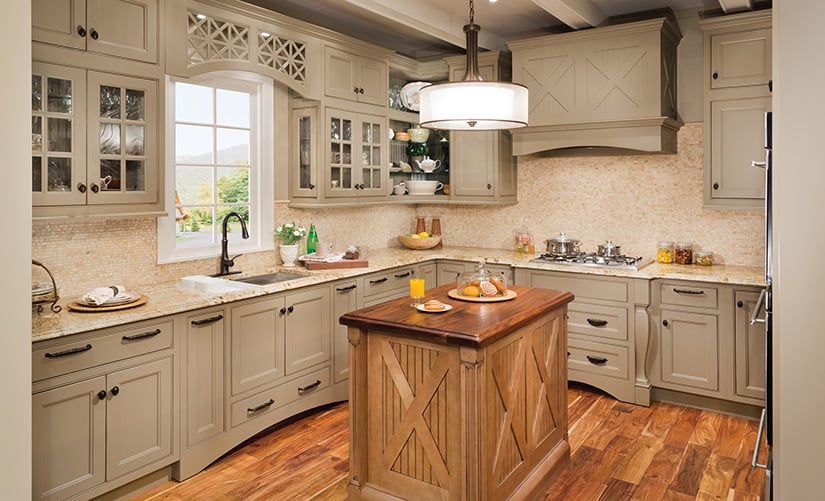 There's no question that cabinets are one of the most important features of your kitchen—adding to the storage, functionality, and beauty of the heart of your family's home. When upgrading cabinets, you need to consider the layout, style, and finish that would look best in your space, but after you've purchased your perfect cabinets, the process isn't quite over!
Cabinet hardware and millwork are the finishing touches for turning your outdated kitchen into a customized and functional room of the house. However, with the number of different options to choose from, it can help to break down the various products available in order to determine exactly what will work best with your soon-to-be-installed cabinets.
What Options Do You Have for Kitchen Cabinet Hardware?
Cabinet hardware is one of the last decisions you'll make when designing and ordering new cabinets to update your home's kitchen. Hardware encompasses more than just the features that you can see from the cabinet exterior, and you'll need to decide on several different cabinet hardware options to ensure that your new cabinets look great and work well for years down the road.
Hinges
Unlike old-fashioned hinges on traditional kitchen cabinets, modern cabinets typically have concealed hinges that are fit inconspicuously into the cabinet door. While concealing the hinges adds to the visual appeal of the space, you also have to think about functionality! Hinges that are adjustable are ideal for keeping your cabinets aligned throughout their lifespan, and soft-close options can protect your cabinet doors from damage due to slamming.
Guides
The drawers in your cabinets need to be utilitarian and allow for seamless opening and closing. Drawer guides, also known as slides, are an important aspect of cabinet hardware that helps keep your drawers functioning smoothly. You can choose between plastic and metal drawer guides that allow for a partial opening of the door, but this cost-effective option isn't always ideal for heavy loads. Other options include durable all-metal guides, full-extension guides, and soft-close slides that you can add to your cabinet drawers.
Knobs and Pulls
Knobs and pulls for kitchen cabinets are probably the first things you think of when considering cabinet hardware, and these small details can make a big impact on the overall beauty and performance of your space. Consider the style of your cabinets and atmosphere that you are going for in your kitchen when selecting what is right for your home. You can also consider upgrading to cabinets that have push-activated openers or knob-free designs for an ultra-chic and modern look!
The Importance of Choosing Beautiful Cabinet Millwork
While the hardware that you choose for your new cabinets plays a highly functional role in your kitchen, millwork has a different purpose that is just as important. Cabinet millwork refers to wood trim and materials that are customized to the needs, style, and dimensions of your cabinets—allowing for a seamless appearance and a beautiful look for the finished space.
There are several different options out there for cabinet millwork that you can choose from, including:
Crown Molding: Designed to be used at the top of cabinets, crown molding puts a luxurious finishing touch on your space. When planning your cabinet remodel, consider whether you'll have to choose a crown molding design or if you are having your cabinets installed flush with your ceiling.
Valances: While crown molding caps the top of your cabinets, valences serve a similar purpose on the bottom. Mounted below the door of the cabinet, valences can hide unfinished cabinet bottoms or conceal undercabinet features, such as lighting.
Scribes: These small pieces of molding are used to hide spaces between your new cabinets and adjoining walls, ceilings, or appliances. This is an important option to consider when you are going for a built-in look in your kitchen.
Ordering new cabinets for your kitchen is one of the most exciting steps in bringing your renovation dreams to life, and picking out the right hardware and millwork for best complementing your new cabinet features can turn an average remodel into a showstopper. Whether you are going for a traditional, country aesthetic or a sleek, high-tech kitchen space, there are hardware options available to put the perfect finishing touch on your new kitchen cabinets.