Every room of your home serves a specific purpose, and the bathroom is no exception. While it may be one of the smallest rooms in your home, it is also one of the most used, so turning it into a luxurious oasis that you enjoy spending time in is a top priority for homeowners across the country.
When planning out a bathroom remodel, there are several new and exciting trends to consider as 2018 gets underway, and we've put together some of our favorite up-and-coming trends for maximizing the appeal and functionality of your bath space:
2018 Bathroom Sink Trends
The sink in the bathroom is a utilitarian feature, but that doesn't mean you can't use it to make a bold statement in style! Whether you have a small guest bath with a single sink and vanity or you're planning to add luxury, double sinks to your master bath remodel, the times are changing when it comes to which design trends are leading the way.
Natural Stone
Traditional porcelain sinks will always be a popular choice for bathrooms, but 2018 is seeing a major shift towards the beauty and appeal of natural stone. These carved-stone sinks perfectly complement a variety of color palettes, and they come in a wide range of colors, patterns, and overall designs to suit the aesthetic of any bathroom.
Pops of Color and Metallic Accents

The days of standard, chrome faucets and controls are fading, and in their place is a growing trend towards bright, bold, and beautiful fixtures. Surprisingly, shiny brass accents are making a big comeback in 2018 bathrooms, and you'll find brass faucets and other elements at the top of modern remodeling upgrades. If you aren't ready to commit to the boldness of brass, rose gold is another popular choice, along with vibrant, unexpected colors for adding a touch of brightness to your new sink and vanity area.
2018 Bathroom Tile Trends
There are many options available for the floors and walls of the bathroom, and plain-white subway tile has been the product of choice for several years running. However, with the new year comes big changes, and modern homeowners are now leaning towards quirky and unique style, pattern, and color options to breathe new life into the functional, traditional appearance of bathroom tile.
Goodbye Subway Tile!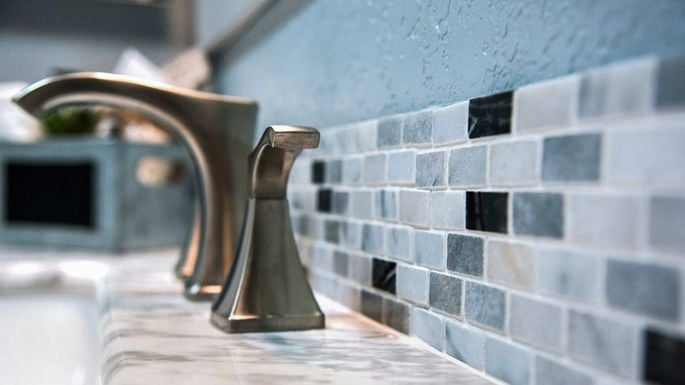 If you're remodeling your bathroom and want to stay as on-trend as possible, it is time to look beyond the clean, white, rectangle-shape of traditional subway tile! One of the biggest trends of the new year comes from bold and unexpected tile accents in the bathroom, and you can now find functional bath tile in an incredible range of unusual shapes, patterns, and striking color schemes.
Texture and Pattern Reigns Supreme
While the shape and color of bathroom tile has evolved into unique designs, pattern and texture is also a major factor to consider when it comes to popular trends of 2018. Tile with recessed designs, stone-like textures, and raised patterns give your bathroom an architectural element that perfectly complements the organic, neutral color palettes that are still reigning as king in the bathroom.
2018 Bathroom Design Trends
Bathrooms range in size from tiny, utilitarian spaces to sprawling, spa-like retreats, but any-size bathroom can invoke a sense of luxury and relaxation with this year's hot trends! While many of these design trends have been slowly climbing up the ladder of popularity for several years in a row, 2018 sees a major focus on natural, holistic spaces with exciting, modern amenities.
Organic Color Schemes—With a Pop of Color
Neutral color palettes are the top choice for trendy bathrooms in the new year, but we aren't just talking about traditional white and beige elements! A focus on organic color schemes is incredibly popular for modern bathrooms, and white, grey, brown, and muted blues and greens all have a place in a trendy design. New this year, a focus on bright and bold pops of color will take over trendy bathroom designs, and these colorful highlights will be found in unexpected places—including sinks, faucets and fixtures, lighting, and tubs.
Focus on Efficiency
The bathroom trends of 2018 are focused on maximizing the space and functionality of small bathroom spaces, which leads to the continued popularity of a clean, industrial look. In a modern bathroom, there is limited clutter, innovative storage features, and streamlined bath fixtures that all play important roles in opening up the room and ensuring that it feels more like a high-end spa than simply a functional space in a house.
Enhanced Lighting
A well-lit bathroom is a necessity, but that doesn't mean that you can't install enhanced, creative lighting to take a standard bath to an entirely new level! Instead of a typical overhead light, homeowners are now moving towards creative lighting fixtures that focus the attention on the most important areas of the space. Chandeliers over a freestanding tub provide an ultimate, luxurious touch, and vintage wall sconces, light bars, and dimmers all help to create a calm, relaxing mood in a modern bathroom.
Innovative Heating Elements
In cold, winter climates, stepping onto a freezing bathroom floor is enough to seriously cut-into the comfort of your daily bathing routine. With tile still remaining the most popular choice for bathroom flooring, solving the cold-floor situation is a major focus of 2018 trends. Underfloor heating systems can be used with everything from tile and concrete to wood and vinyl floors, and this innovative heating system can make your bathroom impressively comfortable, while also reducing noise and minimizing the dust and allergens spread by forced-air heat.
2018 Bath Fixture Trends
Color, design, and luxurious touches all enhance the look and feel of a modern bathroom, but the fixtures that you choose can make or break the space! After all, these fixtures provide the functionality you need in any home bathroom, and modern bath systems, toilets, and appliances are continuing to evolve to meet the changing technological and luxury needs of homeowners.
Showers
While tub/shower combos are functional for many households, there is a dramatic shift away from this style and towards a streamlined, stand-alone shower system. Walk-in and Roman showers that blend seamlessly with the floor and overall layout of the space are a top trend for complementing an open and industrial design. Technology has also made its way into shower design trends, and 2018 will see an even greater preference for high-tech showers that provide colorful lighting, steam systems, music capabilities, and intuitive temperature controls.
Toilets
Arguably the most important feature of any bathroom, the toilet that you choose for your space needs to be accessible and functional. In 2018, however, you can also get a toilet that is on the cutting-edge of technology! These high-tech toilets offer a European influence with bidets and seat warmers, and many styles are now available with automatic open/close technology, deodorizers, and even wireless music players.
Small Appliances
Have you ever dreamed of soaking in a warm bath while enjoying a cold beverage and your favorite TV show? Then you will love this 2018 design trend! Although small appliances may not be the societal norm in home bathrooms, they are quickly becoming the must-have element for the trendiest bathing spaces. Beverage centers and under-the-counter refrigerators are at the forefront of this trend, and elements such as towel-warming drawers and complete television and music systems are quickly becoming a mainstay in a modern bath.
Bathtubs
The most-desirable bathtubs are those that are designed for luxury, not just functionality, and 2018 trends continue to see movement away from traditional baths and towards spa-like bathtub fixtures. Freestanding bathtubs started making their way into popularity within the last few years, and they remain a top trend for creating the ultimate bathing space and a unique, stylish focal point. For the most modern bathroom, infinity tubs are climbing up the list of must-haves, and there is growing interest in the incredible beauty of custom, carved-stone bathtubs.
Wrapping up The 2018 Bathroom Trends
The bathrooms in modern homes have slowly shifted from basic, utilitarian spaces into the ultimate way to make an impact on home value, style, and comfort. The trends of 2018 continue to push forward the evolution towards transforming this essential space in the home into a spa-like, luxurious escape from the pressures of daily life. From smart technology to natural stone and calming color palettes, the sky is the limit when it comes to future trends for transforming ordinary baths into stunning retreats.