Trends are sign posts of the times that swing and shift, they point in a specific direction and identify a general course. In 2016 we see an exciting broad range of kitchen remodeling trends that make life cleaner, simpler and more relaxed. Let your imagination run wild because the sky is no longer the limit when it comes to options. There are smart stations under cabinets, green appliances that save energy and money, and mind blowing organizational cabinetry designed to create the Zen in your kitchen that allows you to enjoy life to its fullest. We've identified some of the hottest trends that will help guide you as you embark on your remodeling adventure.
Kitchen Cabinet Trends in 2016
Think of cabinets as the bones or basic building blocks of your kitchen. Once you've made up your mind and settled on cabinet design and color, it's easy to build a style around your choice. While shaker style cabinets and black and white are die-hard timeless trends, gray and muted tones have been taking a big lead in kitchen remodeling this year.
The use of subtle muted and slightly contrasting colors create calm and allows for more color and boldness with furniture, light fixtures, backsplash or accent walls.
Warm Colors
Rather than using a highly contrasting color palette, this kitchen in apricot tones immediately sets a warm cozy mood that feels inviting and begs you to linger in your favorite room of the house. Of course, good lighting and well lit cabinets are integral and help not only to create just the right environment but also let you see what you're doing.
Smart & Sleek
Smart and sleek are key components to keep in mind when choosing just the right cabinet. Function is just as important as fashion in this tidy galley kitchen. Cabinets are constructed and placed to accommodate a natural flow of traffic. This orientation is perfect for integrating work and storage areas.
De-Cluttering
De-cluttering has become a huge trend, especially where square footage is limited. Pairing down and minimizing have become big business as well as the topic of many reality shows. There is no such thing as wasted space when it comes to kitchen remodeling ideas; corner drawers and lazy susans allow for optimum organization without all the clutter. Special pull out shelves hold everything from spice racks to wine bottles. There are even handy paper towel dispensers that fit nicely into recessed counter areas.
Built-In Storage
Customize cabinets to create space for all the gadgets you need. Deep drawers are specially designed to accommodate the kitchen essentials that you can't do without. There are also drawers with storage built on a slant to perfectly house long wooden spoons or spatulas. Tuck your Kitchen-Aid mixer and Tupperware neatly into their own secluded spots. The best thing is that you now know exactly where to look when trying to retrieve that particular baking sheet you need.
Natural Elements
Incorporate natural elements from the environment to create an organic feel that also provides a welcomed respite from an austere office work space. This can be accomplished by using rich wood cabinets or hardware resembling river stones or sea shells. These small components make a big difference in creating the right vibe in your kitchen.
Kitchen Design Trends in 2016
Mix & Match
Mix and match is a unique new trend accomplished by contrasting different materials, textures and genres. This look, similar to Industrial Chic, involves layering and combining various components of design, such as rustic and polished. Two different materials can be used on top and bottom cabinets, such as laminate and wood, or top cabinets can simply be left exposed.
Vintage Pieces
The combination of vintage pieces and highly polished metals accented with exposed brick backsplashes and quartz countertops blend to create a sophisticated yet inviting atmosphere. And although this look is considered trendy it will certainly have staying power and can be altered with various accessories.
Copper & Brass
Highly polished copper or brass hoods can be paired with a concrete counter top over two-toned wooden cabinets, backed with vintage subway tile and chunky reclaimed wooden planks that serve as exposed shelving. It's both eclectic and functional.
Kitchen Island Trends in 2016
Kitchen islands are much more than a counter work space but a central congregational meeting space. Much attention has been given to this integral area in the kitchen. Islands have morphed into being the work horse in the kitchen, and are equipped to serve the varying needs of homeowners. There are spaces for everything from built in nooks for pets and their food and water dishes to extra seating areas for unexpected guests. They also have become a home base for docking smart technology for the entire family.
Integrated Storage
Islands are thoughtfully designed with well planned storage and can house appliances such as microwave ovens, warmers or the increasingly popular wine coolers. Split level wine refrigerators allows for proper storage of champagne, whites and reds.
Great features like this cutting board/trash chute perfectly illustrate how a kitchen island can be designed to suit the most intricate detail of your individual needs in the kitchen. Kitchen design is becoming seamless and making tasks and organization easier.
Splashes of Color
Since color schemes in the kitchen are leaning toward neutral, muted and gray tones, we now see splashes of color used on kitchen islands. You can let yourself go when it comes to planning your kitchen island. It can be the place where individuality emerges, especially if the rest of your kitchen is non-descript or monotone. An array of handmade tiles make this island an integral statement piece.
Kitchen Table Trends in 2016
Kitchen and dining tables have long been the hub of family life. Although they are utilitarian, they can be used to help create an environment that is comfortable and lends itself to conversation and relaxed enjoyment. For design sake it's necessary to maintain continuity from the kitchen to the dining area, especially if they are in close proximity or in the same room. For this reason, you want to integrate similar or complimentary materials into your table space.
Formal & Tall
There's been a definite trend toward more formal dining and taller tables, while still maintaining a relaxed and welcoming feel.
Kitchen Appliance Trends in 2016
Black Stainless Appliances
There's a strong trend towards black stainless appliances that began in 2015 and is still popular. Will stainless appliances be replaced by this sophisticated look? It's hard to tell, but they certainly have a charm and elegance all their own that make them highly desirable. Their dark color recedes and helps showcase surrounding cabinetry. What will soon become obsolete are appliances that waste energy and money. Next to cooling and heating, refrigerators are the biggest energy hogs in a home. In the long run it pays to upgrade to a newer model with a higher and more efficient energy rating.
As far as refrigerator models go, side by side refrigerators have seen a decline in popularity. Consumers instead are preferring models that have freezer placement at the bottom and refrigeration on top.
Niche Appliances
Niche appliances like induction cooktops and steam ovens are a fast growing trend for many who value the importance of healthier eating. Vegetables, rice and fish can be prepared seamlessly and without much fuss. According to Forbes, kitchens of the future are "ready for a hi-tech makeover." Designers Lockhart and Drury predict that the focus for kitchens will be on "convenience for families on the go via accessible smart appliances and state of the art appliances from steam ovens to built-in coffee machines."
Induction Stovetops
Built-In Coffee Machines
Early morning jaunts to Starbuck's are a thing of the past with built in espresso stations that offer the convenience of handcrafted cappuccino in the comfort of your own kitchen.
Kitchen Sink Trends in 2016
Farmhouse Sinks
Farmhouse Sinks continue to be recognized as a hot trend in 2016 and bring a feeling of nostalgia. They are meant for people who spend time in their kitchens and come in a variety of materials from porcelain and fire clay to copper and cast iron. They are utilitarian and add an eclectic industrial feel to the design of any kitchen. They are installed to sit just a few inches lower than countertops so that water can easily be wiped right off the counters and into the sink.
These working sinks allow large skillets and stock pots to be placed inside and allow for maximum maneuverability for prep and wash.
Kitchen Countertop Trends in 2016
Quartz
Quartz is definitely leading over granite as the hottest trend for countertops in 2016. While the ever popular granite is still widely used, quartz has won many homeowners over for several reasons. It's easier to keep clean, more resistant to staining and wins in durability and heat resistance tests. With quartz, chips and scratches aren't really a concern, and unlike granite, there is no need for sealing. Overall, it makes a great choice in kitchen remodeling and adds an elegant finish to any home. The most attractive feature is-it's less expensive than granite.
Kitchen Color & Texture Trends in 2016
Ali Morris of Interior Design magazine says, "As modern life gets busier and more pressured, our homes become our sanctuaries. Centered around simplicity, serenity and seamlessness, the 2016 interior reflects our need to switch off and detox. Warm but calming colors are complimented by natural textures and soft shapes while furniture is becoming ever more tailored and intuitive." Roughness, grime, and texture are key design elements that continue to captivate the attention of architects and designers alike in 2016.
Rose Quartz & Blue Serenity
Pantone, the global authority on color selected two colors for their 2016 Color of the Year forecast-pastel pink Rose Quartz and Blue Serenity. Grays are moving to lighter, softer tones. The wall below from myfixituplife.com ingeniously used rose quartz to texture this kitchen wall to give it a soft, rich Tuscan patina.
Copper
Copper is King in the kitchen. Accent with copper fixtures, hardware or ventilation hood. The photo above used copper piping to construct shelving above a sink. Note all the different design elements in this kitchen-contrasting the marble counter with the gritty unfinished wall and copper accents. Rose gold, gold and brass are equally being sought after for their warm appeal.
Wallpaper
Yes, this is wall paper! What do you do if you want that cool revamped warehouse look and you live on the 24th floor of a brand new high rise? Dutch designer Piet Hein Eek has developed wallpaper that mimics architectural materials such as painted bricks, marble and salvaged wood. Eek's tromp l'oeil effect is nothing short of brilliant and completely alters the ambience of any space. It sure beats flowers and stripes, and I can't imagine any of these wallpaper designs becoming tiresome.
"Instant aging of materials and adding texture and depth to a space always helps add to the experience," says Jon Sherman Founder & Creative Director of Brooklyn-based wallpaper company Flavor Paper, who predicts that "papers that mimic industrial finishes will be big news in 2016".
There are endless ideas on how to incorporate new Pantone colors of the year into your kitchen space. This kitchen used serenity blue in the backsplash and it added character and sense of cheerfulness.
Kitchen Flooring Trends in 2016
Luxury Vinyl
Remodeling requires much thought and often homeowners go for eye candy rather than practicality. Luxury vinyl almost seems like a contradiction of terms but you'd have to get down on all fours to tell the difference. This flooring material just keeps getting better and it's still the most comfortable to walk on. If you spend any time at all in the kitchen, you know this is a big plus.
Concrete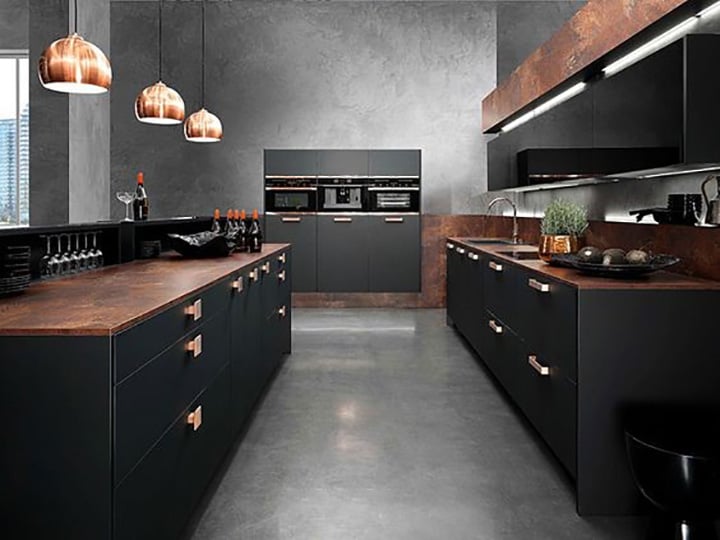 Decorative Concrete is still a major contender when it comes to flooring, and its appeal is obvious. It can be overlaid, stained, scored, textured or stamped. Its durability makes it a great option for high traffic areas and there are limitless effects that are absolutely stunning.
Hardwood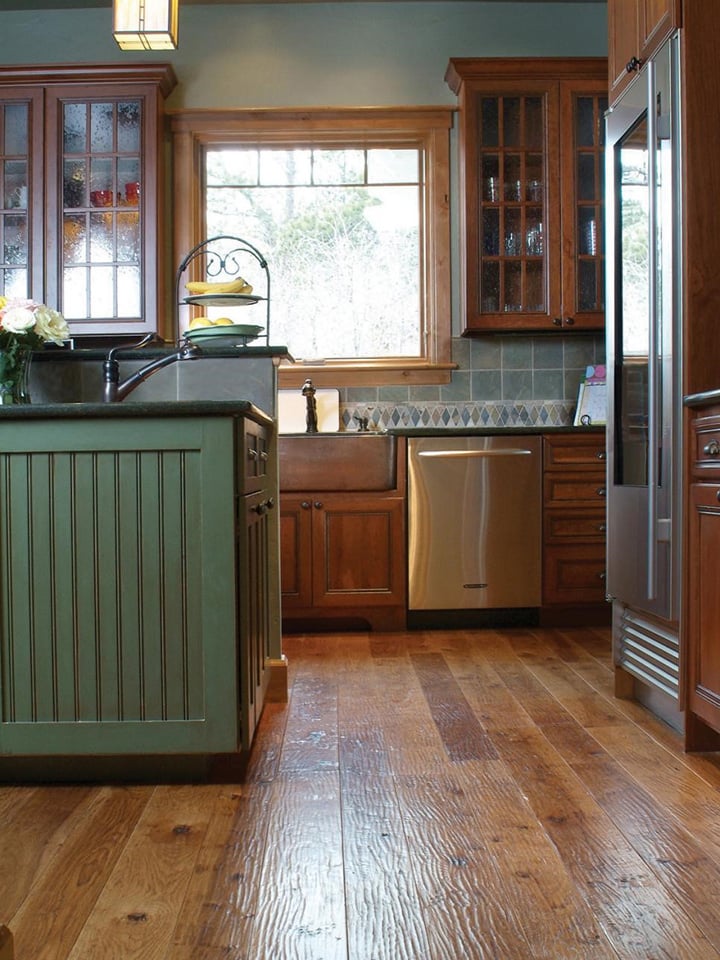 Hardwood will always be a favorite and according to homeflooringpros.com, the clearest trend is a move toward an authentic "old world look". Highly polished and flawless floors are lagging behind vintage styles that reproduce nostalgic looks of the past. Reclaimed Wood is highly sought after and eco-friendly. This wood has been sourced from old antique flooring or logs and timber from lakes and rivers is packed with a character and charm all its own.