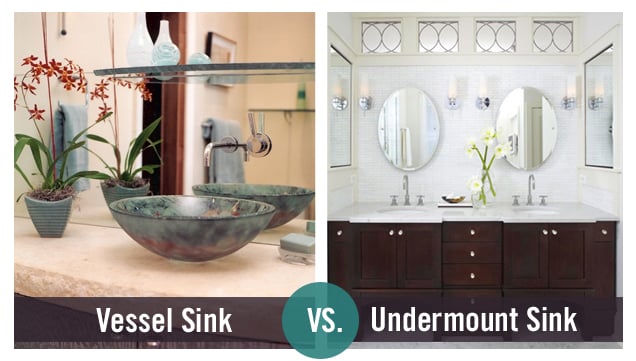 Have you ever dined at a restaurant, gone to the restroom, and returned in awe to tell your tablemates, "You must see the bathroom!" Or, visited your friend's place for the first time and washed your hands for an extra minute because her soap and new sink felt so luxurious? The truth is, bathrooms make a lasting impression on people. It's the second face of your home or establishment. The Fantasy Bathroom series will focus on an aspect of bathroom remodeling each time. First up: the vessel sink vs. the undermount sink.
Vessel sinks are sinkbowls that sit on top of the counter. Though the design is inspired by washbins pre-running water, vessel sinks can actually lend a quite modern and artistic feel to a large or small bathroom. Its installation varies from a conventional sink; a counter that is lower than standard height is necessary to accommodate the above counter bowl, and plumbing may be different. The faucet also must be the right height and length to avoid splashing.
Undermount sinks are mounted below the counter, allowing for a seamless counter-basin surface. Undermount sinks are more traditional and make for clean and simple lines. Also, since I do my hair and makeup every morning in the bathroom, the extra counter space that the undermount sink provides leaves more room for my products and blow dryer. I would pair something like this crisp white ceramic vanity sink with a luxe white marble countertop and a brushed nickel finish faucet.
What's your experience with either kind of sink? My ideal home would incorporate a beautifully distinct vessel sink for a "wow" factor in the powder room, and a sleek double undermount sinks for the master bathroom. I'm curious to hear what kind you'd choose for your fantasy bathroom!
(Photos via Landmark Builders and Better Homes and Gardens)