As design professionals, we are always looking for new sources of inspiration that can truly light our imaginations on fire. Time and again, we continue to turn to the silver screen so we can admire the gorgeous kitchen sets that appear in some of our favorite films. From cozy, eccentric, modern, or chic, there is always something to appreciate in a beautiful designed kitchen. Read on to check our top five picks for kitchens in film.
Friends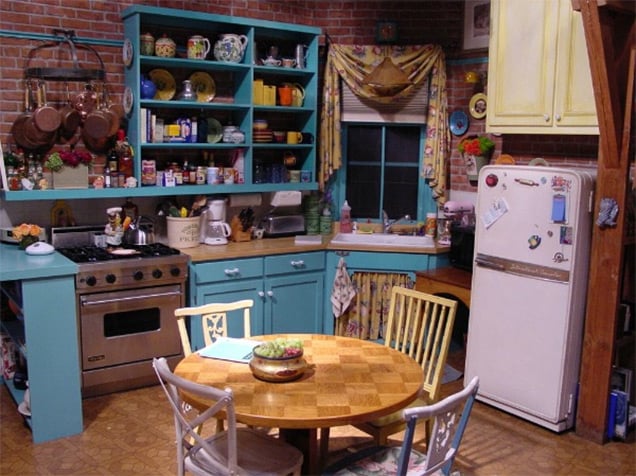 What's not to love about this (granted, unrealistically) massive New York City kitchen. With gorgeous turquoise cabinets, suspended copper pots and pans, exposed brick, and warm accessories, this kitchen looks like the kind where friends really would gather around in to swap stories and share a meal.
It's Complicated
Despite this film being a success in its own right, the It's Complicated kitchen set really threatened to almost steal the show. The neutral shelves mixed with punches of striking black and orange is really breathtaking. We really love the large wooden table and cozy tangerine seat cushions, creating a space that looks chic and intentional, while at the same time lived in and family-friendly.
Sex and the City 2
If any of the Sex and the City ladies were going to have a kitchen worth emulating, it would be Charlotte. At first glance, keeping the entire space white could look a bit one dimensional and lifeless, but that doesn't end up being the case. The bright red stove knobs and the textured tile give this kitchen some depth and character while still keeping it tasetful, open, fresh, and above all, very Upper East Side.
Something's Gotta Give
There's a reason why "Something's Gotta Give Kitchen" is such a widely searched term on Google. The film itself already had something of a dream-like quality to it, and this beach house property is in large part responsible for that. The kitchen in particular really wows with its huge windows letting in plenty of natural sunlight, crisp white cabinetry, and large charcoal grey island (which also doubles as a cleverly used cookbook storage). If you were going to rent a place in the Hamptons for the summer and you loved to cook, bake, and entertain, this is the kind of space you would want to be in.
The Help
It goes without saying that the kitchen is the heart of the home, where family and friends gather day after day, and night after night. If you want to redesign your kitchen and give it a look that reflects your life and style, we are here to help. Simply fill out this free 3D kitchen design form and our staff will reach out to help you create an inspiring space that is fit for the big screen!