The bathroom is one of the most used areas of the home, which means that every member of your household is in there several times each day as part of their daily routines. While this makes it essential to have a beautiful, clean bath space, it can also lead to inevitable issues with clutter, laundry, personal products scattered across the sink. In short, a big mess!
If you are tired of navigating the cluttered vanities and messy floors of your home's bathroom, there are a few simple steps you can take to reign in the chaos—without spending a fortune. Consider these easy organizational solutions for getting the most out of your family's bath:
Make it a Habit!
We've all been there. You are rushing in the morning and don't take a few extra minutes to grab discarded clothes or replace your toothbrush, make-up, and daily supplies. While this is a common reality, it is also something that lets your bathroom get quickly out of control! Set up a system to do a little bit of cleaning at strategic times of the day to keep on-top of the mess. For example, every time you brush your teeth, spend those few minutes de-cluttering the vanity and picking up any trash or empty bottles.
Define Personal Spaces
Whether you have a big family or you are sharing a bathroom with a spouse, it can be frustrating to end up cleaning other people's messes just to use the bathroom comfortably. With a few organizational touches, that can be a thing of the past, and the key is to define each family member's personal space. Try assigning a labeled basket, individual shelf, or tray to each person to cut down on scattered "essentials" and help everyone stay accountable.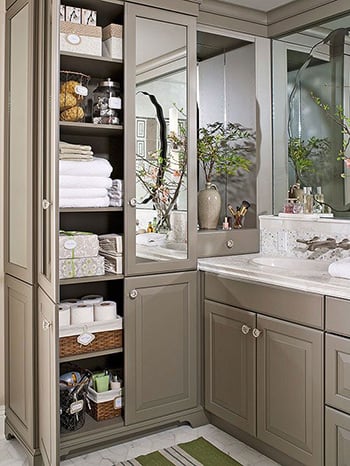 Set up a Storage System
One of the biggest issues in a bathroom is storage—after all, it is definitely not the largest room of the house! Making a specific space for all of your items is the best way to get control of an overwhelming room, and it also to helps everyone in the family know where things belong. Send overflow products into labeled bins in a hallway closet or other convenient storage space in your home, or add a few more shelves or tower caddies to the space. You can also utilize inexpensive storage vessels, such as jars, small boxes, and glass or plastic containers to get a storage system in place.
Add a Laundry Basket
Bathing is a main function of the bathroom, and that means that clothes can pile up within hours when the whole family is getting ready for the day. Instead of fighting to open the door against a mountain of clothes or picking up musty towels off the floor, make it easy with the addition of a laundry hamper! If you really want to get organized and your room has enough space, a sectioned laundry basket can provide a place for separating out clothes, towels, and other items that need to head down to the wash.
When you're ready to tackle bathroom organization, it can be an overwhelming process. However, with a little creativity, simple solutions can go a very long way! Break down your bathroom into manageable sections to started controlling the mess. Start with the obvious, such as laundry piles and the vanity, and expand from there with creative storage options and labeled areas that the whole family can use.
While no house is perfect, having a bathroom with minimal clutter can help you get more out of your daily bathing routine—giving you the relaxing experience you deserve in this vital room of the house.